Undergraduate
E

merging

L

eaders

A

cademic

S

uccess

P

rogram
Peer Mentors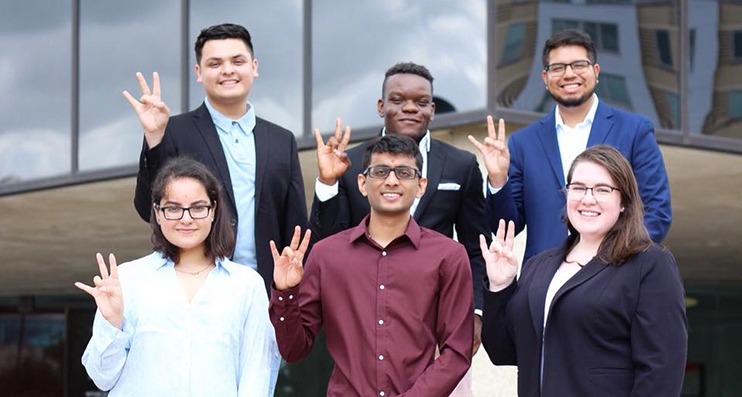 All of our Mentors are alumni of ELASP and are excited to support your transition.
Our mentors organize numerous small group activities designed to help new students get connected, make friends, and learn the ins and outs of Bauer.
Your peer mentor is here to help you:

Meet new people
Get you connected to campus activities, clubs and organizations
Help you to navigate the UH campus
Learn strategies for being successful in your classes (ex. how to interact with your professors, organize study groups, etc.)
Learn about and use academic and personal support resources at the university; such as the Writing Center, Learning Support Services, and the Health Center
Meet the Fall 2018 ELASP for Transfers Peer Mentors
---
ELASP Spring 2019 Application is Open
---
Follow us!
---
Contact Us
Questions about ELASP:
elasp@bauer.uh.edu
Emerging Leaders Academic Success Program
C. T. Bauer College of Business
University of Houston
334 Melcher Hall Room 262
Houston, TX 77204-6021
---
See Also:
---
Contact Us
Undergraduate
Business Programs
334 Melcher Hall, Room 262
Houston, TX 77204-6021
Email: bba@uh.edu
ELASP for Transfers Peer Mentor
---
Courtney East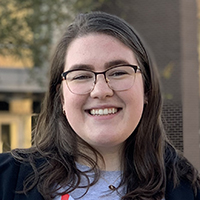 Courtney was born and raised in Texas but has lived in Houston since 2006. She spends most of her time at coffee shops working on school work when she's not on campus, but that's mostly because she really loves coffee! ELASP helped reveal to her the plethora of resources available to help students succeed here at Bauer. Without ELASP, she doesn't think she would have been as successful as she was during her first semester at the University of Houston. She is looking forward to being an encouraging and helpful resource for all of her mentees this semester. She is very excited to be able to serve her fellow Bauer students and she wishes everyone the greatest successes this upcoming fall semester! One piece of advice Courtney has for incoming students is: don't be afraid to ask questions! The students here at the University of Houston, especially Bauer students, are super friendly and most are more than willing to lend a helping hand.
---
×
ELASP for Transfers Peer Mentor
---
Jose Flores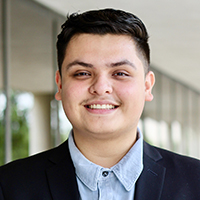 Jose is an accounting major and will be graduating with his BBA in 2020, along with his MBA in 2021 with the PPA program. Jose is 19 years old and grew up in Monterrey, N.L., Mexico until the age of 8, then moved to Houston, TX in 2008. He attended UT Austin during the Fall 2017 semester and transferred to UH for Spring 2018. He is so glad he did! At first, he was a bit scared of going to a new university and starting fresh again, but Bauer is super welcoming and everything became more manageable with ELASP for Transfers! He met others who were going through the same academic situation and classes he was, made lots of friends through the ELASP socials, and developed skills and abilities with the workshops offered. As a Peer Mentor, he hopes to be able to help YOU as much as he can with anything that you need; whether it be getting to know the campus, a study session, learning how to study for business classes, or anything for you to grow—he is here for you! A piece of advice he would give to incoming transfer students is to take advantage of everything Bauer has to offer—students orgs, counseling, academic and career advising, etc. Also, join ELASP for Transfers! It will truly be a beneficial experience and will help you adapt to Bauer quickly and efficiently. And it's also fun! A fun fact about Jose is that he knows how to play 6 different instruments: trumpet, piano (keyboard), French horn, percussion, saxophone, and a little guitar. He also loves to watch Netflix shows during his spare time, and since it's usually not common, he will usually binge-watch when he can. No regrets. He hopes you have a splendid and productive time at Bauer and UH—Go Coogs!
---
×
ELASP for Transfers Peer Mentor
---
Ryna Imran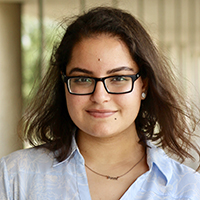 Ryna is a marketing major who transferred to University of Houston in spring 2018. She has a passion for art, writing, and anything creative. Starting her first semester at University, Ryna was a little overwhelmed and nervous, but being a part of the ELASP program eased all her fears and provided her with a great outlet to socialize, make great friends, and get to know her surroundings at Bauer better. She hopes to help her mentees in making the most of the ELASP program and hopes that all the future members of ELASP have the same amazing experiences she did.
---
×
ELASP for Transfers Peer Mentor
---
Clive Lembvem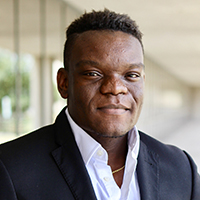 Clive is looking forward to being a Peer Mentor this fall 2018. He is currently a junior and plans on studying Finance. He is currently a licensed pharmacy technician and has been working as one for 3 years, ever since he graduated from Katy high school. A man of many hobbies, he enjoys soccer, stand-up comedy, weightlifting, Fashion, and philosophy. Clive was born in Cameroon a bilingual country in Africa, and is fluent in both English and French. He joined ELASP for spring 2018 and greatly enjoyed the program, deciding to come back as a Peer mentor. He highly recommends ELASP for transfer students looking to start off strong and capitalize on the many opportunities Bauer and the University of Houston have to provide. A little not-so-fun-fact about Clive is that he can't swim!
---
×
ELASP for Transfers Peer Mentor
---
Oswald Martinez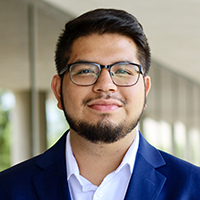 Oswald is currently a senior majoring in Accounting at Bauer. During his free time, he enjoys going to networking events, hanging out with family and friends, and trying new places to eat. Before he was a part of ELASP during the Fall 16 semester, he transferred to UH from Houston Baptist University. During that time he was new to the university and needed to find a way to quickly adjust to a new environment. That is where the ELASP Transfer program really helped him learn about the different resources Bauer has to offer and made it much easier to meet new people. His mission as a Peer Mentor is to create an environment where transfer students are comfortable asking questions and seeking help. He is also looking forward to getting to meet all the new faces in Bauer and have some sort of impact on the future leaders of Bauer and the Houston community. If he could give a piece of advice to any incoming transfer student, it would be to find a way to be involved on campus, even if you have responsibilities and priorities outside of school, you can gain so much from being a part of an organization.
---
×
ELASP for Transfers Peer Mentor
---
Avinash Patel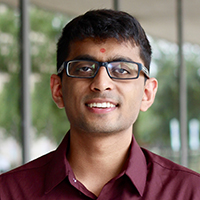 Avinash is a Management Information Systems major. He was born and raised in Mumbai, India for the majority of his childhood. He moved to the U.S. when he was 9 years old and it was hard transitioning into a different place. Coming into college was a big change for Avinash because he was able to make his own decisions and have more freedom. But, transitioning into UH from HCC was tough because he did not have many friends at Bauer. He was the shy, quiet kid who had a hard time talking to people. By joining ELASP, he was able to meet new people, explore a lot of places on campus (his first football game, first time bowling, etc). Through the mentoring and workshops, he realized that Bauer had so many resources readily available for him. He was able to get out of his comfort zone, meet new people, and create long lasting memories. This semester, he wants to give back to the program because of the help he received when he first came to UH. Avinash likes listening to music (Drake, Future, etc), working out, and playing basketball and video games. He can fluently speak 3 languages (Gujarati, Hindi, English) and knows some French. ELASP helped Avinash discover what major he wanted to end up in. He researched and spoke with his Peer Mentor and became more active in different events. By talking to other students and professionals, he was able to make his mind up. ELASP and the Peer Mentors also helped guide him on what classes to take and more importantly, which semester to take them in. ELASP helped remind Avinash that he was not alone on his journey. As a Peer Mentor, Avinash is looking forward to sharing his experiences and everything he learned at UH. He has made mistakes and wants to make sure someone else doesn't make the same mistakes. He also hopes to create memories that his mentees can remember throughout their years in college. One piece of advice Avinash has for incoming transfer students is that college will go by fast so it is important to enjoy every single moment. Also, your grades will depend on the amount of hard work you put in. Therefore, it is important of focus now and stay on the right path to set up your future.
---
×