Undergraduate
E

merging

L

eaders

A

cademic

S

uccess

P

rogram
Fall 2020-Spring 2021 Peer Leaders
Each new student will be assigned a Peer Leader, a Bauer upperclassmen, who will be their personal guide for "How to do Bauer." Bauer students will make up a team that will meet for a bi-weekly seminar led by their Peer Leader.
A freshmen student can expect their Peer Leader to help them with:

Meeting new people
Getting them connected to campus activities, clubs and organizations
Help navigating the UH campus
Learn strategies for being successful in classes (ex. how to interact with your professors, organize study groups, etc.)
Learn about and use academic and personal support resources at the university; such as the Writing Center, Learning Support Services, Health Center, etc.
Meet the 2020-2021 ELASP for Freshmen Peer Leaders
Peer Leaders coming soon.
---
ELASP for Transfers Fall 2020 Application
Application is open.
Follow us!
---
Contact Us
Questions about ELASP:
elasp@bauer.uh.edu
Emerging Leaders Academic Success Program
C. T. Bauer College of Business
University of Houston
334 Melcher Hall Room 262
Houston, TX 77204-6021
---
See Also:
---
Contact Us
Undergraduate
Business Programs
334 Melcher Hall, Room 262
Houston, TX 77204-6021
Email: bba@uh.edu
ELASP for Freshmen Peer Leader
---
Nina Joseph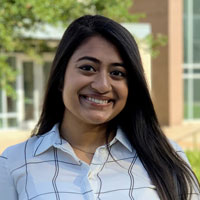 Nina is a sophomore and her intended major is Supply Chain Management. She was born in New York and lived there for five years before moving to Texas. Nina loves to travel and try new foods from snails to her mom's homemade Indian food. One of her favorite hobbies is dancing. She has participating in Indian Classical and Bollywood Dance since she was seven years old. Nina also loves spending time with her friends and family. When Nina was an incoming freshman, ELASP served as a platform to meet new people and feel comfortable with the transition from high school to college. Through ELASP, Nina was able to stay organized and consistent. As a Peer Leader, she hopes to be a helping hand to those who may be nervous about their first year at college. She also hopes to create a safe and fun environment for people to make and build connections. Nina's advice to new students is to be open to trying new things. Life is full of opportunities and Bauer is the perfect place to start!
×
ELASP for Freshmen Peer Leader
---
Hurig Kalustian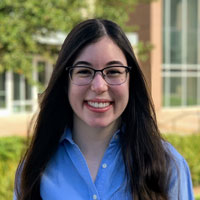 Hurig is a sophomore planning to major in finance and minor in supply chain management. She was born in Caracas, Venezuela and moved to Houston when she was 6 years old. Currently, she is the Director of Development for Bauer Student Union and hopes to continue to be a part of this amazing organization. During her free time, she enjoys watching cooking videos on YouTube, listening to music and going to museums. During her freshman year, ELASP gave her various resources to help her grow professionally and academically. In addition, ELASP has helped her create long lasting friendships and memories that will last forever. She hopes to use her past experiences to give advice to anyone that needs it, and to create a fun experience for freshman students. One piece of advice Hurig has for incoming freshman is to make the most of your first year because although the transition may be difficult, you only get to experience freshman year once.
×
ELASP for Freshmen Peer Leader
---
Phillip Niemann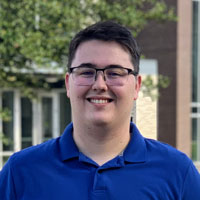 Phil is a sophomore majoring in Accounting. He was born in Russia but spent most of his life in Houston. He enjoys playing tennis and coaches youth groups on weekends. Phil loves to sing and spent his first semester at UH participating in the men's choir. He is currently the Treasurer of the Accounting Society and regularly participates in events on and off campus. ELASP has helped Phil by introducing him to new people and giving him the opportunity to align himself with others who have similar goals. Phil can't wait to help others in their transition to college and give them advice and tools to help themselves. One piece of advice Phil would give to the incoming freshmen is to get to know people and get involved. If you are passionate about something find others who share that passion. There will always be people who can help you along your path through college, you just have to find them.
×
ELASP for Freshmen Peer Leader
---
Kinsey Oliver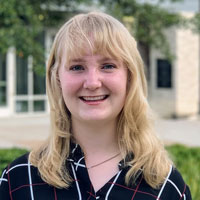 Kinsey is a sophomore intending to major in accounting. Although born in West Texas, she was raised in Western Australia and only recently returned to Houston for university. UH has quickly become her beloved home-away-from-home and ELASP was her favorite part of freshman year. She's so excited to share the experience with the incoming freshman over plenty of food, music, and games! A huge movie nerd, she is always attending the free film screenings at UH and can't wait to invite you along. The biggest advice she has for new students is to try everything UH has to offer with an open mind and always be eager to meet new people - but don't forget to study hard. Welcome to the cougar family!
---
×
ELASP for Freshmen Peer Leader
---
Sobouh Rahimi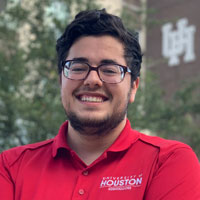 Sobouh is currently a sophomore planning to double major in Supply Chain Management and Accounting. He was originally born in Iran, but after moving to the Republic of Georgia and Turkey in his early childhood, he and his family finally settled in America when he was 10. He is currently a self-proclaimed plant dad, loves being spontaneously adventurous, exploring his creativity through art and graphic design, and most importantly spending quality time with friends and family. He is very passionate about addressing worldwide injustices and systematic inequities and providing opportunities to suppressed communities and plans to have a career where he can pursue these passions. Last year, in his time with ELASP, he not only made many lifelong friends but has made significant academic, personal, and professional development. This upcoming year, as a Peer Leader, he is looking forward to connecting individually with each and every single person in the program to provide support in their personal development and growth. He urges every student to not be afraid to seek discomfort, explore their passions, and be ready to make mistakes, while remembering to ask for help along the way.
---
×
ELASP for Freshmen Peer Leader
---
Lorena Zelaya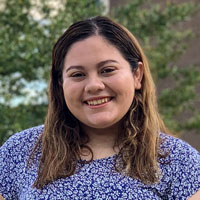 Lorena Zelaya intends to double major in finance and marketing. From being an officer for Bauer Student Union to being on the UH Orientation Team, she's into anything that will develop her leadership skills and she likes to keep herself busy. With her free time, she enjoys hanging out her friends, drinking coffee and listening to music (especially Khalid!). Being part of ELASP gave her the necessary resources to be a successful student at Bauer. She's so glad to be at UH and wants everyone to have Cougar Pride and feel at home. As a Peer Leader, she wants to build connections and friendships in order to be a support system for incoming students. One piece of advice that she has is to not be afraid to put yourself out there, find that organization that makes you feel a part of something special, but most importantly that makes you feel at home. She wants you to always remember that you make your college experience what you want it to be. She can't wait to meet you all and share her story. Go Coogs!
---
×