Undergraduate
Future Students
High School Students
Recruitment events
Bauer Visit
Event Details: Although COVID-19 has stopped on-campus tours we still want to help answer any questions you might have regarding the College of Business! Our visits are designed to provide prospective students and their families a more personal opportunity to learn about our Nationally Ranked Business Program. During your meeting we will have a short information session which will go over the following: Majors & Specialty Programs, Internship & Career Opportunities, Admission Requirements, and Scholarship Information.
To schedule: Please contact: bmoreno@cougarnet.uh.edu
The Office of Admissions is also now offering virtual campus visits. Register for an opportunity to receive a live campus tour from a student ambassador and a brief information session from an admissions representative. If you would like to attend this session as well as please RSVP at the following link: http://www.uh.edu/undergraduate-admissions/visit/campus-visit/index.php.
---
High School Visits and College Fairs
Unfortunately visits and college fairs for the spring semester are canceled due to COVID-19. If interested in hosting our Bauer recruiters virtually please feel free to email Brian Moreno at bmoreno@cougarnet.uh.edu.
---
Bauer Spotlight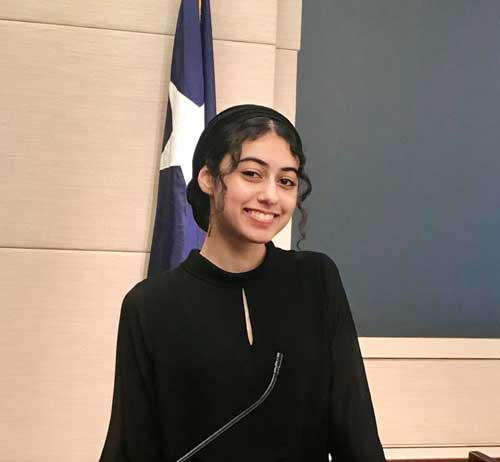 Rida Sarwar a former Pearland High School student and current business student had the opportunity of spending a semester in our nation's capital. Through the Bauer in D.C. program, Rida was in a position that showed a behind-the-scenes look at U.S. relations with other countries.
This is what she had to say about her Bauer in D.C. experience.
"For the past semester, I have had the privilege of representing the Bauer College of Business in one of the most exciting cities in the world. As an intern for the Osgood Center for International Studies, I have been able to apply everything I have learned in my classes to real-life job. No city has better experiences or brighter people, and all of this was possible because of Bauer. I hope to use what I have learned in D.C. in the future to achieve my goals and maybe even return someday."

---
Undergraduate Business Programs
---
ELASP Spring 2019 Application is Closed
---
Follow us!
---
Contact Us
Questions about ELASP:
elasp@bauer.uh.edu
Emerging Leaders Academic Success Program
C. T. Bauer College of Business
University of Houston
334 Melcher Hall Room 262
Houston, TX 77204-6021
---
See Also:
---
Contact Us
Undergraduate
Business Programs
334 Melcher Hall, Room 262
Houston, TX 77204-6021
Email: bba@uh.edu