Undergraduate
Future Students
High School Students
Come visit the C. T. Bauer College of Business
Welcome to C. T. Bauer College of Business Prospective High School Students information page.
We are excited about your interest in becoming a business student! We can't wait to see you on campus where you can partake in all the benefits of attending the C. T. Bauer College of Business:
A wide array of majors and top-ranked specialty programs to customize your business degree.
Social and mentoring events for all incoming freshmen through our Emerging Leaders Academic Success Program or the Bauer Honors Program.
On-campus recruiting through our Rockwell Career Services Center, which brings 100+ companies to campus each semester.
Networking opportunities with more than 50,000 Houston based alumni.
We know the decision of where to attend college is important and we want to help in that process. We hope this information helps you and look forward to you becoming a member of the University of Houston and Bauer family! For additional questions and assistance, please contact Brian Moreno, Program Manager for High School Recruitment at bmoreno@bauer.uh.edu.
Meet your College of Business Recruiter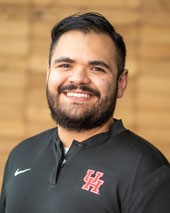 Hello, it is a pleasure to meet you. My name is Brian Moreno, and I am the Program Manager for H. S. Recruitment here at the C. T. Bauer College of Business. I have been with C. T. Bauer College of Business since 2017 and have enjoyed every year working here. I am here to assist you with any questions you might have regarding our different majors, resources, requirements, or any other questions. I am passionate about helping you find your right university and business major. As a first-generation student, the search for the right FIT can be troubling and filled with anxiety and stress. I hope to ease these stresses you might be facing and help you with any questions you might have about the College of Business or the University of Houston. Please do not hesitate to reach out to me via email to start a dialogue and perhaps even schedule a virtual meeting to discuss any issues you might have.
Want to be notified FIRST about future events?
Then fill out our Prospective Information Virtual Form to be enrolled in our mailing list. You will be the FIRST to know about all the great resources and FREE opportunities offered at the C. T. Bauer College of Business.

---
Undergraduate Business Programs
---
ELASP Spring 2019 Application is Closed
---
Follow us!
---
Contact Us
Questions about ELASP:
elasp@bauer.uh.edu
Emerging Leaders Academic Success Program
C. T. Bauer College of Business
University of Houston
334 Melcher Hall Room 262
Houston, TX 77204-6021
---
See Also:
---
Contact Us
Undergraduate
Business Programs
334 Melcher Hall, Room 262
Houston, TX 77204-6021
Email: bba@uh.edu