Office of the Dean
Bauer College Board
The Bauer College Board (BCB) works with the dean of the Bauer College to create a strong and enduring relationship between the college and the business community. The BCB provides input on a number of critical issues, including strategy, thought leadership, student engagement and curricular relevance. In addition, the BCB assists with garnering the monetary support needed to maintain and enhance the reputation of the C. T. Bauer College of Business.
Paul A. Pavlou, Ph.D.

Dean
Cullen Disinguished Chair
C. T. Bauer College
of Business

Paul Peacock

BBA '81
Retired Partner
Pricewaterhouse Coopers LLP (PwC)

Chair, Bauer College Board

Elaine Willits Finger

BBA '92
Real-Estate Consultant
The Finger Companies

Vice-Chair, Bauer College Board

Bala V. Balachandran

Visiting Professor, Acct. and Info Management
Northwestern University

Dan Bellow

President - Houston
Jones Lang LaSalle

J. Downey Bridgwater

BBA '84
President - Houston Market
Comerica

Michael J. Cemo

BS '68
President
Michael J. Cemo Interests

Anthony R. Chase

Chairman & CEO
ChaseSource, LP

Joel Cowley

President & CEO
Houston Livestock Show and Rodeo

Samuel DiPiazza Jr.

MS ACCY '73
Retired, CEO
PricewaterhouseCoopers
LLP

Wang Dongjin

President & Deputy General Manager
China National
Petroleum Corp.


Milton Frankfort

BBA '67
Co-Chairman
Frankfort Lipp Capital Advisors, LLC

Bob Gray

Partner
Mayer Brown LLP

Kenneth J. Guidry

BBA '77
President
PKF Texas

C. Gregory (Greg) Harper

MBA '97
President & CEO
Blue Mountain Midstream, LLC

Natara Holloway

BBA '98
VP, Strategic Planning & Business Development, Y&HS Football
National Football League

Karen W. Katz

MBA '82
Retired CEO & President
Neiman Marcus

Fran Keeth

'77, MS ACCY '80, JD '88
Retired CEO
Shell Chemicals Inc.

Paal Kibsgaard

Chairman & CEO
Schlumberger Limited (SLB)


Elizabeth Killinger

BBA '91
President - NRG Retail & Reliant
NRG Energy

Duy-Loan T. Le

MBA '89
Retired, Senior Fellow
Texas Instruments (TXN)
Board of Directors:
National Instruments, eSilicon, Axcelis, Medigram


Executive Advisory Committee

Robert Lewey

President
IES Holdings, Inc.

Aylwin B. Lewis

MBA '90
Former President & CEO
Potbelly Sandwich Works

Scott McClelland

President - H-E-B Houston
H-E-B

David L. Mendez

Vice Chariman
JPMorgan Chase

Mark Mize

EVP, Chief Financial Officer & Treasurer
Halcón Resources

Mark G. Papa

MBA '80
Chairman & CEO
Centennial Resource Development, Inc.

Richard G. Rawson

BBA '72
Retired President & Board of Directors Member
Insperity, Inc.

S. Glynn Roberts

MBA '91
President
SGR Oil and Gas Interests, LLC

M. Russ Robinson

Director
Robinson Brown Investments

Diane M. Scardino, FACHE

BBA '92
Vice President
Texas Children's Health Plan

Sam Schreiber

BBA '74
President
Chain Bridge Bank, N.A.

Zin Smati

Chairman & CEO;
Senior Advisor
LifeEnergy; LS Power

Steve Stagner

Executive Chairman
& CEO
Mattress Firm

Steve D. Stephens

President
Amegy Bank

Dave Warren

President
Energy Alloys

Trey Wilkinson

BBA '92, MBA '02
President & CEO
Trinity Legacy
Partners, LLC

Bruce A. Williamson

MBA '95
Chairman, President
& CEO
Southcross Energy Holdings

Floyd Wilson

Chairman, President
& CEO
Halcón Resources

Darren Wolfman

BBA '81
Sr. Manager, Tax
Easley, Endres, Parkhill & Brackendorff P.C.
---
Contact Us
C. T. Bauer College of Business
Melcher Hall
The University of Houston
Houston, TX 77204-6021
Phone: 713-743-4600
Fax: 713-743-4622
---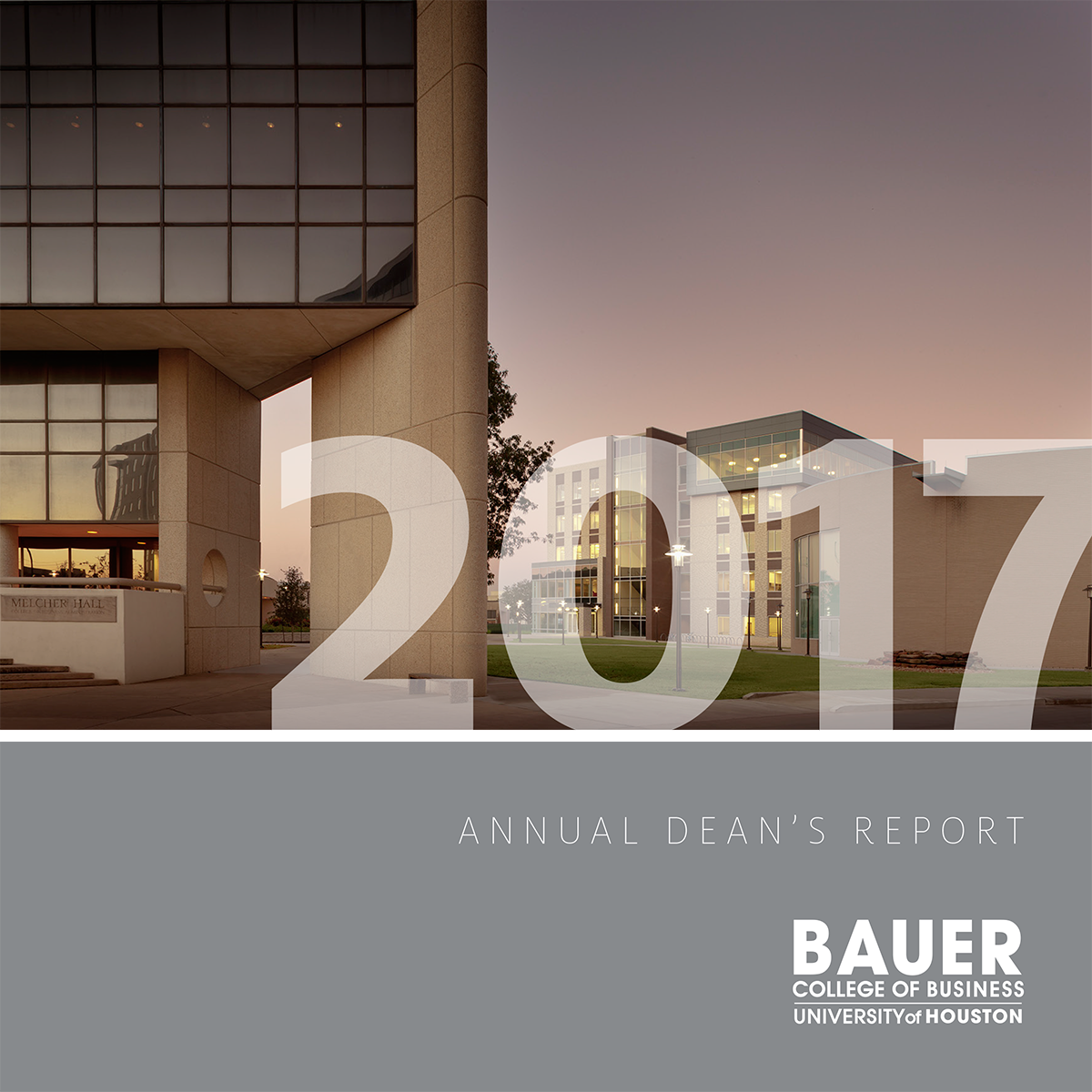 Read the 2017 Annual Dean's Report
---
Latest News