News Center | Office of Communications
Podcast
Latest Episode
Episode 29: Megan Iselin (BBA '15, MSACCY '16) – A conversation on grit, determination & navigating life after graduation with PwC risk assurance associate Megan Iselin (BBA '15, MSACCY '16) and Chris Gervasio (BBA '17, MSACCY '18). (iTunes | MP3 | Web Player)
From the series:
How Do They Do It?
Working Wisdom from the C. T. Bauer College of Business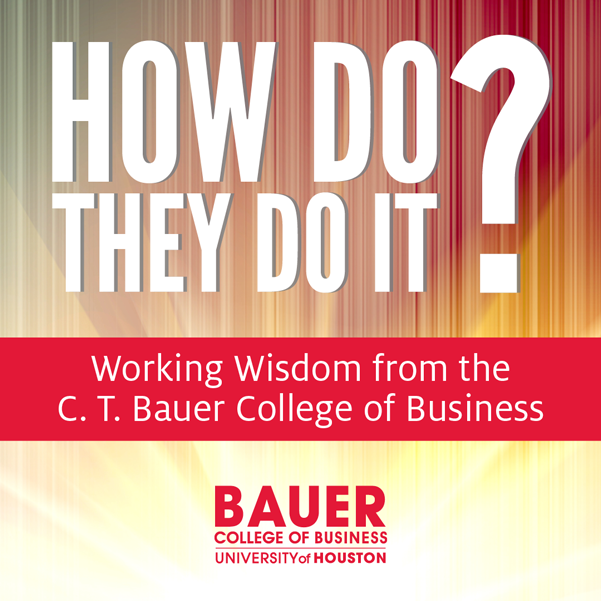 "How Do They Do It?" is a podcast in the Working Wisdom series from the C. T. Bauer College of Business. The podcast focuses on work, life and everything in between, featuring conversations with amazing people who have navigated and overcome obstacles to achieve personal and professional success.
From simultaneously building a professional career to nurturing a family (whether that is a spouse, children, parents or other relatives) to identifying creative and personal pursuits, many often look at successful people in business and wonder, How do they do it?
Through this podcast, we hope to provide an answer — they just do.

How Do They Do It: Previous Episodes
---
Advertising
Interested in advertising opportunities with Bauer College's Working Wisdom podcast series? Email Jessica Navarro, executive director of communications, at jnavarro@bauer.uh.edu.
Working Families Initiative
The Bauer College Working Families Initiative provides resources, support and access to make workplaces friendly to working families. Click here to learn more.
---
Contact Us
For direct media inquiries and to interview a faculty expert, contact:
Jessica Navarro
Executive Director, Communications
713-743-4348
jnavarro@bauer.uh.edu
(Email preferred)
---
Office of Communications
Melcher Hall Room 320G
University of Houston
Houston, TX 77204-6021
---
See Also