Office of the Dean
Richard Scamell
Associate Dean, Student Affairs
Professor, Decision and Information Sciences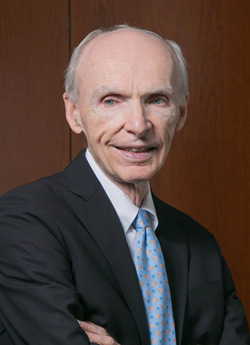 Richard Scamell has been a member of the University of Houston faculty since 1972. With more than four decades of experience working with students, serving on committees and teaching, as associate dean of student affairs, Scamell provides students a nurturing environment to achieve success.
Teaching
After receiving his Ph.D. in Statistics and Operations Research from The University of Texas at Austin, Scamell has taught in the database management systems, decision support systems, and MIS research methods areas. He has worked with students at all levels, including more than 60 doctoral student committees, serving as chairperson of 16 of them. He has received numerous awards for Excellence in Teaching at the University of Houston and in Bauer College.
Research and University Service
Over the years Scamell has served on a variety of University of Houston academic policies committees at the undergraduate and graduate levels. For the past 20 years he has been the University of Houston NCAA Faculty Athletics Representative. In 1997 he served as the Interim Director of Athletics. His research has appeared in numerous scholarly journals, including Management Science, Communications of the ACM, MIS Quarterly, Academy of Management Journal, ACM Transactions on Information Systems, IEEE Transactions on Software Engineering and Decision Sciences, among others. Scamell's book, Data Modeling and Database Design, co-authored with N. S. Umanath, and published by Cengage Learning, is in its second edition.
---
Contact Us
C. T. Bauer College of Business
Melcher Hall
The University of Houston
Houston, TX 77204-6021
Phone: 713-743-4600
Fax: 713-743-4622
---
Latest News