Fall 2022 University Commencement Ceremony
Date: Friday, December 16, 2022
Venue: Fertitta Center, UH Campus
Time: 2 p.m.
The University Commencement will include all Summer/Fall 2022 bachelor's, master's and Ph.D. degree candidates. This is a shared celebration with faculty, staff and friends who have shaped your education. Cheerfully hear your name called and walk across the stage to receive your accolades.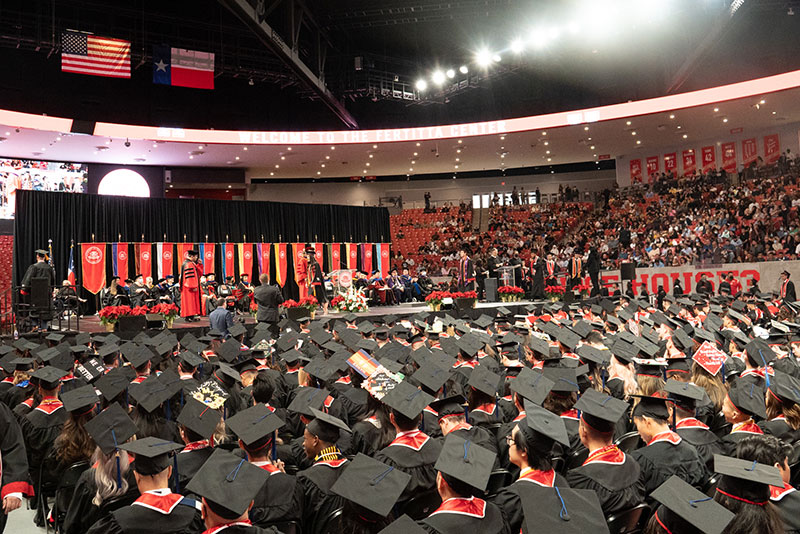 Ticketing Information
All guests will require a ticket to enter the venue. Each graduate will receive 6 tickets electronically with a link to download from the UH Ticket Center close to the ceremony date. Graduates do not require a ticket to participate. The ceremony will be live-streamed for those who are unable to attend. The link can be found on the University Commencement web page.
Graduate Check-In
Check-in for graduates will be inside the Alumni Center. Walk Cards will be distributed to the graduates at this time for your review on the spelling for name announcement and email address for photo notification.
All graduates will line up in the Alumni Center and should arrive by 12:30 p.m. for Check-in. The processional will begin promptly at 2 p.m. and should conclude by 4 p.m. All graduates should arrive with their regalia on. Graduates arriving after 1:30 p.m. may not arrive in time to join the processional walk.
Cap and Gown
Academic regalia will be required to participate in the upcoming ceremonies. Please arrive dressed in your regalia. The UH Bookstore will hold the events below. For additional information please call the UH Bookstore at 713-748-0923 or visit them on their website: https://www.bkstr.com/houstonstore/home.
The Herff Jones website is live, and students are able to order their regalia sets now. The website is herff.ly/uh.
Last Day to Order Online
November 5, 2022
Orders will ship to their homes
Grad Fair
October 10-11, 2022
10 a.m. - 2 p.m.
Orders will ship to store later in the semester
Graduation Celebration
December 1, 2022
10 a.m. - 3 p.m.
Students can pick up grad fair orders.
Bulk order will be available for those that did not order online or at grad fair, these are first come, first serve on sizing
Photography
Flash Photography is the official photographer for the University of Houston commencement ceremonies. Flash will send proofs to you at the address on your walk card. If you have any questions regarding photographs please reach out to them for assistance.
Program
Every effort is made to include the names of all official graduates in the printed commencement program. However, please be aware that the program is not an official document with regard to eligibility for graduation or any honors conferred. Inclusion of a name in the program does not guarantee graduation or honor status. Please note that students who apply for graduation after the first graduation deadline may not see their name appear in the program.
Privacy
Students who requested that public information not be released must specify that their information may be included in the program when applying for graduation. Otherwise, the university will not publish their graduation information unless the Bauer College of Business, Undergraduate Business Program has a signed release form.
Special Needs
Registered CSD Students needing any additional services or have special requests must notify the Center for Students with DisAbilities (CSD) at least 2 weeks prior to their scheduled ceremony. Center for Students with DisAbilities CSD) can be reached at 713-743-5400 or http://www.uh.edu/csd/ for any assistance. If you are a graduate with special needs please email Kathy Dominguez at kdominguez@uh.edu should you need assistance with the processional or the recognition walk.
Parking
All guest are to park in the TDECU Stadium Garage located on Holman Street at no charge. The garage has accessible parking on the first level. Please display a valid handicap decal or hangtag. Please plan to arrive and park early as there is construction and traffic delays around the ceremony site. Graduates can park in Lot 16 B/C and walk to the Alumni Center for Graduate Check-In.
General Information
All graduates and guest should review the Clear-Bag Policy before arriving at the Fertitta Center. This policy applies to you and to your guests. It is advised that graduates bring limited items as there will be no area/place to store your belongings. Your guests can bring celebratory items such as posters and flowers. Air horns and signs with poles/sticks will not be permitted. Please be sure to wear comfortable shoes as there will be quite a bit of walking. Doors to the Fertitta Center will open at an hour early prior to the ceremony time through the Holman Street entrance. For mobility impaired guest, the doors will open at an hour and a half early prior to the ceremony time also through the Holman Street entrance.
UH Spirit Cords
The Cougar Spirit Cord is a symbol of your pride and a way to help make more scholarships available to next year's students or show support for a program that made a difference in your UH experience. Possibly making a minimum $22 donation (perhaps a gift in honor of your class, 2022) to your college and wear the cord at the ceremony to show your Cougar Pride! Don't wait, click here and choose to give now!
For further questions regarding the undergraduate commencement ceremony, please contact Kathy Dominguez at kdominguez@uh.edu.