Doctoral
Ph.D. Program in Finance
Recent Graduates
Bingxin Li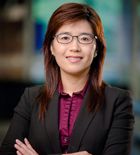 I joined the PhD program of Finance Department at Bauer College of Business in 2007. With a physics background, I am especially grateful the Finance Department offers systematic PhD courses that helped me to form my knowledge foundation and gradually build up my intuition for future research. I also benefit a lot from the weekly seminar and colloquium, which share research progresses and encourage discussion. The faculty at Finance department are strong both in their research abilities and advising students. They are productive, insightful, and always willing to help. I greatly appreciate that they set high standards for PhD students. While I struggled and eventually solved the problem, I learned and was inspired to approach excellence. During my PhD study, I gained not only valuable knowledge and skills, but also passion and confidence in research.
Learn more about Bingxin Li at West Virginia University's web site.
–Bingxin Li
Assistant Professor
West Virginia University
---
Eunju Lee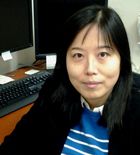 The Bauer Ph.D. program was a great opportunity for me to achieve my academic goals. It was structured in a way that students were able to learn various areas of their field of study throughout coursework and focus on their research areas by working on research projects. It was also a great experience working with Bauer faculty during my Ph.D. studies. They were very research active and tried to help students develop skills for research and teaching. I remember whenever I became frustrated with the lack of research progress or uncertainty about my future career, they encouraged me to overcome such difficulties and keep moving forward. These memories will always remain in my mind, and I am trying to do my best to give my students the same precious memories I have had from Bauer.
Learn more about Eunju Lee at University of Massachusetts Lowell's web site.
–Eunju Lee
Assistant Professor
University of Massachusetts Lowell
---
Xin Gao
Xin "Shane" Gao is an Assistant Professor of Finance at Jack Welch College of Business at Sacred Heart University.
Learn more about Xin Gao at Sacred Heart University's web site.
---
---
APPLY NOW
---
Contact Information
Professor Rex Du,
Director of Doctoral Programs
Professor Volkan Muslu,
Accounting Program Coordinator
Professor Kris Jacobs,
Finance Program Coordinator
Professor Dejun Tony Kong,
Management Program Coordinator
Professor Randolph Cooper,
MIS Program Coordinator
Professor Ye Hu,
Marketing Program Coordinator
Professor Funda Sahin,
Supply Chain Management Program Coordinator
---