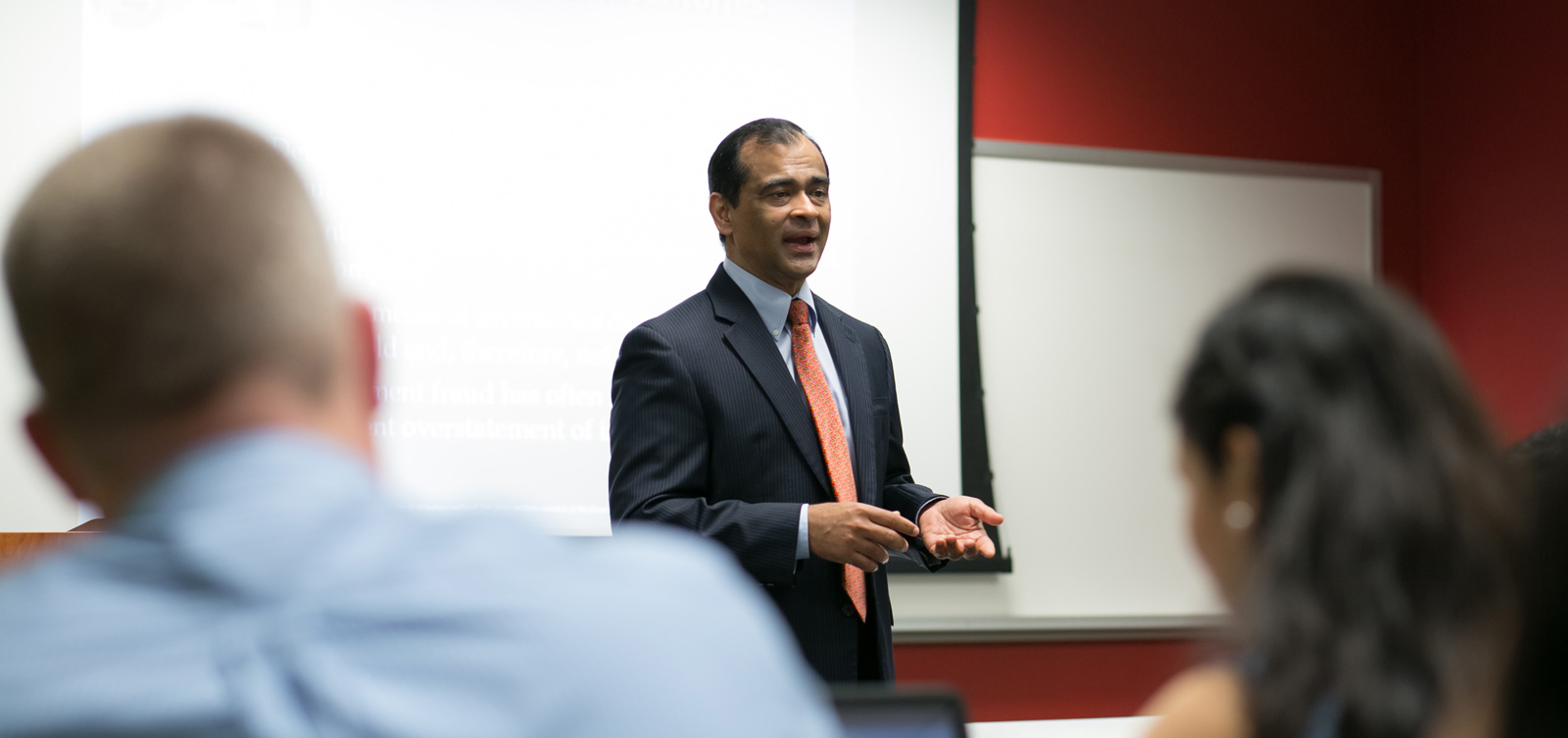 Our Mission
Prepare accounting graduates for leadership roles in the public and private sector,
Conduct research that is relevant to theory, practice and education,
Perform service that benefits our College, University, and community, and
Develop a reputation as a leading department of accountancy and taxation.
Our Learning Goals Help Us Achieve High Academic Standards
We establish and follow learning goals for each of our programs as part of our accreditation by AACSB International. AACSB stands for the Association to Advance Collegiate Schools of Business. The AACSB establishes standards for accounting programs across the globe by which our programs are measured.
Bauer is one of only 186 institutions in the world that hold an additional specialized AACSB Accreditation for their accounting programs. Our accreditation tells our stakeholders that we:
Manage resources to achieve a vibrant and relevant mission;
Advance accounting knowledge through faculty scholarship;
Provide high-caliber instruction of quality and current curricula;
Cultivate meaningful interaction between students and our qualified faculty, and
Produce graduates who have achieved specified learning goals.
For students, alumni and employers alike, our accreditation is the cornerstone of a degree that has substantial market value and will serve the goals and interests of our stakeholders for years to come.
| Learning Goals | Objective |
| --- | --- |
| Capacity to identify and diagnose accounting problems | Students will be able to recognize dysfunctional accounting situations |
| Capacity to verbally communicate business information | Students will be able to verbally communicate business information in a clear and concise manner |
| Capacity to recognize ethical and regulatory dilemmas | Students will have an understanding of ethical responsibilities |
| Basic understanding of accounting and financial concepts(theoretical) | Students will demonstrate knowledge of financial conceptual issues |
| Learning Goals | Objective |
| --- | --- |
| Written Communication | Students will demonstrate effective written communication skills when communicating accounting-related information. |
| Research Skills | Students will be able to identify authoritative sources relevant to accounting-related issues. |
| Ethical Awareness | Students will be able to explain ethical considerations relevant to business dilemmas. |
| Global Awareness | Students will demonstrate an understanding of international accounting standards. |
| Technological Skills | Students will demonstrate proficiency in using data analysis software and accounting information technology. |
| Analytical Problem Solving Skills | Students will be able to articulate logical solutions to complex or unstructured accounting and financial problems. |
| Financial Risk Assessment Skills | Students will be able to identify risks associated with accounting and tax reporting systems. |
| Learning Goals | Objective |
| --- | --- |
| Capacity to competently teach full semester accounting class at the (college) sophomore or above level. | Students will meet or exceed expectations for teaching competency based on student evaluations and assessments conducted by two faculty members during unannounced class visits. |
| Capacity to evaluate, interpret, and synthesize existing accounting research | Graduates will critique one recent academic accounting paper as part of the written comprehensive exam. |
| Analytical Skills | Students will demonstrate the ability to analyze and integrate information in the course of evaluating and conducting research. |