Personal Financial Planning Track
Financial Symposium 2017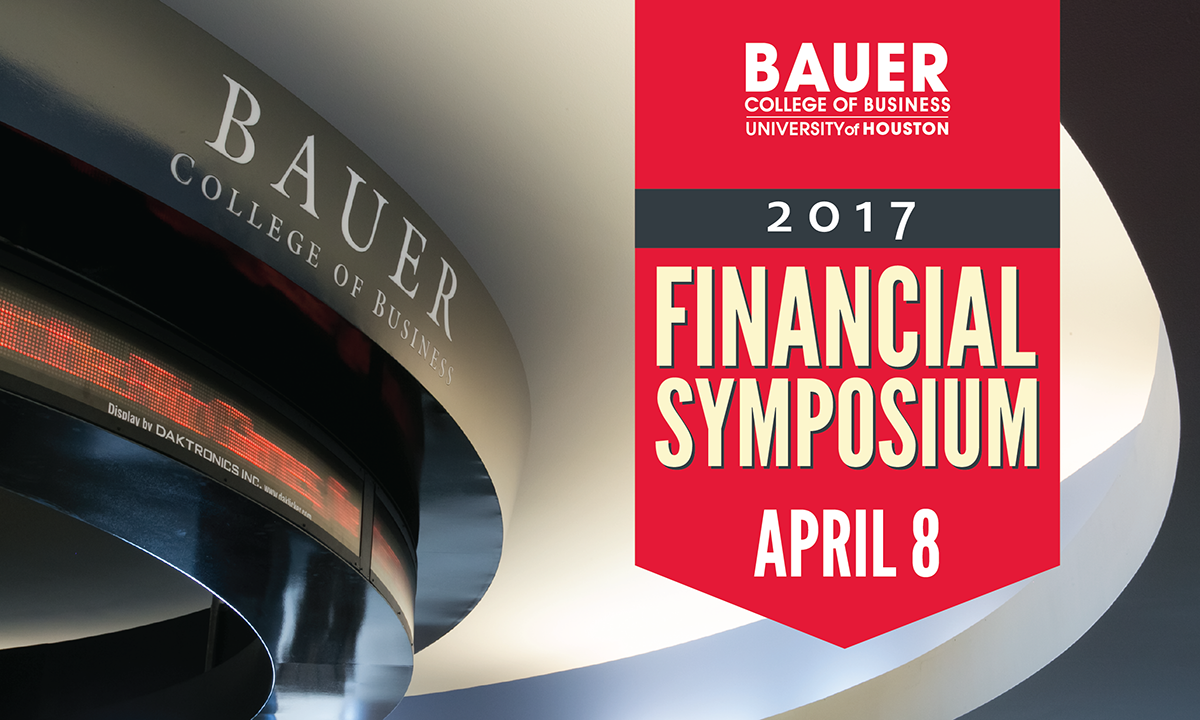 When:


Registration:

Where:


Why:
9 a.m.-1 p.m. Saturday,
April 8, 2017

8:30-9 a.m.

Cemo Hall, University of Houston

To promote Financial Literacy to students and the Houston community in partnership with the Texas Council of Economic Education. Open to all students and the community
In Conjunction with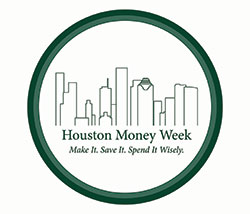 http://www.houstonmoneyweek.org
The goal of the Financial Symposium is to provide current UH students and the Houston community with information on basic financial topics and on curriculum options for financial education and careers in financial services, including commercial banking, financial analysis, and personal financial planning.
Session Topics:
Saturday, April 8, 2017, from 9 a.m. – 1 p.m. | Cemo Hall, University of Houston
Check-in from 8:30-9 a.m. | Click each session topic for more information.
Plenary Session 9-9:50 a.m.
Keynote Speaker:
Joe Kinahan, Chief Market Strategist, TD Ameritrade



Joe (JJ) Kinahan, Managing Director of Client Advocacy and Market Structure, began his career as a Chicago Board Options Exchange (CBOE) market maker in 1985, trading primarily in the S&P 100 (OEX) and S&P 500 (SPX) pits. While spending his time there primarily as an independent market maker, he also worked for ING Bank, Blue Capital and was Managing Director of Option Trading for Van Der Moolen, USA. In 2006, Kinahan joined the thinkorswim Group, which was eventually acquired by TD Ameritrade.

Kinahan, a 30-year trading veteran, is a CNBC regular, a Forbes Contributor and is frequently quoted in the Wall Street Journal, Financial Times and Reuters News, along with many other respected media outlets. He is also a member of the Advisory Board at CBOE and the OIC Rountable. His licenses include the 3, 4, 7, 24 and 66.
---
Breakout Session 1 - 10-10:50 a.m.
Money and Career Management: Veterans

Learn the essentials of how to establish financial stability and manage your money after transitioning from the military.

Presenter:

Ike Ukazu, Financial Professional Associate at Prudential Financial

Ike Ukazu is a graduate of the Bauer College of Business with a Bachelor's of Business Administration in Finance. Ike became passionate about personal financial planning while taking the Personal Financial Planning Course taught by John Lopez at U of H. During his undergraduate career, he taught numerous money management seminars around the University of Houston to increase financial literacy in the student body. Before studying at the University of Houston, Ike served for 4 years in the Marine Corps, obtaining the rank of Sergeant. Ike has now taken his aspirations and experiences to educate others to help people every day as a Financial Planner with Prudential Advisors.

×

Shrinking Your College Debt Footprint: Avoiding Unnecessary Expenses and Financial Tips to Help You Succeed

Students incur unnecessary debt due to dropping classes or adding a second major or minor that may not add value to their degree. This workshop will cover way to avoid unnecessary debt and tips for financial success in college.

Presenters:

Frank Kelley, Associate Dean, Undergraduate Studies

Frank Kelley serves as the associate dean for Undergraduate Studies in the Bauer College of Business at the University of Houston. He has been with the University of Houston since 1987 and the Bauer College since 1992, and taught college English for ten years prior to his work in educational administration. His office oversees advising and administrative affairs for over 5,000 undergraduate business majors and minors, and outreach programs such as the Program for Financial Literacy and college access programs.

×

Jacqueline Walker, Financial Literacy Counselor, University of Houston

Jacqueline Walker is currently the Financial Literacy Counselor at the University of Houston. Having worked in the financial industry for over eighteen years, Jacqueline has a special interest in working with students in financial education. As a Financial Literacy Counselor, Jacqueline strives to help all students develop financial plans that will help them be successful during college and beyond. After earning a Bachelor of Business Administration, Jacqueline earned her Accredited Financial Counselor (AFC) certification in 2015. Jacqueline is a member of the Association for Financial Planning, Counseling and Education.

×

Money Management: College Edition

Learn real world strategies for managing your cash flow so that you know where your money is going and you are not caught short when emergencies happen. Also to better understand you credit score, you need to know what it entails and how to maintain it.

Presenters:

Susan Kizer, Economic Education Coordinator, Federal Reserve Bank, Houston Branch

Susan is the Economic Education Coordinator for the Houston Branch of the Federal Reserve Bank of Dallas. Her work focuses on professional outreach to organizations and individuals within the Houston region, concentrating on professional development for high school and college educators throughout the district. Educationally innovative programs including Freedom Riders, Student Board of Directors, History through an Economic Lens, and 100 Teens have been the hallmark of her work at the Houston Fed. This year Susan served as the ExxonMobil Executive in Residence at Lamar University, providing important economic information on monetary policy and the role the central bank. Additionally, she has been a presenter for TCSS and NCSS for the past five years covering topics that included the Gold Standard, Energy and Financial Literacy. Susan has a MA in Education and a BS in Economics.

×

Sherrie Young, Credit Coalition

Sherrie Young serves as the Executive Director of the Credit Coalition, a HUD Approved Housing Counseling Agency, whose membership includes Houston area financial institutions, community organizations, community leaders and other related businesses and organizations. She is the Credit Coalition's lead instructor and foreclosure intervention, credit, homebuyer and reverse mortgage counselor. Aside from counseling and conducting Credit Coalition classes, Sherrie participates in many community events to help spread the word about financial education, Individual Development Accounts, free VITA site tax preparation assistance, and other programs that can help families build and retain their assets. She is the Chair of the Counseling Committee of the Greater Houston Housing Coalition and Co-Chair of the Counseling Committee of the Texas Foreclosure prevention Task Force. Sherrie is a certified homebuyer education provider under the Texas Statewide Homebuyer Education Program and a HUD Certified Reverse Mortgage Counselor. She completed her Accredited Financial Counselor Certification in 2007 and holds NCHEC Certifications in Housing Counseling, Pre-purchase Homeownership Education and Foreclosure Intervention and Default Counseling.

×
Breakout Session 2 - 11 a.m. - 11:50 a.m.
Careers in Personal Financial Planning

When choosing a career, it is not only important to consider your skills and interests, but also what careers you can align them with to support the lifestyle you desire. There will be an opportunity to hear about careers in finance, especially in personal financial planning services.

Presenter:

Professor John Lopez, Clinical Associate Professor, University of Houston C. T. Bauer College of Business

Since his undergraduate days at the University of Houston's Bauer College of Business, John Lopez has had an interest in personal finance savings, money management, investing, and making smart decisions when it came to money. Upon graduation, he attended Texas A&M where he earned an MBA in Finance. He entered "Corporate America" and worked for several major international firms (learn more at LinkedIn). Later in life he continued his education in personal finance by attending Rice University's Certified Financial Planner Program and then successfully completing the CFP Certification Exam. After early retirement and a two-year sabbatical to travel and explore, he began teaching Financial Planning at Bauer. He is passionate about teaching students the fundamentals needed to become financially secure and ultimately financially independent.

×

Shrinking Your College Debt Footprint: Avoiding Unnecessary Expenses and Financial Tips to Help You Succeed

Students incur unnecessary debt due to dropping classes or adding a second major or minor that may not add value to their degree. This workshop will cover way to avoid unnecessary debt and tips for financial success in college.

Presenters:

Frank Kelley, Associate Dean, Undergraduate Studies

Frank Kelley serves as the associate dean for Undergraduate Studies in the Bauer College of Business at the University of Houston. He has been with the University of Houston since 1987 and the Bauer College since 1992, and taught college English for ten years prior to his work in educational administration. His office oversees advising and administrative affairs for over 5,000 undergraduate business majors and minors, and outreach programs such as the Program for Financial Literacy and college access programs.

×

Jacqueline Walker, Financial Literacy Counselor, University of Houston

Jacqueline Walker is currently the Financial Literacy Counselor at the University of Houston. Having worked in the financial industry for over eighteen years, Jacqueline has a special interest in working with students in financial education. As a Financial Literacy Counselor, Jacqueline strives to help all students develop financial plans that will help them be successful during college and beyond. After earning a Bachelor of Business Administration, Jacqueline earned her Accredited Financial Counselor (AFC) certification in 2015. Jacqueline is a member of the Association for Financial Planning, Counseling and Education.

×

Money Management: College Edition

Learn real world strategies for managing your cash flow so that you know where your money is going and you are not caught short when emergencies happen. Also to better understand you credit score, you need to know what it entails and how to maintain it.

Presenters:

Susan Kizer, Economic Education Coordinator, Federal Reserve Bank, Houston Branch

Susan is the Economic Education Coordinator for the Houston Branch of the Federal Reserve Bank of Dallas. Her work focuses on professional outreach to organizations and individuals within the Houston region, concentrating on professional development for high school and college educators throughout the district. Educationally innovative programs including Freedom Riders, Student Board of Directors, History through an Economic Lens, and 100 Teens have been the hallmark of her work at the Houston Fed. This year Susan served as the ExxonMobil Executive in Residence at Lamar University, providing important economic information on monetary policy and the role the central bank. Additionally, she has been a presenter for TCSS and NCSS for the past five years covering topics that included the Gold Standard, Energy and Financial Literacy. Susan has a MA in Education and a BS in Economics.

×

Sherrie Young, Credit Coalition

Sherrie Young serves as the Executive Director of the Credit Coalition, a HUD Approved Housing Counseling Agency, whose membership includes Houston area financial institutions, community organizations, community leaders and other related businesses and organizations. She is the Credit Coalition's lead instructor and foreclosure intervention, credit, homebuyer and reverse mortgage counselor. Aside from counseling and conducting Credit Coalition classes, Sherrie participates in many community events to help spread the word about financial education, Individual Development Accounts, free VITA site tax preparation assistance, and other programs that can help families build and retain their assets. She is the Chair of the Counseling Committee of the Greater Houston Housing Coalition and Co-Chair of the Counseling Committee of the Texas Foreclosure prevention Task Force. Sherrie is a certified homebuyer education provider under the Texas Statewide Homebuyer Education Program and a HUD Certified Reverse Mortgage Counselor. She completed her Accredited Financial Counselor Certification in 2007 and holds NCHEC Certifications in Housing Counseling, Pre-purchase Homeownership Education and Foreclosure Intervention and Default Counseling.

×

Breakout Session 3 - Noon - 12:50 p.m.

Evaluating and Negotiating a Job Offer

To teach students how to effectively negotiate a salary and to evaluate a benefits package which is offered by an employer.

Presenters:

John Lopez, Clinical Associate Professor, University of Houston C. T. Bauer College of Business

Since his undergraduate days at the University of Houston's Bauer College of Business, John Lopez has had an interest in personal finance savings, money management, investing, and making smart decisions when it came to money. Upon graduation, he attended Texas A&M where he earned an MBA in Finance. He entered "Corporate America" and worked for several major international firms (learn more at LinkedIn). Later in life he continued his education in personal finance by attending Rice University's Certified Financial Planner Program and then successfully completing the CFP Certification Exam. After early retirement and a two-year sabbatical to travel and explore, he began teaching Financial Planning at Bauer. He is passionate about teaching students the fundamentals needed to become financially secure and ultimately financially independent.

×

Learn More About Bauer's Finance Degrees