Personal Financial Planning Track
Financial Symposium 2015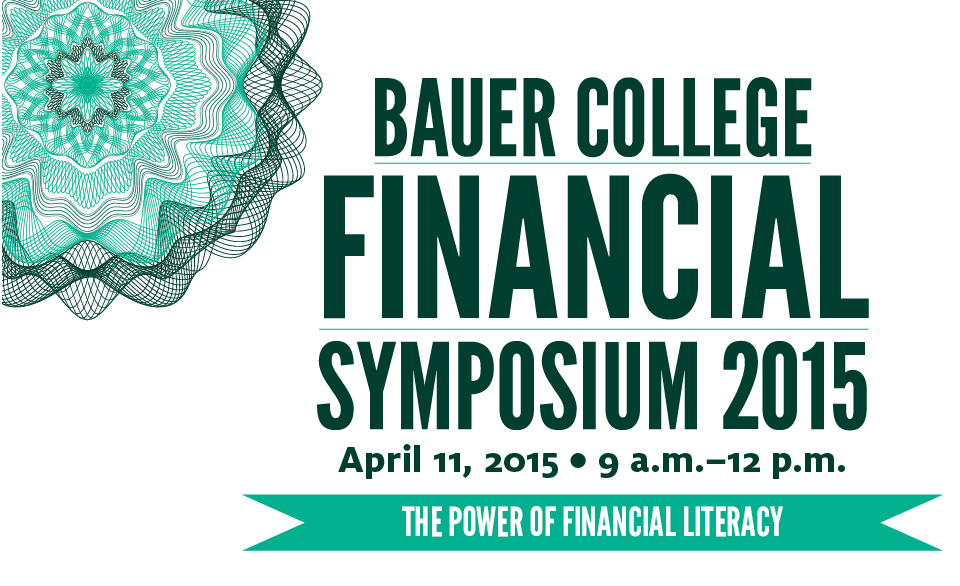 In Conjunction with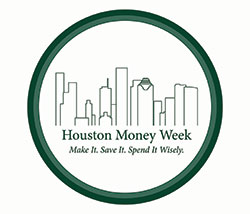 http://www.houstonmoneyweek.org
The goal of the Financial Symposium is to provide current UH students and the Houston community with information on basic financial topics and on curriculum options for financial education and careers in financial services, including commercial banking, financial analysis, and personal financial planning.
Session Topics:
Saturday, April 11, 2015, from 9 a.m. – 12 p.m.
Cemo Hall, University of Houston
Check-in from 8:30-9 a.m.
Click each session topic for more information.
Plenary Session 9-9:40 a.m.
The Power of Financial Literacy for You and Your Community
Keynote Speaker:
Steph Sherrodd, President & CEO of Texas Dow Employees Credit Union (TDECU)



Steph Sherrodd, president and CEO of TDECU, the largest credit union in the Houston area, and fourth-largest in Texas, with over 200,000 members, and $2.5 billion in assets. Sherrodd left her home state of Wyoming behind eleven years ago to move to Houston to work with TDECU. She has spent most of her life in financial services and retail. Before moving to Houston, she was COO and vice president of lending at the Cheyenne, Wyo.-based Warren Federal Credit Union.

Hometown: Green River, Wyo.
Family: Married with two children, 13 and 11
First job: I worked the counter at Dairy Queen. I probably could still make the DQ curl.
Go-to karaoke song: "Love Shack" by the B-52s
Favorite hobby: Skiing. I enjoy it even more now that I'm teaching my kids.
What's on your bucket list: Watching the Olympics (in person, not on TV)
Guilty pleasure: Shoes
What do you do when you have to get away: Running. It gives me instant stress release, and I can do it anywhere.
---
Breakout Session 1 - 9:50-10:50 a.m.
Knowing Your Credit Score and Managing Credit Cards

To better understand your credit score, you need to know what it entails and how to maintain it.

Presenter:

Sherrie Young, Executive Director, Credit Coalition

Sherrie Young serves as the Executive Director of the Credit Coalition, a HUD Approved Housing Counseling Agency, whose membership includes Houston area financial institutions, community organizations, community leaders and other related businesses and organizations. She is the Credit Coalition's lead instructor and foreclosure intervention, credit, homebuyer and reverse mortgage counselor. Aside from counseling and conducting Credit Coalition classes, Sherrie participates in many community events to help spread the word about financial education, Individual Development Accounts, free VITA site tax preparation assistance, and other programs that can help families build and retain their assets. She is the Chair of the Counseling Committee of the Greater Houston Housing Coalition and Co-Chair of the Counseling Committee of the Texas Foreclosure prevention Task Force.

Sherrie is a certified homebuyer education provider under the Texas Statewide Homebuyer Education Program and a HUD Certified Reverse Mortgage Counselor. She completed her Accredited Financial Counselor Certification in 2007 and holds NCHEC Certifications in Housing Counseling, Pre-purchase Homeownership Education and Foreclosure Intervention and Default Counseling.

×

How to Pay for College?

With rising costs, paying for college is one of the primary concerns for students and their families. This session will provide valuable information from a student who has gone through the process, and from the UH Office of Scholarships and Financial Aid.

Presenters:

Tedric Breed, Consultant, Ryan LLC

Tedric Breed is a recent graduate and proud alum of the University of Houston's Bauer College of Business, with a Bachelor's of Business Administration in Finance and a minor in accounting; he was also a part of the University's Honor's College. Tedric was an active member of the Program for Financial Literacy while attending Bauer, speaking to various audiences on the topics of money management, college funding solutions, investing, and more. Today, Tedric is a consultant for Ryan LLC here in Houston, assisting oil & gas companies globally in identifying tax and royalty savings.

×

Susan Kizer, Economic Education Coordinator, Federal Reserve Bank, Houston Branch

Susan is the Economic Education Coordinator for the Houston Branch of the Federal Reserve Bank of Dallas. Her work focuses on professional development for high school and college educators throughout the district. Innovative programs including Freedom Riders, Student Board of Directors, History Through an Economic Lens, and 100 Teens have been the hallmark of her work at the Houston Fed. Susan has a MA in Education and a BS in Economics. . Prior to coming to the Bank, she taught AP Economics at Kingwood High School. While at Kingwood she was recognized as Teacher of the Year, served as District Coordinator for AP Economics and sponsored the Model United Nations, UIL Current Issues and Events, and UIL Social Studies Teams.

×

Destinie Ross, Former Student Financial Planning Coordinator, University of Houston C. T. Bauer College of Business

Evaluating and Negotiating a Job Offer

To teach students how to effectively negotiate a salary and to evaluate a benefits package which is offered by an employer.

Presenters:

Elizabeth Knapp, Career Development Specialist, University of Houston C. T. Bauer College of Business

Elizabeth Knapp is the Finance and Management Information Systems Career Development Specialist at the Rockwell Career Center in the Bauer College of Business. Prior to this role, she was Career Development Curriculum Manager and co-instructor for the undergraduate career development course. She has also worked at Texas A&M in the Department of Student Life and in Aggie Access Learning Communities where she aided in student programming and student retention efforts.

She is a current member of the National Association of Colleges and Employers, the National Career Development Association and the National Association of Women MBAs. Elizabeth has presented on a variety of career topics at several national conferences and has written for the Career Developments Magazine, the national publication for the National Career Development Association, in conjunction with colleagues in career services across the U.S. on international student employment.

Elizabeth received a Bachelor of Science degree in Journalism and a Master of Science in Educational Administration from Texas A&M University.

×

John Lopez, Clinical Associate Professor, University of Houston C. T. Bauer College of Business

Since his undergraduate days at the University of Houston's Bauer College of Business, John Lopez has had an interest in personal finance savings, money management, investing, and making smart decisions when it came to money. Upon graduation, he attended Texas A&M where he earned an MBA in Finance. He entered "Corporate America" and worked for several major international firms (learn more at LinkedIn). Later in life he continued his education in personal finance by attending Rice University's Certified Financial Planner Program and then successfully completing the CFP Certification Exam. After early retirement and a two-year sabbatical to travel and explore, he began teaching Financial Planning at Bauer. He is passionate about teaching students the fundamentals needed to become financially secure and ultimately financially independent.

×
Breakout Session 2 - 11 a.m. - 12 p.m.
Learn More About Bauer's Finance Degrees