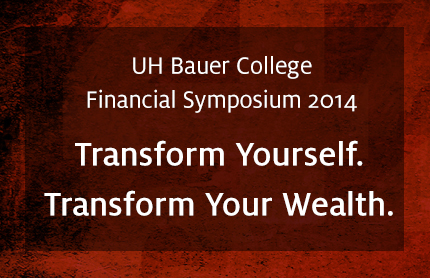 When:


Registration:

Where:


Why:
In partnership with the Texas Council of Economic Education. Open to all students and the community.
In Conjunction with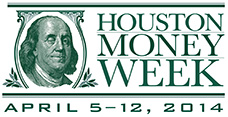 The goal of the Financial Symposium is to provide current UH students and the Houston community with information on basic financial topics and on curriculum options for financial education and careers in financial services, including commercial banking, financial analysis, and personal financial planning.
---
2014 Bauer College Financial Symposium: Transform Yourself. Transform Your Wealth
With a goal of increasing financial literacy on campus and in the Houston community, the C. T. Bauer College of Business at the University of Houston aimed to simplify the process during its Third Annual Financial Symposium on April 12. The event focused on transforming your behaviors to successfully achieve financial stability.
---
Session Topics
Saturday, April 12, 2014, from 9 a.m. - 12 p.m. at Cemo Hall, University of Houston.
Click each session topic for more information.
Preliminary Session 9-9:50 a.m.

Presentation on basic financial resources, including a demo of CashCourse, and overview of the workshops.

Guest Speaker:
Charles M. Neff, Jr.

Charles M. Neff, Jr., President & CEO of Integrity Bank

Mr. Neff has been a career community banker for 40 years. He is presently the founder, director, president &amp CEO of Integrity Bank that was formed in 2007. Integrity Bank is presently a $500.00M in total assets with 3 locations in the greater Houston area. Mr. Neff has been involved with 5 starts-up De novo banks in Houston since 1978. He has been active in multiple banking and non-profit organizations, his career and his church as well as starting several private business enterprises. He received his BBA in Finance and Economics from the University of South Florida in 1973 and also attended several banking schools over his career.

×




Cash Course Introduction:
Destinie Ross, Leslie Lopez

Destinie Ross, Student Financial Planning Coordinator, University of Houston C. T. Bauer College of Business

Destinie Ross is a senior at the University of Houston and will graduate with a Bachelor's of Business Administration in Finance; currently, she works for the C.T. Bauer College of Business as a Financial Planning Coordinator and is passionate about helping her community understand the importance of financial literacy. As a transfer student from Southern Illinois University, she is a recipient of the Jesse H. Jones scholarship. Destinie is also alum of Bauer's Emerging Leaders Academic Success Program. After spending one year as a leader and significant contributor in the student organization formerly known as, Students in Free Enterprise (SIFE), Destinie now serves as the SCREP officer in the National Association of Black Accountants. Through her academic achievements, community service, work, and involvement in student organizations, Destinie has exemplified what it means to be a well-rounded student and a role model to our society's youth.

×

Leslie Lopez, Financial Coach and Loan Coordinator, Family Services of Greater Houston

Leslie Lopez is a native Houstonian and first-generation student. She has worked as a Financial Coach and Loan Coordinator at Family Services of Greater Houston since 2011. She educates individuals on financial literacy and money management. Her role provides her with the opportunity of speaking to large group settings as well as working with individuals one-on-one. Leslie graduated with honors in 2009 from the University of Houston where she obtained her B.A. in Psychology and minored in Human Development and Family Studies. She is a member of Kappa Delta Chi, a service based sorority where she served several executive positions. Leslie was a full time employee and student throughout her college career as she worked as a Loan Coordinator financing private property tax loans. Her financial and educational background complimented each other in her current professional position. Her goal is to strengthen individuals through the power of knowledge. Leslie is completing her M.Ed. in Higher Education and Administration at the University of Houston and will be graduating Spring of 2014.

×
Breakout Session 1 - 9:50-10:50 a.m.
Money Management: College Edition

Learn real world strategies for managing your cash flow so that you know where your money is going and you are not caught short when emergencies happen.

Location:
Melcher Hall

Presenters:
Destinie Ross, Tedric Breed, Nathalie Casares and Susan Kizer

Careers in Commercial Banking and Financial Analysis

A panel of representatives will educate students on careers in Commercial Banking and Financial Analysis.

Location:
Melcher Hall

Moderator:
Joanna Arnold

Careers in Personal Financial Planning

When choosing a career, it is not only important to consider your skills and interests, but also what careers you can align them with to support the lifestyle you desire. There will be an opportunity to hear about careers in finance, especially in personal financial planning services.

Location
Melcher Hall

Facilitator:
John Lopez

Professor John Lopez, Clinical Associate Professor, University of Houston C. T. Bauer College of Business

Since the undergraduate days at the University of Houston's Bauer College of Business, John Lopez has had an interest in personal finance savings, money management, investing, and making smart decisions when it came to money. Upon graduation, he attended Texas A&M where he earned an MBA in Finance. He entered "Corporate America" and worked for several major international firms-more at www.linkedin.com/in/johnlopez.

Later in life he continued his education in personal finance by attending Rice University's Certified Financial Planner Program and then successfully completing the CFP Certification Exam (http://www.cfp.net/). After early retirement and a 2 year sabbatical to travel and explore, he began teaching Financial Planning at Bauer. He is passionate about teaching students the fundamentals needed to become financially secure and ultimately financially independent.

×

Cheryl D. Creuzot, CFP, J.D., LL.M, President & Chief Executive Officer, Wealth Development Strategies, L.P.

Cheryl D. Creuzot, a thirty-year industry veteran, is currently the President and Chief Executive Officer of Wealth Development Strategies, L.P., a position she has held since 2001. Wealth Development Strategies, one of Houston's oldest comprehensive financial planning firms, offers contemporary, personalized solutions for individuals and business professionals who wish to protect, grow and efficiently distribute their wealth. The boutique firm consists of twenty-six associates who combine extensive financial experience and expertise to effect personalized client solutions.

Ms. Creuzot carries the same spirit of service delivery to her numerous civic and charitable endeavors. She is currently a trustee of the University of Houston Foundation (Investment Committee) and serves on the Board of Directors of MD Anderson University Cancer Foundation Board of Visitors (Government Relations Committee) and Unity National Bank (Chair of the Audit, Compliance and Investment Committee). Ms. Creuzot also currently serves on the Dean's Advisory Board at the University of Houston. Past board experience includes the Houston Museum of African American Culture, the Ensemble Theatre, Project Row Houses, the Menil Collection Development Committee, the University of Houston Alumni Organization (Chairman) and the University of Houston Law School Association.

In addition to extensive civic service, Ms. Creuzot has received several political appointments. Ms. Creuzot was appointed by the Democratic National Committee to serve as the state co-chairman of the Women's Leadership Forum. In 2002, Ms. Creuzot was selected to participate in the Center for Houston's Future Leadership Forum, a business and community partnership. In 1993, Ms. Creuzot was appointed by Governor Ann Richards to a six-year term on the Texas Public Finance Authority Board, a politic and corporate body created to provide financing for state agency facilities. Ms. Creuzot served as Vice Chairman of the Authority from 1995 to 1997.

A published author of many articles on the subject of financial planning, Ms. Creuzot is a resource for print and on-line media and has been quoted in MONEY, Mutual Funds, and Black Enterprise magazines. She previously co-hosted the local talk show radio KPRC's Organizing Your Life. She is currently working on a financial reality show pilot showcasing a variety of unique investor situations.

A sought after speaker, Ms. Creuzot delivered the key note address for the 2012 Women's Leadership Academy Summit, the 2010 African American Financial Professionals and the 2008 National Bar Association. She was the commencement speaker for the 2009 American Intercontinental University. Ms. Creuzot has also addressed Essence Magazine's Women Who are Shaping the World Leadership Summit, the State of the Black Union, the National Coalition of 100 Black Women, the Megafest, the National Conference of Black MBAs and the Junior League of Houston.

Ms. Creuzot has been recognized by her community and alma mater for outstanding leadership. She is the recipient of the Corporate Sector Achievement Award from the University of Houston Law Alumni Association (2012), the Distinguished Alumni Award from the University of Houston (2011), the Women of Distinction Award from the Houston Crohn's and Colitis Foundation (2008), the National Black MBA Leadership Empowerment Award from the Houston Chapter (2004) and the Super Achiever Award from the Greater Houston YMCA (2001). Ms. Creuzot is a 2012 Honoree of the Houston Easter Seal's Hats Off to Mothers. She has also been recognized by the Houston March of Dimes three times (2004, 2006 and 2008).

Ms. Creuzot is a four-time alumna of the University of Houston – the University of Houston Bauer College (M.B.A. with honors, December 2012), the University of Houston Law Center (J.D. and LL.M.),) and the University of Houston (B.A. with honors). She is a member of the Texas State Bar, the Registry of Financial Planning Practitioners, the Financial Planning Association and the Million Dollar Round Table, Houston branch. She carries the Certified Financial Planner (CFP) designation and has been named one of Texas Monthly's Houston Region's Five Star Wealth Managers (2011 and 2012)* as well as a Top 100 Advisor in the country and Financial Planner of the month by Mutual Funds Magazine (2001 and 2002)**. Ms. Creuzot is also a Registered Player Financial Advisor for the National Football League. Ms. Creuzot's licenses include Series 7, 24 and 63 and Group 1 Life, Health and Variable Insurance.

A native of Washington, D.C., Ms. Creuzot has called Houston home since first enrolling in the University of Houston. She and her husband share roots in Houston's Third Ward, one of six former political geographic districts. Both are long-standing advocates for the sustained growth and development of this historic community, an area renowned for a tradition of "doing for itself and others[i]". The Creuzots have three children.

×

Brandon Henry, AEP®, CIMA®, CTFA®, Director, Mosaic Advisors, LLC

Brandon Henry is a seasoned Wealth Management professional with extensive experience advising ultra-high net worth families and their professional advisory team in the area of advanced Financial Planning. Over the course of his career, Brandon has had the opportunity to assist hundreds of the nation's most successful families create custom plans including, professional athletes, Fortune 500 executives and the founders of a number of Texas' leading companies.

Brandon began his career in the financial services industry at Merrill Lynch, where he co-founded a wealth management team created to provide comprehensive financial planning and investment management services to closely held business owners. After the retirement of his business partner, Trustmark National Bank recruited Brandon to Houston from California, where as Wealth Strategist, he was responsible for creating sophisticated Investment and Estate plans for Trustmark's Commercial and Energy Banking customers.

With The Hartford's Private Wealth Management Group, Brandon operated nationally as a financial advisor's advisor, providing ultra-affluent clients of major financial services firms with tailored business succession, estate tax, and liability protection planning solutions.

Prior to co-founding Mosaic Advisors, LLC, Brandon worked as a Wealth Strategist for BBVA Wealth Solutions where he was tasked with providing insight and advice to many of the Compass Bank's most important relationships. Brandon was a voting member the firm's investment committee, which guided the asset allocation process for nearly $1 Billion of client assets. In addition to this duty, his responsibilities included acting as a "Financial Quarterback" assisting families with significant resources and complex needs achieve their business succession, wealth transfer and asset protection goals.

Brandon earned the Certified Investment Management Analyst (CIMA®) designation through a partnership with Investment Management Institute (IMCA) and Wharton Business School at the University Of Pennsylvania; Certified Trust & Financial Advisor (CTFA®) designation through a partnership with The Institute of Certified Bankers (ICB) and Emory University and Accredited Estate Planner (AEP®) designation through a partnership with The National Association of Estate Planners & Councils (NAEPC) and The American College. In addition, Brandon has taught courses in Business Succession Planning at Southern Methodist University (SMU), Estate Planning at University of Houston and provided hundreds of hours of continuing education to tax professionals across the state of Texas.

×
Breakout Session 2 - 11 a.m.-Noon
Knowing your Credit Score and Managing Credit Cards

To better understand your credit score, you need to know what it entails and how to maintain it.

Location:
Melcher Hall

Presenter:
Tammy Mermelstein

Tammy Mermelstein, Certified Financial Coach

Tammy has developed several award-winning interactive financial games to inspire people to seek financial education. She is a 2012 recipient of the League of Women Voters Rising Star Award, a 2011 recipient of the Alliance for Economic Inclusion Pioneer Award, and a two time Houston Money Week Benjy Award Winner. Tammy earned her Bachelor of Arts degree from Stephen F. Austin in 2000, her law degree from the University of Miami (FL) in 2003, and her Masters in Social Work, with specializations in child welfare policy and non-profit management, in 2005.

×

College Funding Solutions

With rising costs, paying for college is one of the primary concerns for students and their families. This session will provide valuable information from a student who has gone through the process, and from the UH Office of Scholarships and Financial Aid.

Location:
Melcher Hall

Presenters:
Destinie Ross, Tedric Breed, Nathalie Casares, Laura Ewing and Darlene Irrobali

Evaluating and Negotiating a Job Offer

To teach students how to effectively negotiate a salary and to evaluate a benefits package which is offered by an employer.

Location:
Melcher Hall

Presenter:
John Lopez

Professor John Lopez, Clinical Associate Professor, University of Houston C. T. Bauer College of Business

Since the undergraduate days at the University of Houston's Bauer College of Business, John Lopez has had an interest in personal finance savings, money management, investing, and making smart decisions when it came to money. Upon graduation, he attended Texas A&M where he earned an MBA in Finance. He entered "Corporate America" and worked for several major international firms-more at www.linkedin.com/in/johnlopez.

Later in life he continued his education in personal finance by attending Rice University's Certified Financial Planner Program and then successfully completing the CFP Certification Exam (http://www.cfp.net/). After early retirement and a 2 year sabbatical to travel and explore, he began teaching Financial Planning at Bauer. He is passionate about teaching students the fundamentals needed to become financially secure and ultimately financially independent.

×