Harvey Financial Recovery Boot Camp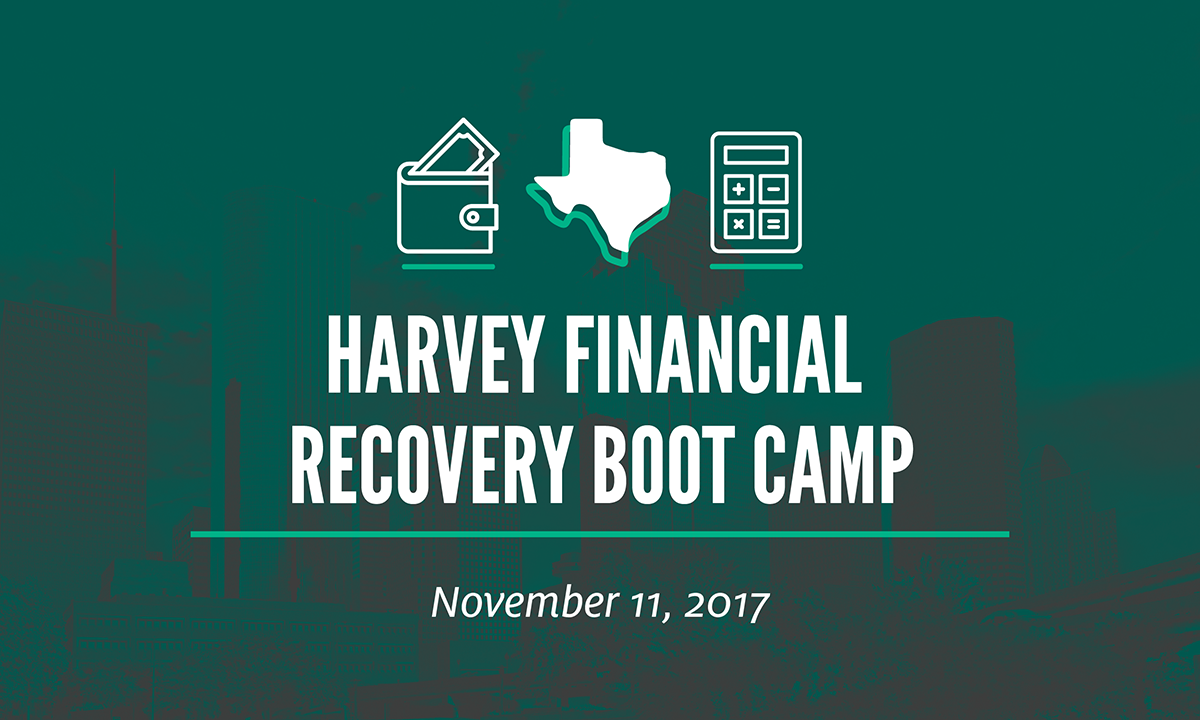 Harvey Financial Recovery Boot Camp
When:


Registration:


Where:

8:30 a.m.-1 p.m. Saturday,
November 11, 2017

8-8:30 a.m. (Attendees are encouraged to pre-register as space is limited)

This free Boot Camp will be held at Cemo Hall on the main campus of University of Houston located at 4246 Martin Luther King Boulevard.
Thank you to generous contributions from the Houston Lawyer Referral Service Panel of Attorneys, Financial Planning Association of Houston and individual donors.
The Harvey Financial Recovery Boot Camp will be held in Houston on Saturday, November 11, at the University of Houston Cemo Hall. This event is provided at no charge. This unique meeting will bring together experts and leaders in the area of finance, tax, real estate and legal issues to share their insights of the impact of Harvey on the greater Houston area and individuals. The Boot Camp features a special lineup of interactive programs, expert speakers and one-on-one sessions to ensure that participants have plenty of opportunity to discuss challenges, insights and solutions with a wide range of professionals.
Why Attend
Guidance, at no-charge, from a variety of professionals on "how-to" begin the financial recovery process
Learn more about the resources and tools available to help individuals through the Harvey recovery process
Hear from experts and leaders in the areas of finance, tax, real estate and legal issues
Walk away with practical tools to help individuals during the post-Harvey recovery process
Who Should Attend
Individuals, families and small business owners who:

suffered financial losses of $10,000 or more
have questions about insurance or about denial of various claims for insurance, disaster relief, etc.

Anyone unsure about how or where to begin the process of financial recovery
Anyone who feel uncertain about their financial future post-Harvey
Agenda
Introductory Session: Main Auditorium (Room 100D), Cemo Hall
Opening Remarks and Welcome: 8:30-9 a.m. - Latha Ramchand, Dean, C. T. Bauer College of Business at the University of Houston
Keynote Speaker: 9-9:15 a.m.

Jim McIngvale, Founder, Gallery Furniture

Jim "Mattress Mack" McIngvale has been involved in the Houston Community since he opened Gallery Furniture over 35 years ago. In addition to Mack being a world-famous businessman, entrepreneur, and owner of "The World's Most Famous Furniture Store", Mack has been a trailblazer in helping make Houston the premier sports and medical destination it has become. Mack loves to give back to the Houston Community by giving speeches that educate and inspire on subjects as diverse as American jobs, running a business, faith & family, or being all that you can be each day. Read full bio.
Houston Region Economic Outlook: 9:15-9:30 a.m. - Jenny Philip, Research Director, Greater Houston Partnership
Addressing Grief and Loss: 9:30-9:45 a.m. - Dr. Rune Mølbak, Psychologist, UH Counseling and Psychological Services
---
One-On-One Consultations - First Floor - 10 a.m.-12 p.m.
Conducted after the opening session. Opportunity to privately discuss your questions.
Houston Lawyer Referral Service Panel of Attorneys
Assessment Technologies - Property Tax questions
Better Homes and Gardens - Real estate questions
Financial Planning Association of Houston - Financial questions
Gibraltar Insurance - Insurance questions
Middleton, Raines & Zapata et al - Tax questions
---
Breakout Session 1 - 10-10:50 a.m.
Click each session topic for more information.
Breakout Session 2 - 11 a.m. - 11:50 a.m.
Financial Plan Implementation: Room 101 Cemo Hall

Credit issues; Credit reports; Contacting creditors; Adjusting your plan

Presenter:

W. Ben Keel, III, BBA, MBA, CFP(R), CHFC(R), CFED(R), CLU(R)
Financial Planner
Financial & Insurance Consultants

Legal Resources: Room 105 Cemo Hall

Sources of legal information (current and future); Sources of legal assistance; Bankruptcy - consumer and small business; Insurance issues; Working with creditors; What to know if debt now exceeds value of house.

Presenter:

Dinesh H. Singhal, The Singhal Law Firm

Insurance Questions in the Wake of Harvey: Room 109 Cemo Hall

Houstonians hammered by Hurricane Harvey may still be muddling through insurance company paperwork and federal disaster recovery questionnaires, and trying to assess the full scope of Harvey's damage. This session will allow attendees to ask question and gain insight into how the recovery process works long-term.

Presenters:

George Cooley, President of Gibraltar Insurance Services
Katherine Howington, CFM, ANFI, National Flood Sales Manager, Bankers Insurance Group
Panel Discussion/Closing - Main Auditorium - Noon - 1 p.m.
Moderated by: Roger Thaxton, CPA.
Featuring:
David Goldberg, AEM, Attorney Advisor, Federal Insurance & Mitigation Legal Division, Office of Chief Counsel, FEMA/DHS
---
Event Presenters
Event presenters from the following organizations and companies are donating their time and professional expertise.