Personal Financial Planning Track
Financial Symposium 2016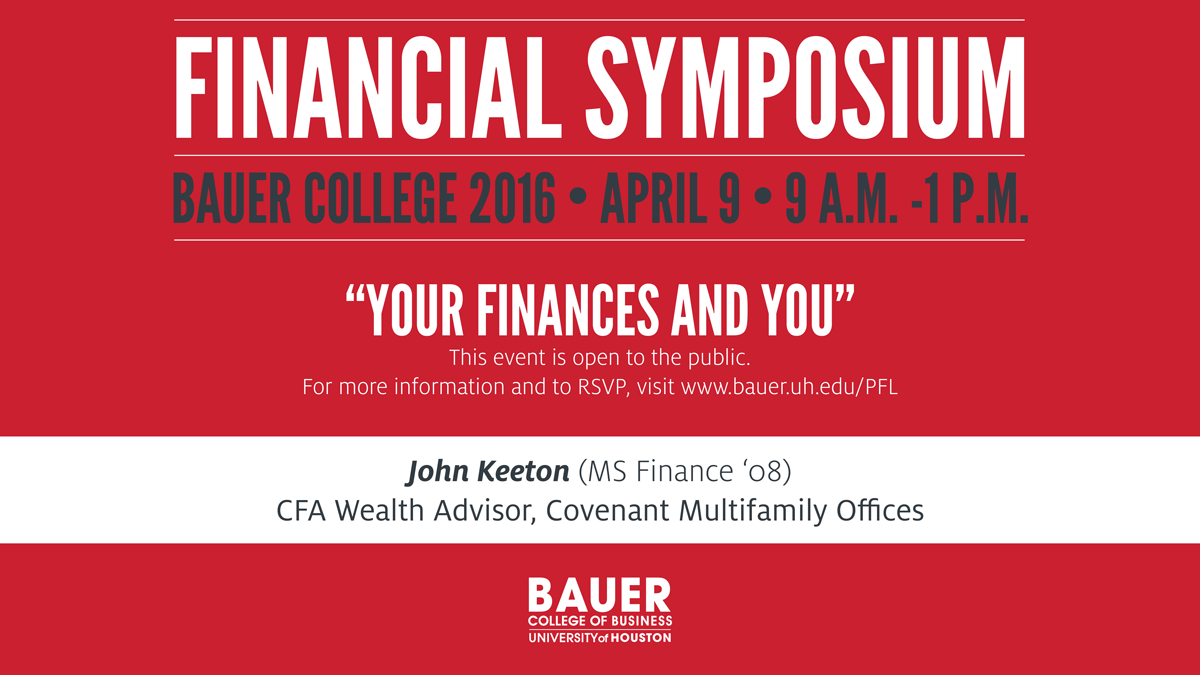 When:


Registration:

Where:


Why:
9 a.m.-1 p.m. Saturday,
April 9, 2016

8:30-9 a.m.

Cemo Hall, University of Houston

To promote Financial Literacy to students and the Houston community in partnership with the Texas Council of Economic Education. Open to all students and the community
In Conjunction with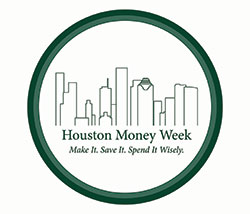 http://www.houstonmoneyweek.org
The goal of the Financial Symposium is to provide current UH students and the Houston community with information on basic financial topics and on curriculum options for financial education and careers in financial services, including commercial banking, financial analysis, and personal financial planning.
Session Topics:
Saturday, April 9, 2016, from 9 a.m. – 1 p.m.
Cemo Hall, University of Houston
Check-in from 8:30-9 a.m.
Click each session topic for more information.
Plenary Session 9-9:50 a.m.
Keynote Speaker:
John Keeton (MS Finance '08), CFA Wealth Advisor, Covenant Multifamily Offices

Your Finances and You: Managing Your Resources




John Keeton is a wealth advisor at Covenant Multifamily Offices. In this advisory role, John applies the firm's proprietary process, Lifestyle. Legacy. Philanthropy.SM, to help clients develop and implement prudent strategies to achieve their lifetime goals. John assists families with their investment, income tax, wealth transfer planning, and philanthropic strategies. He also collaborates with Covenant's investment team on a variety of portfolio strategy matters, including asset manager analysis, investment research, and trading.

An original member of the Covenant founding team, John returned to Covenant in 2013 after three years in the Houston area serving as a high net worth banker with JP Morgan's Private Bank, advising business owners and corporate executives. Prior to joining Covenant in 2010, John was an investment analyst for Texas-based Frost Bank's Wealth Management Services group. John began his career in the investment industry with SMH Capital as an equity research analyst, focusing on Energy and Consumer Discretionary sectors.

John is a Chartered Financial Analyst (CFA) and holds an MS in finance from the University of Houston where he graduated with honors, receiving the top student award in the MS finance program. He continues to support the University of Houston as a mentor for the Cougar Fund, a student-run investment fund managing over seven million dollars. The University of Houston recognized John's accomplishments in a story published in Inside Bauer: From Teenage Investor to High-Wealth Manager. John received a Bachelor's of Business Administration in finance from Southwest Texas University in 2003 (now Texas State University), where he graduated summa cum laude.

John enjoys being involved in the San Antonio community where he serves as a Board Member on the CFA Institute Society in San Antonio, a mentor for the students at the Greehey School of Business at St. Mary's University, a Financial Planning Advisory Board Member for the University of Incarnate Word, a board member for the Texas Business Hall of Fame – Scholarship group, San Antonio Sports – Finance Committee, and a mentor for the University of Texas San Antonio's Center for Innovation Technology Entrepreneurship (CITE) program. John is also the co-coordinator for the CFA Institute Research Challenge – Southwest, which is a university level equity research competition consisting of over 25 participating business schools in Texas, Oklahoma, Louisiana, and New Mexico. John was recognized as one of the recipients of the 2016 San Antonio Business Journal's 40 Under 40.

John lives in Bulverde with his wife, Kathryn, and their three children. Kathryn has her PhD in Industrial/Organizational Psychology and works with NASA. John's favorite hobby includes family time with his wife, son, and two baby girls.
---
Breakout Session 1 - 10-10:50 a.m.
Money Management: College Edition

Learn real world strategies for managing your cash flow so that you know where your money is going and you are not caught short when emergencies happen.

Presenter:

Susan Kizer, Economic Education Coordinator, Federal Reserve Bank, Houston Branch

Susan is the Economic Education Coordinator for the Houston Branch of the Federal Reserve Bank of Dallas. Her work focuses on professional development for high school and college educators throughout the district. Innovative programs including Freedom Riders, Student Board of Directors, History Through an Economic Lens, and 100 Teens have been the hallmark of her work at the Houston Fed. Susan has a MA in Education and a BS in Economics. Prior to coming to the Bank, she taught AP Economics at Kingwood High School. While at Kingwood she was recognized as Teacher of the Year, served as District Coordinator for AP Economics and sponsored the Model United Nations, UIL Current Issues and Events, and UIL Social Studies Teams.

×

Money and Career Management: Veterans

Learn real world strategies for managing your cash flow so that you know where your money is going and you are not caught short when emergencies happen.

Presenters:

Ike Ukazu, Current Student, University of Houston C. T. Bauer College of Business

Ike Ukazu is a Senior studying Finance at the Bauer College of Business at the University of Houston. As a part of Professor John Lopez's Personal Financial Planning Course, Ike has taken the lessons from the course and taught numerous money management seminars around the University of Houston to increase financial literacy in his student body. Before studying at the University of Houston, Ike served for 4 years in the Marine Corps, obtaining the rank of Sergeant. He now interns at Northwestern Mutual and aspires to become a financial advisor in the Houston metropolitan area after graduation.

×

Careers in Commercial Banking and Financial Analysis

A panel of representatives will educate students on careers in Commercial Banking and Financial Analysis.

Moderator:

Vanessa Fellers, Academic Advisor II, University of Houston, C. T. Bauer College of Business

Presenters:

Jorge Borrego, Vice President, PlainsCapital Bank
Donald N. Bowers II, Assistant Vice President, Federal Reserve Bank of Dallas
Charles Guez, Ph.D., NASDAQ Clinical Professor of Finance and Director, Commercial Banking Program, University of Houston C. T. Bauer College of Business
Rickey Jimenez, Jr. AVP, CRA & Fair Lending Officer, Allegiance Bank
Candance Strother, Sr. Business Engagement Officer, TDECU

Donald Bowers, a native Houstonian, received his bachelors' degree from Rice University in 1991. He joined the Federal Reserve Bank in 1990 as a Research Assistant and joined the Bank's Management Development Program in 1991. In 2004, he was promoted to Assistant Vice President. He currently serves as secretary to the Houston Branch Board of Directors and maintains responsibility of the Bank's human resources, public affairs, law enforcement, and business continuity functions. Donald and his wife, Shawn, are the proud parents of two outstanding young men. Their older son is a graduate of the United States Naval Academy, and is a newly commissioned Ensign in the United States Navy. Their younger son is a student at Texas State University. Donald is a member of the Rice University Alumni Board, and has served on the board of the Houston Area Urban League. He is also active with Greater Houston Partnership, World Affairs Council of Houston, Center for Houston's Future, Youth About Business, Discovery Youth Foundation and the Texas Women's Empowerment Foundation. Donald and his family are members of the Fifth Ward Church of Christ. Donald earned an M.B.A. from Sam Houston State University with a concentration in Banking and Finance. He is also a senior fellow member of the 29th Class of American Leadership Forum Houston Gulf Coast Chapter.

×

Dr. Guez is a graduate of The Ecole Superieure de Commerce, Rouen, France. He obtained his MBA and Ph.D. from Penn State University. Dr. Guez joined the Faculty of the University of Houston in 1976 to establish the International Finance Program. He also taught in the Executive Development Program.

After several years of teaching, Dr. Guez joined the business community and obtained valuable experience in the fields of International Banking (First International Bank in Houston), Oil Field Supplies (Trouvay & Cauvin), Investment Real Estate (Grubb & Ellis), and Brokerage and Portfolio Management (Morgan Stanley, Dean Witter and Banc One Securities). Dr. Guez was also an Auditor with KPMG in Paris, France.

Dr. Guez served as an adjunct faculty at the Bauer College of Business for several years while working in the Brokerage Industry. He joined the Bauer College of Business full time in 2002 and contributed to setting up the Cougar Fund. He is currently the NASDAQ Executive Professor of Finance, and Director of the Commercial Banking Program in the Bauer College of Business. He teaches Commercial Banking, Financial Markets, Financial Systems and Principles of Financial Management in the Honors Program. Dr. Guez has developed the Commercial Banking Certificate for undergraduate students. This Certificate is supported by an Advisory Board comprising twenty three Banks operating in the Houston market.

×
Breakout Session 2 - 11 a.m. - 11:50 a.m.
Knowing your Credit Score and Managing Credit Cards

To better understand your credit score, you need to know what it entails and how to maintain it.

Presenter:

Sherrie Young, Credit Coalition

Sherrie Young serves as the Executive Director of the Credit Coalition, a HUD Approved Housing Counseling Agency, whose membership includes Houston area financial institutions, community organizations, community leaders and other related businesses and organizations. She is the Credit Coalition's lead instructor and foreclosure intervention, credit, homebuyer and reverse mortgage counselor. Aside from counseling and conducting Credit Coalition classes, Sherrie participates in many community events to help spread the word about financial education, Individual Development Accounts, free VITA site tax preparation assistance, and other programs that can help families build and retain their assets. She is the Chair of the Counseling Committee of the Greater Houston Housing Coalition and Co-Chair of the Counseling Committee of the Texas Foreclosure prevention Task Force.

Sherrie is a certified homebuyer education provider under the Texas Statewide Homebuyer Education Program and a HUD Certified Reverse Mortgage Counselor. She completed her Accredited Financial Counselor Certification in 2007 and holds NCHEC Certifications in Housing Counseling, Pre-purchase Homeownership Education and Foreclosure Intervention and Default Counseling.

×

Careers in Financial Analysis

A panel of representatives will educate students on careers in financial analysis.

Moderator: Investment Banking Scholars Club

Investment Banking Scholars Club (IBSC) is a collaborative community of students and professionals committed to advancing investment banking as a career opportunity at the University of Houston. For more information, visit IBSC online at: http://uhibsc.org/

Presenters:

Thomas George, Professor and Senior Associate Dean, University of Houston C. T. Bauer College of Business
Additional Panelists TBD

Prior to joining the University of Houston faculty in 2002, Professor George served on the faculties of Ohio State University, the University of Iowa, and Northwestern University as a visitor. Professor George's teaching interests include equity and fixed-income investment management, project valuation and corporate finance. He has won several awards for excellence in teaching in MBA and Executive MBA programs.

Professor George has done research in the areas of market microstructure, asset pricing and behavioral finance. His publications have appeared in leading academic journals among them the Journal of Finance, Journal of Financial Economics, Review of Financial Studies, Journal of Financial and Quantitative Analysis, Journal of Financial Intermediation, and the Journal of Financial Markets. Professor George has been winner and runner-up of the Best Paper Prize from the Journal of Financial Intermediation, and nominated for the Smith-Breeden Prize for the best paper on Investments in the Journal of Finance.

Professor George is currently the C.T. Bauer Professor of Finance and Senior Associate Dean for Faculty Affairs. He also serves as the Director of the AIM Center for Investment Management at the Bauer College, and as instructor for the securities analysis course that manages the Cougar Investment Fund. He co-developed the Graduate Certificate in Financial Services Management, and has also taught in Bauer's Executive MBA program. Professor George has consulted with companies in designing and delivering educational programs in areas such as project valuation, hedging, and performance evaluation.

×

Careers in Personal Financial Planning

When choosing a career, it is not only important to consider your skills and interests, but also what careers you can align them with to support the lifestyle you desire. There will be an opportunity to hear about careers in finance, especially in personal financial planning services.

Moderator:

Professor John Lopez, Clinical Associate Professor, University of Houston C. T. Bauer College of Business

Since his undergraduate days at the University of Houston's Bauer College of Business, John Lopez has had an interest in personal finance savings, money management, investing, and making smart decisions when it came to money. Upon graduation, he attended Texas A&M where he earned an MBA in Finance. He entered "Corporate America" and worked for several major international firms (learn more at LinkedIn). Later in life he continued his education in personal finance by attending Rice University's Certified Financial Planner Program and then successfully completing the CFP Certification Exam. After early retirement and a two-year sabbatical to travel and explore, he began teaching Financial Planning at Bauer. He is passionate about teaching students the fundamentals needed to become financially secure and ultimately financially independent.

×

Presenters:

Chelsea Benoit, Financial Analyst/Junior Planner, Goodman Financial

As an Analyst/Junior Planner, Chelsea's responsibilities include equity research, proforma investment plans, preparation of client presentations, reviewing client statements and holdings, and portfolio rebalancing. Prior to joining Goodman Financial in 2014, Chelsea interned with Advisors Ahead where she observed and contributed to the daily business of an established financial advisor in Houston.

×

Winston Savice, Jr., Financial Representative, Northwestern Mutual
Kristal Rios, Professional Associate, Ameriprise Financial Services, Inc.
Suzanne Baker, Client Manager, Mosaic Advisors

Suzanne was Mosaic's first intern when she joined the firm in May 2014 and became a full-time employee upon graduating from college in 2015. She is charged with both providing client management services as well as a host of administrative duties. She is a native of College Station who moved to Houston to attend college. Suzanne graduated Magna Cum Laude with a B.B.A. from the Bauer College of Business at the University of Houston with a double major in finance and management.

×

Kayla Lail,, Client Manager, Mosaic Advisors

Kayla joined Mosaic Advisors as a financial planning associate in July 2014. Her duties are integral to the development of client financial plans as she is involved in all areas of cash flow and expense analysis as well as stress-testing a variety of plan recommendations. Born in Portland, Oregon, Kayla moved to Texas in 2001. She graduated in 2014 from the University of Houston with a B.B.A. in finance.

×
Breakout Session 3 - Noon - 12:50 p.m.
Evaluating and Negotiating a Job Offer

To teach students how to effectively negotiate a salary and to evaluate a benefits package which is offered by an employer.

Presenters:

John Lopez, Clinical Associate Professor, University of Houston C. T. Bauer College of Business
Amanda Ware, Career Development Specialist, University of Houston C. T. Bauer College of Business

Since his undergraduate days at the University of Houston's Bauer College of Business, John Lopez has had an interest in personal finance savings, money management, investing, and making smart decisions when it came to money. Upon graduation, he attended Texas A&M where he earned an MBA in Finance. He entered "Corporate America" and worked for several major international firms (learn more at LinkedIn). Later in life he continued his education in personal finance by attending Rice University's Certified Financial Planner Program and then successfully completing the CFP Certification Exam. After early retirement and a two-year sabbatical to travel and explore, he began teaching Financial Planning at Bauer. He is passionate about teaching students the fundamentals needed to become financially secure and ultimately financially independent.

×

Amanda Ware is the Finance and Management Information Systems Career Development Specialist at the Rockwell Career Center in the Bauer College of Business. Prior to this role, she was a Career Counselor at the University of Houston Downtown. She has also worked as an academic advisor at UH in the Health and Human Performance Department and as a Career Counseling Intern at Texas State University where she coached students through the major and career selection process.

Amanda is a current member of the National Association of Colleges and Employers, the National Career Development Association, and the Houston Licensed Professional Counselor Association. She has presented on a variety of career topics including professionalism, networking, resume writing, and salary negotiations.

Amanda received a Bachelor of Arts degree in Psychology from Texas A&M University and a Master of Arts in Counseling from St. Edwards University.

×
Learn More About Bauer's Finance Degrees