Stephen Stagner Sales Excellence Institute
About Us
Corporate Sponsorship and Involvement
Stephen Stagner SEI is sponsored by more than 25 corporations including 3M, Citgo, Ecolab, Liberty Mutual, Schlumberger and many others. These partners not only help fund Stephen Stagner SEI and its subsidiary organization the Program for Excellence in Selling, but also contribute to the professional development of our students by volunteering their time speaking to classes, mentoring students, and attending events/meetings.
Executive Education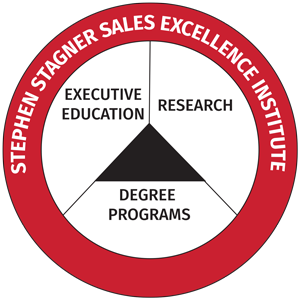 Stephen Stagner SEI blends a combination of executive professors who have at least two decades of Fortune 500 sales executive management experience and Ph.D. research professors who are today's leading, most widely published authors in the sales discipline. Most recently, Stephen Stagner SEI has developed a comprehensive benchmarking knowledge base of sales and sales management competencies for Ecolab – the global leader in cleaning, sanitizing, food safety and infection control products and services. Stephen Stagner SEI trained over 300 Ecolab managers, a makeup of front-line district managers, area managers, regional VPs and high-potential upper-level managers.
Research and Publications
In 2009-2010, researchers at Stephen Stagner SEI published more sales-related articles in top marketing journals (i.e., Journal of Marketing, Journal of Marketing Research) than any other university worldwide.
Doctoral Education
Stephen Stagner SEI is unique in its emphasis on doctoral education and research. Our organization provides support for doctoral student sales research in two ways: (1) by providing funding and (2) by providing data access. Doctoral students working with Stephen Stagner SEI are in high demand with universities aspiring to start sales programs. Recent doctoral graduates affiliated with the SEI have received between three and five job offers and have accepted positions at schools like: Michigan State, University of Georgia, Washington State, Clemson, Kent State and Iowa State.
National Model for University Sales Programs
In recent years, over 40 universities have visited Stephen Stagner SEI in order to learn about how to establish their own sales institutes. These universities which recognize Stephen Stagner SEI as the leader in this field include: Michigan State, University of Arizona, Arizona State, University of Georgia, Georgia State, University of Washington, University of Kansas, University of Iowa, University of North Carolina, University of Connecticut and University of Alabama.
Houston Conference in Selling and Sales Management
The Stephen Stagner SEI hosts the Houston Conference in Selling and Sales Management every other year. In 2009, the conference welcomed presenters from 75 universities including: Harvard, Duke, Chicago, Northwestern and Yale. Attendees from both academia and industry came from as far as Europe and Asia.
Academic Partnership
Stephen Stagner SEI is partnered with the Institute for the Study of Business Markets (ISBM) at Penn State University. This partnership is driving knowledge generation regarding business-to-business and business-to-consumer selling.