Invest in a Student. Change a Life: The Bauer Excellence Initiative
Support Student Success and Cultivate Excellence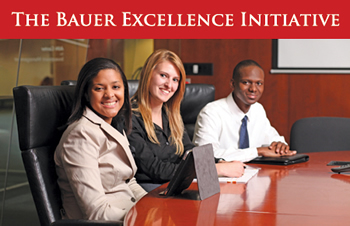 Houston is emerging as one of the world's foremost business environments, and the University of Houston C. T. Bauer College of Business is training a workforce to sustain the city's global advantage.
It is essential that the college graduates enlightened leaders and entrepreneurs who possess the savvy, competitive edge and universal perspective needed to succeed. Our students not only benefit from the college's breadth of diversity, but also have the opportunity to learn from world-class faculty.
The Bauer Excellence Initiative is a recruiting scholarship campaign aimed at attracting high quality applicants to the college's programs. Supporting our students with Tier One resources, programs and scholarships will help pave the way for new generations of global business leaders.
Together, we can ensure that our students will advance Houston as a leading business hub. With a gift to support The Bauer Excellence Initiative, you are helping the college to recruit and graduate top tier students that will ultimately contribute to an unparalleled and industrious workforce for Houston and beyond.
Your Gift Makes the Difference.
The number of students that depend on financial assistance to complete their schooling increases each year. By supporting The Bauer Excellence Initiative, you are not only diminishing the financial burden our students carry, but also creating a life-changing opportunity for students to access an outstanding education at the Bauer College of Business.
The University of Houston is building a tradition of academic distinction by providing students with a Tier One education. Our quest to make our students' dreams a reality and to accomplish our bold aspirations requires strong partnerships and philanthropic support.
Your gift to The Bauer Excellence Initiative will have both an immediate and long-lasting impact on the college. With your help, we can provide robust scholarship support to attract undergraduate and graduate students who have dedicated themselves to acquiring the knowledge, skills and experience required to succeed in our ever changing and increasingly competitive world.
We welcome your leadership in forging our city's future through your investment in the next generation of Bauer College students.
The Bauer Excellence Scholarship Endowment
The endowment will provide a permanent source of funding for our recruiting program. Your principal gift remains intact while generated interest provides a consistent stream of scholarship funds. There are various funding levels available allowing you to choose the legacy of your endowed gift.
The Bauer Excellence Scholarship Fund
This fund provides immediate financial assistance for recruiting prospective students. Gifts of any size can be directed toward operating scholarship support.