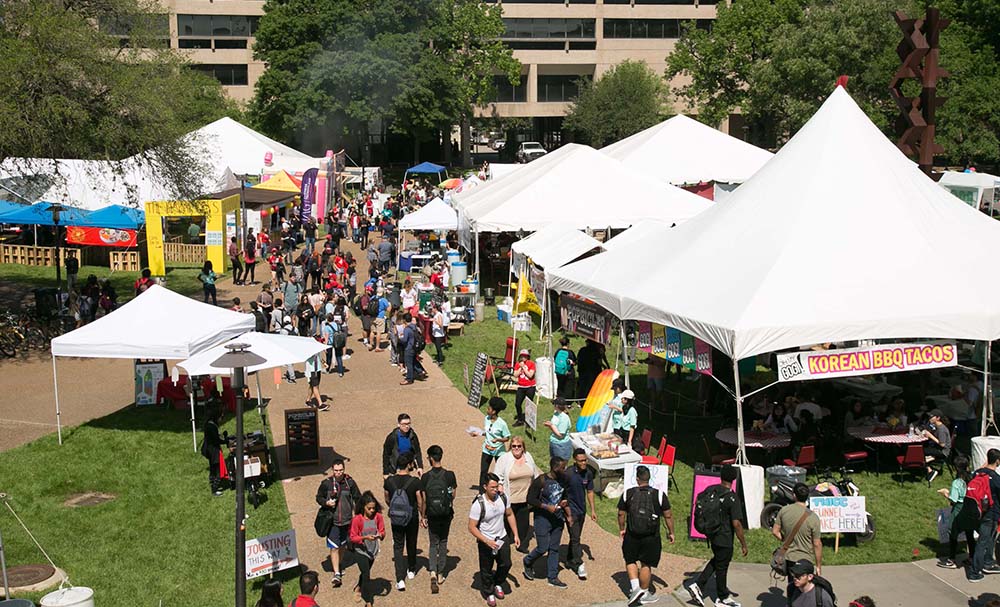 Wolffest has been a Spring tradition at The University of Houston since 2002. Teams of students from the Wolff Center for Entrepreneurship raise money for scholarships and student activities by running pop-up food stands in a three-day competition.
Wolffest is part of the WCE capstone course and is the final step in completing a BBA in Entrepreneurship from the Wolff Center. It is the largest and most complex project that students do in the program, and currently raises more than $250,000 per year in food sales and donations. It has one primary objective; teaching WCE students how to implement what they have learned in the program. Students experience all the challenges of organizing, researching, negotiation, revenue/cost modeling, operating, delegating, adjusting, competing and evaluating their own business' success and/or failure.
How it Works
The roughly 35 students who were selected for the WCE program have learned how to generate revenues, manage costs, find capital, and lead people. Now, they put these skills to the test during this three day business competition.
Prior to beginning their final semester, the class is split into seven teams that will face head-to-head competition – all for bragging rights! The newly formed company is given a few rules, but essentially their team must sell a product (food or otherwise) on campus for three days and the winning team is the one with the largest bottom line. The teams put together their plans, bid on locations, plan product offerings, line up vendors and branding partners, create marketing strategies, plan operations, and set prices, all with an eye on their competitors! Students get out into the business community to find "angels" who will invest in their Wolffest team and seek alumni to become their Board of Advisors. It's a tremendous learning experience for everyone involved.
Finally, the day has arrived and the company must begin operations. From past experience, we've learned some teams may have to adapt operations on the fly – equipment may not work, fire or safety officials may demand changes, supplies may run low, disagreements among team members may arise, credit card processing systems may go down. As in any business, the teams adapt as needed to satisfy their customers, take care of their team members, take care of their business partners, comply with regulations, and produce a healthy bottom line.
Wolffest is a great opportunity for our students to understand the difference between planning for a business and operating a business. As with most entrepreneurs, they are constantly forced to innovate and add new components to an existing model.