Bauer Department of Decision & Information Sciences Hosts Big 12+ MIS Research Symposium
Symposium Connects Senior Research Experts in the Field
Published on April 12, 2022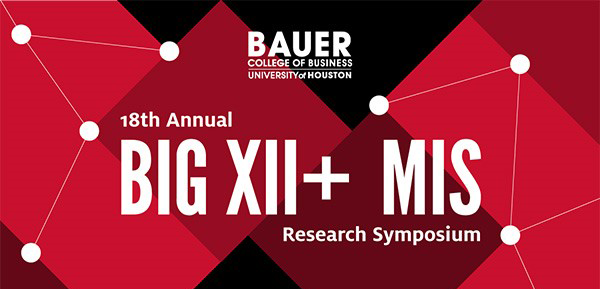 The Department of Decision & Information Sciences (DISC) at the C. T. Bauer College of Business reached another milestone in its growing stature recently, hosting and participating in the Big 12+ MIS Research Symposium for the first time. The annual symposium plays a pivotal role in connecting senior research experts in the field with next-generation research scholars and doctoral students, and brought record numbers of registrants to the Bauer campus after a two-year pause due to Covid-19.
Bauer College Professor Xiao Ma organized the meeting, which featured Information Systems and Business Analytics experts from some of the nation's top business schools. The symposium is loosely aligned with the Big 12 Conference, which the University of Houston has agreed to join as soon as Fall 2023. However, other schools are also invited to participate in the gathering.
Bauer College Dean and Cullen Distinguished Chair Professor Paul A. Pavlou, one of the world's top IS researchers, welcomed symposium participants, as did Ramesh Sharda, Vice Dean of Oklahoma State University, a co-founder of the symposium.
Keynote speaker was Alok Gupta, a noted Computational researcher, Senior Associate Dean at the Carlson School of Management, University of Minnesota and Editor-in-Chief of Information Systems Research (ISR). (Pavlou is a Senior Editor at ISR).
Gupta offered encouragement to those in the early stages of their career, especially those in innovative, less established areas. As an early practitioner of analytics, data mining and other computational research, he received numerous rejections from academic journals, but tried to learn from the process and tailor his research with clear applications for business, he said.
Workshop topics at the Symposium included how to assess and minimize machine learning bias, information security options and dealing with technology-driven mental health issues such as loneliness.
"The symposium brings together top researchers who seek to solve some of the most challenging issues in the field, but also provides a platform for doctoral students to receive personalized constructive comments on their work," Ma said. "This year's symposium broke several records in terms of the number of papers submitted and the number of doctoral student presenters."
Hosting the symposium also helps confirm DISC faculty and doctoral students' reputation as leading contributors to cutting edge research in Information Systems and Business Analytics. Earlier this year, DISC faculty for the first time ranked among the world's Top 3 most productive faculty groups, based on the number of research papers in top publications of the discipline in 2021. Three faculty members also posted impressive rankings as individual scholars contributing to the top journals: Bauer Fellow and Associate Professor Nina Huang ranked 3rd in the world, Pavlou ranked 7th, and Yili (Kevin) Hong, the C. T. Bauer Professor of Artificial Intelligence & Digital Society and Director of the Bauer College Ph.D. Programs, ranked 14th.
Ma also received a distinctive recognition recently in being named a University of Houston 50-in-5 honoree for his research contributions.