Learning Abroad: India

Students Testimonies from 2006 Learning Abroad India Program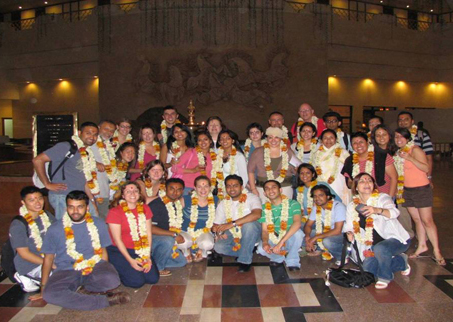 "Upon visiting the Indian School of Business, I was overwhelmed with the quality of the facility, the excellence attained in the faculty and curriculum, and the overall commitment to being first-in-class for business schools."
"Oh, what a great world class educational facility! I would love to get my MBA here."
"The trip to ISB was amazing, enriching and I didn't want to come home."
"This trip has been a life changing experience."
"Dr. Khumawala ran this program so smoothly like a well oiled machine."
Mere nam Agata hai (My name is Agata): Salaam Namaste!
The trip to India was amazing, enriching and I didn't want to come home. But where do I begin? Perhaps with some of the funny things I learned. For example, when I got off the plane in Bangalore I thought someone was lying to me. The weather was nice and temperate. And there was no smell. Everyone kept telling me to brace myself for the heat and the smell when you get off the airplane. It was beautiful. Then when we arrived in Hyderabad , same story: sunny, warm but a cool breeze and lower humidity than Houston . I thought to myself " India 's not hot and it certainly does not smell, other than the exhaust from the rickshaws." But then we finally made it to Delhi . And wow. That's when it hit! It was like a dry oven. Beautiful still, but hot! I wanted to buy a kurta with little holes in it to let the wind blow through. Furthermore and much to my disappointment, they don't actually break out in elaborate song and dance numbers like they do in the movies. I had my fingers crossed that somewhere in a market Shah Rukh Khan would jump out from behind a bangle shop and start singing and dancing with me. So instead I settled for taking pictures with his posters and billboards. Everyone thought I was nuts.
So what they say is true: you can read all you want about a country in books but until you go there and experience it you won't really understand the culture and the people because so much of what is in the media is incorrect. The 3 weeks were spent in a combination of meeting with prominent companies, policy makers and sight seeing. The education was so well rounded and touched almost every aspect of my life. I learned that while many people here in the United States scream outsourcing, outsourcing, India 's economy is still primarily and over 70% agricultural. I learned that much more of the people here can support themselves through entrepreneurship. This came from learning about Micro-finance where now the big players, such as Citigroup, are getting into the micro lending game, turning a profit, helping the poor move up and pushing the Grameen Model into the future. We met with companies such as Microsoft, Infosys, Satyam Computers, KPMG and Deloitte to name a few. We went to the Bombay Stock Exchange (BSE) and the Federal Reserve Bank of India ! Absolutely Incredible! We met with the chairman and his advisors and had a Q&A session with them. We had India 's equivalent of Ben Bernake sitting across from us at a table and talking. These are the experiences that I would have never had without the Bauer College . It was not all business because I learned that even though there are a billion people in this country; most of them co-exist with each other peacefully. On one street were 2 Mosques, 4 Hindu temples, a Jain temple, a Sikh temple and a Christian church on the corner. And everyone was getting along. In addition, unlike other countries in the region India is so pro-US that American's are looked upon with awe. We were welcomed everywhere with open arms and smiles. Maybe they were laughing at me later that my sari pleats were folded wrong but they were so proud and so appreciative that I even know how to put one on by myself.
India truly is an amazing and mystical country. I was excited to go before we left. To me this was going to be more than a learning abroad trip. I knew this was going to change me and impact me, what I didn't know was just how much. I cried at the Taj Mahal, saw amazing mosques and temples, I learned the strengths and weakness of India 's economy, how companies are strategizing for the future. We stayed in a palace in the hills, fed wild monkeys and took in as much as all possibly could; including the food. I ate India everyday and tons of it. There are not enough words in English, Hindi, Urdu, Polish or any language that can express what a life altering and life learning experience this trip was. Yes there were 12 hour days, but then there were nights were we danced all night long. Trip was expensive. It did have a hard currency value. However, the experiences I had and all that I learned about my self and about the other billion people on this planet are priceless. And, last but not the least, this was all under the great leadership of Dr. Saleha Khumawala and she and her husband Dr. Basheer Khumawala were our mentors, parents and best friends on this trip.

Dhanyavaad & Thank you,
Agata Bielicki
Information About…
Courses
Students must enroll in at least one of these two courses to participate in this program:
Information About.....
Courses
Course Details:
Courses to be during Summer Session II timeframe from May 29 – June 4, 2017
All coursework outside of the weeklong trip to Paris will be online
Information About.....
Courses
Tentative itinerary
Although the itinerary for this trip is still tentative, past trips have included:
Important UH Info: