SCM 7380
Analytics and Enterprise Operations
Course Purpose
The course covers Order to Cash Management and Financial Analysis with ERP systems and using advanced business intelligence and predictive analytics tools. In the same way that becoming successful as an athlete or surgeon requires practice to learn important skills and techniques, the best way to develop skill in Supply Chain Management is through practice. In this course, students practice managing the supply chain of a simulated manufacturing company using SAP. Using various business analytics tools and techniques, you will analyze your supply chain operations and financial results to discover ways to improve performance, finally reporting on your simulated company's performance to its shareholders.
As outlined in Figure 1, within this course, students will:
Learn how enterprise systems enable the consistent and efficient execution of supply chain core processes
Explore descriptive and prescriptive analytics techniques used in supply chain management
Apply business analytics to a competitive simulation with the goal of improving financial performance of a firm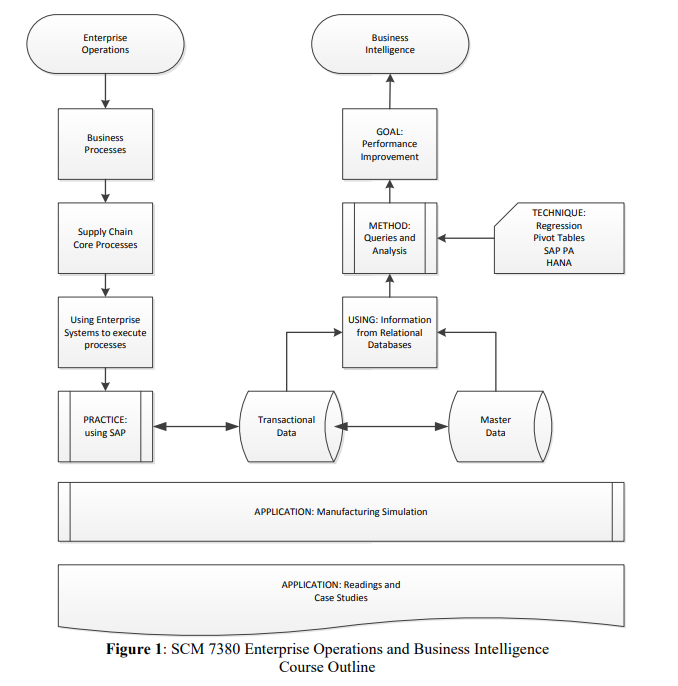 Expected Learning Objectives
Within this course, students will develop skills that will help them achieve success in professional careers and personal lives. It will be important to have intellectual curiosity matched with an ability to critically analyze issues faced by organizations both large and small. Students will learn to articulate the knowledge gained while learning to apply it successfully. Students will be challenged to think critically about business problems, developing both an intuitive understanding of the problem and a systematic approach to following them. Students are engaged in a variety of ways to help gain a better understanding regardless of learning styles.
Selection of Topics Covered:
Understanding descriptive analytics
Data visualization using PowerBI, Lumira, and Tableau
SAP and relational databases
Accounting in Enterprise Systems
Fulfillment Processes
Predictive Analytics
Production Processes
Prescriptive Analytics
Optimization and Data Simulation
Materials Requirements Planning
Procurement Processes
Financial Statement Analysis
Annual Reporting
Course Pedagogy and Immersive/Experiential Activities
Using a continuous-time simulation approach, students are put in a situation in which they have to run a simulated competitive business with a real-life ERP system. Teams of students operate a firm in a make-to-stock manufacturing supply chain and must interact with suppliers and customers by sending and receiving orders, producing and delivering their products, and completing the entire cash-to-cash cycle. Students experience the interaction between supply chain functions and sales processes, production processes, procurement processes, and inventory management. Using standard and customized reports and various analysis techniques, students analyze transactional data to establish a business strategy, make business decisions and ensure the profitability of their operation.
At the conclusion of the simulation, teams summarize their simulation results, the strategies utilized, and future recommendations within a company Annual Report.
Students are provided with course notes, textbook resources, lectures, case studies, and practice exercises.
Grades are typically determined by performance in several graded practice exercises, four case study analyses, 2 exams, and performance, reporting, and presentation of simulation results.