Succeeding Your First Semester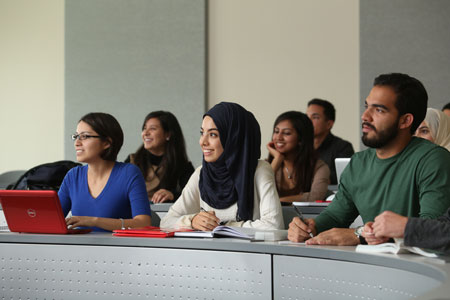 Transitioning to a University is tough! Whether you're coming to college for the first time as a high school graduate or you're coming to the University of Houston as a seasoned transfer student. Competing priorities, larger class sizes, rigorous classes and the added stress of commuting to a large campus are all common issues that many new students face. The good news is all of these issues can be overcome if you think about your plan of attack before the semester begins!
Know Where You're Going Before You Get There
Arriving on campus for the first day of classes can be hectic! Make plans to explore campus before classes begin to figure out your parking options and where your classes are located. Most of your business classes may be in Melcher Hall, Cemo Hall, or the Insperity Classroom and Business Building (CBB). Bring a campus map and be sure to take a stroll around campus to find the building and classroom where each of your classes will be held. Be sure to check your myUH account regularly for any changes to class locations.
Get to Know Your Instructors
All of your instructors are required to hold office hours. Make plans to visit your instructors during their office hours before the end of the first two weeks of classes to introduce yourself. Be sure to take advantage of instructor office hours any time you have questions about course content, assignments, or exams.
Get to Know Your Academic Advisor
Your Academic Advisor is a key resource for your academic success. Make plans to meet with your academic advisor at least once per semester and be sure to contact your advisor if you are struggling in any of your classes. We're here to help!
Academic Support Services
UH has a myriad of Academic Support Services that you have already paid for through your student fees. Tutoring for specific business courses is available through Bauer Tutoring Services.
Take a look at the available Academic Support Services and determine which ones you may need to take advantage of right away.
Recommended Course Load
Many business students struggle to be academically successful because they overload themselves. Success as a business student requires hard work inside and outside of the classroom. Many business courses include group projects that required work outside of class. Please keep this in mind when considering your class schedule and your course load. Also, take semester course loads that are appropriate to your lifestyle, including number of work hours and other responsibilities (for example, family life, campus leadership, etc.) You should set aside three hours of study time for every credit hour you are pursuing, per semester. If you work, we suggest the following semester course load matrix:
40+ hours of work per week = 3.0 credit hours per semester
30+ hours of work per week = 6.0 credit hours per semester
22+ hours of work per week = 9.0 credit hours per semester
11-19 hours of work per week = 12.0
0-10 hours of work per week = 15+ credit hours per semester