Real Estate Program
Real Estate Study Mentorship Program
Real Estate Students in Mentorship Program
The ULI Houston Young Leaders Group is proud to have established the "Phase 2 Real Estate Graduate Study Mentorship Program." The ULI Houston Young Leaders Group is a subset of ULI Houston members under the age of 35, and as a group it strives to facilitate networking and education that will help members as they start and progress through their careers.
Mentorships with ULI Houston Young Leaders offers students the opportunity to gain the professional insights of practicing professionals on career opportunities, industry trends, and a network of friends and colleagues in the real estate community.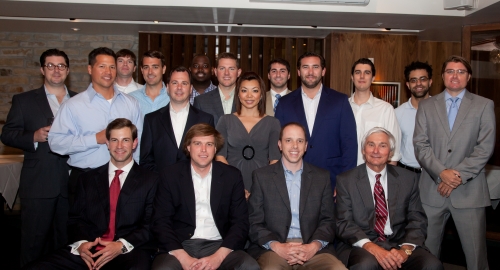 As a student in the Real Estate Program, you benefit from many professional development programs, including ULI Young Leaders Mentorships. To learn more about other professional development programs such as internships, the real estate club and career placement counseling, contact realestate@bauer.uh.edu.
---
ULI is an international institute that is dedicated to providing leadership in the responsible use of land in order to create and sustain thriving communities worldwide. Members represent every segment of the real estate development community, including property owners, investors, advisers, developers, architects, lawyers, lenders, planners, regulators, contractors, engineers, university professors, librarians, students and interns. The mission of this Mentor Program is to provide an opportunity for Houston Area Graduate Students (currently in a Real Estate Program, Real Estate Club, or Architecture or Urban Planning Program) (the "Mentees") and experienced ULI Young Leader Members (the "Mentors") to connect, grow, and create lasting relationships by sharing their knowledge and experiences in an atmosphere of confidentiality, trust, and respect.
---
---
UH Bauer Real Estate Program
334 Melcher Hall,
Houston, TX 77204-6021
Physical Location:
CBB Room 302
Phone: 713-743-4269
realestate@bauer.uh.edu
www.bauer.uh.edu/real-estate
Counseling
Student Academic
Counseling & Advising
Open Sessions:
Every Tuesday
Time: 9 – 10:30 a.m.
Location: Real Estate Program Offices, CBB, 302
No Appointment Necessary