City of Houston Recognizes Bauer College For Artificial Intelligence Program
Bauer College, Intel Collaboration Aims to Bridge Digital Divide Through AI & Entrepreneurship Training
Published on February 9, 2023

Houston Mayor Sylvester Turner and Houston City Council proclaimed "AI Innovation and Entrepreneurship Day" in the city on Tuesday, Feb. 7, 2023, celebrating a new collaboration between the C. T. Bauer College of Business and Intel Corporation offering accessible training in the burgeoning area of artificial intelligence.
Bauer College Dean and Cullen Distinguished Chair Professor Paul A. Pavlou said the collaboration between the University of Houston and Intel is poised to drive meaningful technology sector growth and innovation in Houston.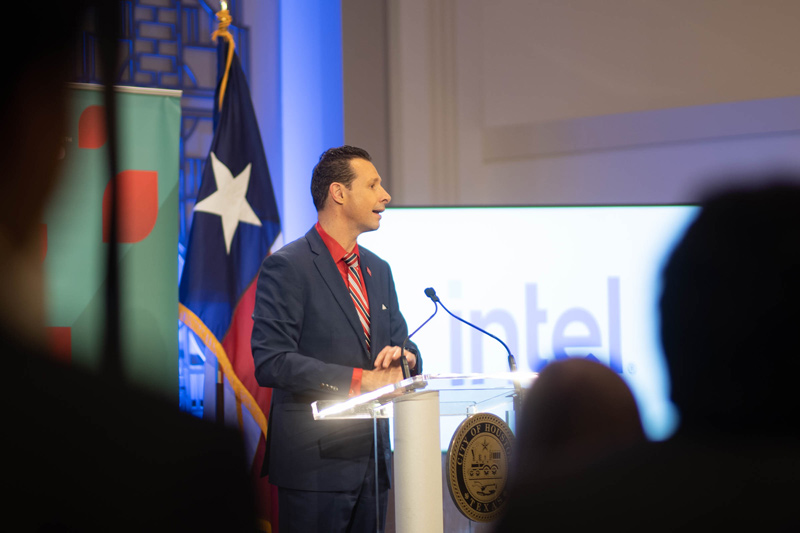 Dean Paul A. Pavlou addressed guests during a reception following the proclamation announcement on Feb.7 in City Hall.
"We came together and asked, 'How can we make a difference for the city of Houston, in terms of workplace development, in terms of reducing the digital divide, and in using Artificial Intelligence to help people, organizations and society?'" Pavlou said in remarks to City Council.
Intel Chief Strategy & Innovation Advisor Elizabeth McGee said the educational initiative with Bauer College will encourage equitable digital access as well as help to bridge the AI knowledge gap.
"Digital upskilling, or digital readiness, needs to be a catapult for economic prosperity for everyone and not a dividing point," she said. "I commend the University of Houston for being the first higher education institution to take our award-winning curriculum and lend your expertise in entrepreneurship, your access to the broader Houston community, and supporting this digital upskilling for everyone."
The importance of providing accessible AI education — whether sharing basic knowledge to help demystify the technology for the general public or providing more granular training to equip the workforce of the future — has taken on increasing urgency as widespread AI application is driving innovations in healthcare, energy and virtually all aspects of business.
Intel's digital readiness curriculum has led the industry, and this is Intel's first collaboration with a four-year university. The standalone general business certificate includes two specialized courses, with the first course launched in January. Bauer also plans to offer non-degree certificate programs in AI, including the AI Certificate for Entrepreneurship and AI Certificate for Executive Education.
The Bauer College Wolff Center for Entrepreneurship, ranked #1 in the country for four consecutive years, has established business innovation expertise that portends student-led AI- related innovations being commercialized and brought to the marketplace at an accelerated pace, Pavlou said.
He added: "Intel has been very generous with their resources, and with our expertise in analytics and faculty research and students' initiative in bringing new products to life, the opportunities for this collaboration to be transformative are endless."
To see photos from the Feb. 7 proclamation event, click here.