An International Exchange
Bauer College Welcomes Students from Berlin to Learn About Sales
Published on April 14, 2023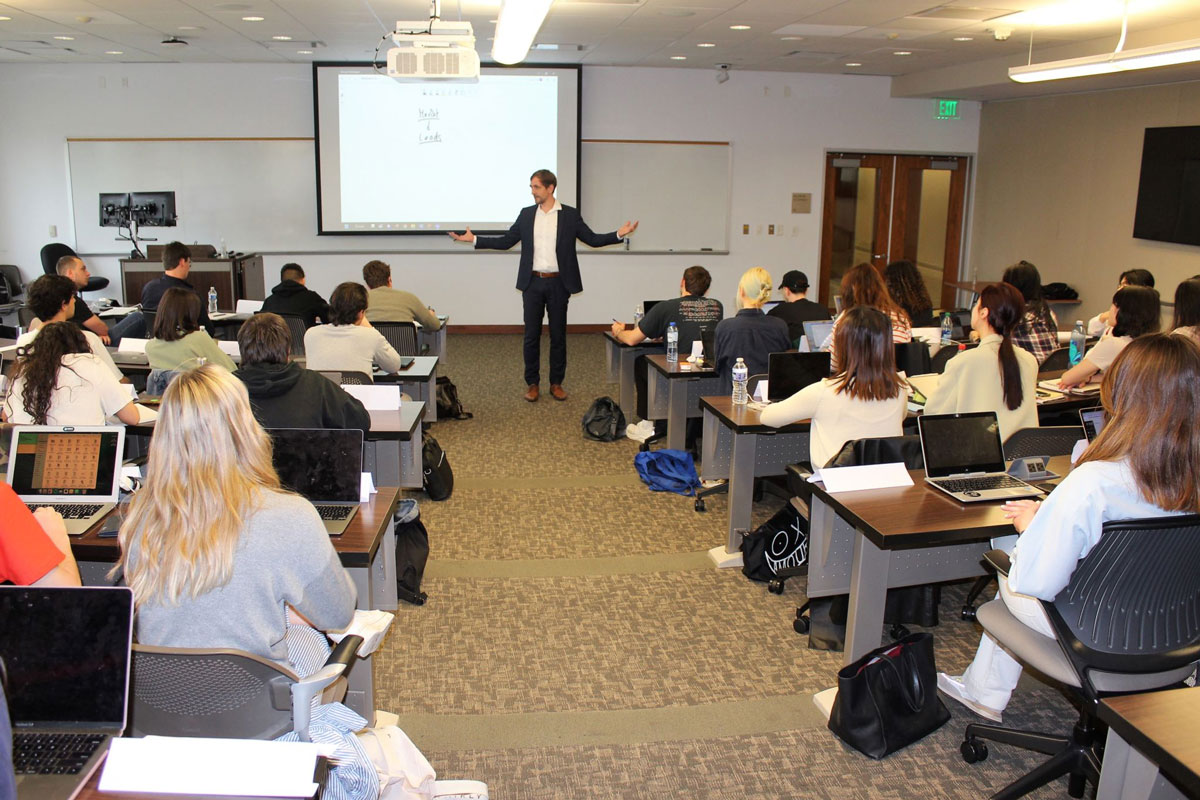 More than 40 students from École Supérieure de Commerce de Paris (ESCP) Business School in Berlin spent a week studying in Houston at the C. T. Bauer College of Business, learning about sales management in the digital age.
As an institutional leader in Europe, the first collaboration between ESCP and Bauer's Stephen Stagner Sales Excellence Institute (SEI) is the product of a memorandum of understanding signed by the schools in 2022. The collaboration allows students to gain a perspective of the United States before starting international careers.
"It's an honor connecting with one of the world's top business schools and contributing to students' learning," Associate Professor of Marketing Johannes Habel said. "I hope the success of this visit provides the opportunity to further expand Bauer's hand in shaping the next generation of sales managers."
With support from the college's Office of Global Initiatives, SEI hosted a culturally diverse group of students, originating from 10 countries, including France, China, South Africa and the Netherlands, and pursuing a Master of Science in International Sales Management, which highlights marketing and management across digitalized global platforms. The two-year curriculum provides scholars the opportunity to study in Berlin, Paris and Houston.
"This experience enlarged our minds, fostering openness and the curiosity to explore life outside European boundaries," ESCP Europe-Berlin student Enrico Dagostino said. "The professors brought confrontation and parallelism between our customs and showed how the world and our business practices are all interconnected and interrelated."
Along with Habel, Bauer Professor of Marketing and Research Michael Ahearne and Professor of Practice and Director of the Sanchez Program for Excellence in Selling (PES) Yara Suki delivered 15 hours of instruction over the course of a week. 
Sessions included digital prospecting and consultation along with sales analytics across global platforms, teaching the group how to leverage technology and enhance productivity and profitability immediately upon graduation.
"Our students learned from teachers with the most advanced expertise and listened to speakers from companies that are leading the field," ESCP Europe–Berlin Marketing Professor Frank Jacob said. "Since digitalization is so critical for the domain of sales, this visit helped our students increase their international career opportunities." 
ESCP students also had hands-on, experiential learning by visiting Insperity to see the digitized sales process into action. The Houston-based company offers HR services and technology that aids in administration relief and sustained business growth.
Bauer alumna and Starburst Sales Development Representative Nalani Gruel served as a guest lecturer, where she discussed how to determine client focus and outreach, prioritize available resources, and what technology-driven solutions are available.
"This was an incredible opportunity," Gruel said. "I've gained so much knowledge since leaving Bauer, and nothing feels better than giving back to a place that also gave me so much. Plus, the ESCP students were so engaging and took advantage of their experience."
The partnership between the cities continues this May when a group of Bauer graduate students travels to Germany for a Berlin learning experience that includes two UH courses and local company tours.