Bauer College Behavioral Finance Students Find Success, Wealth After Graduation
Published on June 22, 2022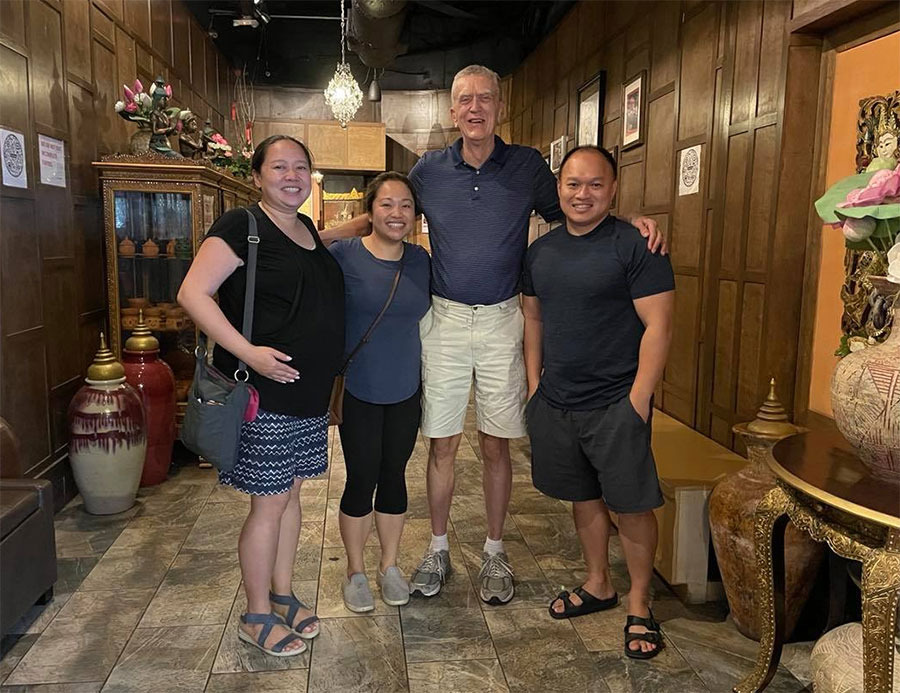 From left: Vicky Phan (BBA '06), Tina Nguyen (BBA '06), Professor Dale Rude and Vu Tran (BBA '06).
A behavioral finance class at the C. T. Bauer College of Business could credibly be called the "Millionaire's Club," having produced more than fifteen students who have gone on to accumulate $1 million or more after graduation.
Professor Dale Rude of the Department of Management & Leadership teaches the class, and he has assigned the book, "The Millionaire Next Door," by Thomas J. Stanley and William D. Danko, throughout decades of teaching it.
"One of my goals in the course is to give students the tools they need to become wealthy," Rude said. "I recently became aware that several of my students from 2006 to 2011 are now millionaires. I did a follow-up survey of students from that era and have identified 15 so far that are now millionaires. All did it before age 40. I am so proud of them."
Rude notes that like many of his students, he did not grow up in a wealthy family. His message to students is that building wealth is a step-by-step process that can be achieved even by those who earn an average salary.
Blake Salinas, (BBA '07), a Marine veteran who now is general manager of a car dealership, attended Rude's class in 2006 and began sending his former teacher Facebook updates about his growing financial status a few years ago.
"Your class, hands down, has had the biggest impact on my life," he wrote Rude. "I am reminded of and living the principles of the book on a daily basis."
Salinas graduated from U.S. Marine Officer training school following his graduation from the Bauer College and is married with three children. He said the approach he took to handling his finances was much different than that of many of his friends, who were often stressed over debt they took on. Through thoughtful budgeting and careful inexpensive investments, Salinas slowly built his net worth.
Three other former students who also say they've been able to accumulate significant wealth since taking Rude's Behavioral Finance class took part in a video chat with Rude's students last spring semester.
"The class really provided a good insight into the goals you should set for yourself," Vicky Tran (BBA '06), told the students. "The other part that motivated me was having good friends to travel that road together with."
Tran, her now-husband Vu Tran and friend Tina Nguyen took the class together. A full third of the students who have become millionaires are of Vietnamese descent, Rude said.
Vicky and Tina stressed that students should be realistic and understand they may not love the initial jobs they take after graduation. Despite being discouraged with their first jobs, the two encouraged each other about moving into better positions and sticking to the financial lessons they had learned in Rude's class. Each went on to find rewarding, long-term careers, they told the students.
"Start early, invest a little bit at a time," Tina said. "In 10 years, you'll realize the power of compound interest."
Cumulative student debt has risen since they were in school, which may make saving more challenging. But the general principles taught in Rude's class still apply, they said.
"I'm pretty sure you could be a millionaire with the mindset and focus that Dale sets out in his class," Vicky said.