Bauer Students Serve Up Entrepreneurship
Wolff Center Students Host Pop-Up Restaurants April 9-11
Published on April 8, 2019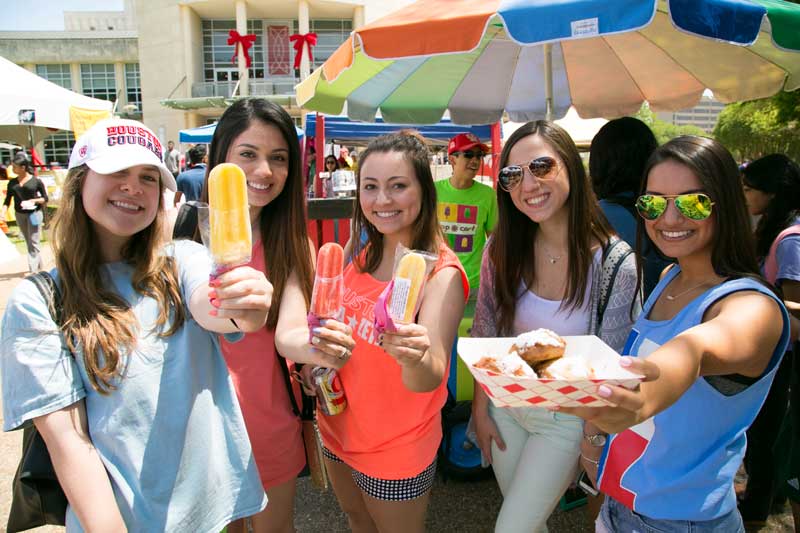 Entrepreneurship students from the C. T. Bauer College of Business will face off this week during Wolffest, a three-day business competition that allows students to apply the startup skills they've learned in the classroom.
The annual event, hosted by Bauer College's Cyvia and Melvyn Wolff Center for Entrepreneurship, features pop-up restaurants launched on campus and managed entirely by students. Wolffest serves as the largest fundraiser hosted by the Wolff Center's senior class, with all proceeds benefiting the program.
Teams are in charge of every aspect of the competition, from contacting sponsors and setting prices to operations and customer experience during the event. The program has also partnered with public relations students from the Jack J. Valenti School of Communication to promote Wolffest on campus and across the city of Houston.
Wolffest kicks off April 9 and ends April 11, with pop-up restaurants open for business between 9 a.m. and 5 p.m. in Butler Plaza.
Teams will serve a range of cuisine, including crawfish, halal plates, tamales and more, with some sponsored by local restaurants.
Meet the Teams
Wing It
Students:
Jonathan Thomas, Asher Warriach, Adan Diaz, Zara Rahman, Omar Alvarado, Savannah Field, Alfred Cervantes, Angela Lin, Adam Lipnicki, Denah Rooks
Food offerings include:
Wing Stop
Bahama Bucks
Creem
Sparkling Ice
Jarrito's
Moellers
Kenny & Ziggy's
Hugs & Donuts
W.C.Eats
Students:
Tanvir Bhogal, Vivian Tran, Luke Kubosh, Armando Garza, Kim Nguyen, Cory Gaddis, Madiha Faisal, Jesus Garcia, Lexa Creamer, Ruben Tang
Food offerings include:
Crawfish Shack
Glazed Donuts
Thai Cottage Tea
Tiff's Treats
Fiesta Coogs
Students:
Aaron Morales, Jakob Broaddus, Maria Vargas Uribe, Erick Hoyos, Alex Santander, Kenneth Hicks, Katie DeBakey, Esme Badillo, Abbey Boggs , Christie Brannon
Food offerings include:
Tony's Mexican Restaurant
Mi Pueblito
Taste Budz
Texas Tamale's
Shake Shack
Original Kolache Shop
Electric Coogs
Students:
Sarah Burdeos, Ozzy Sheikh, Denise Enamorado, Ricardo Soto, Malaya Pistokache, Evan YoussefAgha, Carlos Juarez, Danny Nguyen, Kyle Li, Erfan Bhuiyan
Food offerings include:
Checkers
Popston
Lush Puff
Pythagoras
Snack To The Future
Students:
Hector Galvan, Travis Zimmerman, Brianna Solis, Annie Nguyen, Cedric Pasco, Canyfer Vazquez, Annie Ngo, Altovely Uriostegui, Kaixon Lou, Francisco Ruiz
Food offerings include:
Del Comal Tortilla Factory
Sra. Churros
Bahama Bucks
Sunny Sky Products
Gong Cha
Go Go Curry!
BBQ Sunday
Taqueria Monchy's
Krispy Kreme
Houston Cookie Co.
Astrocoogs
Students:
Ariana Rios Lobo, Dominique Carter, Madelin Umanzor, Ranea Al Gaood, Loc Dang, Tameer Bakkar, Danna Ceron, Maria Madrid, Filip Da Silva, David Lai
Food offerings include:
Italiano's
True Dog
Liberty Tacos
Kolache Factory
The Paisa Twins
Babes
Students:
Alejandro Guillamon, Tucker May, Titan Vo, Victoria Rayol, Jacob Skok, Jonny Escobar, Sergio Reyes, David Jaimes, Grier Gracin, Joshua Mapula
Food offerings include:
Halal Guys
El Canton
Liberty Tacos