Bauer Students Focus on Innovation, D&I With Dell
Bauer College Hispanic Business Student Association Invited to BE Smart Dell Innovation Lab
Published on October 3, 2019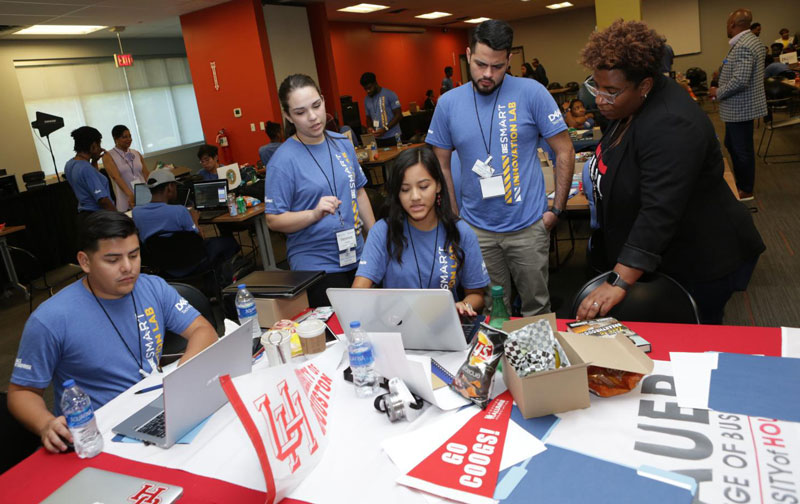 A team of students from the Hispanic Business Student Association at the C. T. Bauer College of Business recently visited the Dell EMC HPC Innovation Lab in Austin to learn more about the company's advances in technology and diversity and inclusion.
The visit was part of the BE Smart two-day event at the Dell facility that focuses on data analytics, high-performance computing and artificial intelligence solutions for business. Bauer students participated in workshops, heard from guest speakers and had the chance to network, as well as competing to produce a mobile app to increase diversity recruitment for the company.
The team included finance junior Sophia Bui, MIS seniors Justin Rodriguez and Leo Castelan, and marketing junior Veronica Alvarez, who worked together to design an app to target students and recent grads between 18-24, with a strong emphasis on identifying minority candidates.
"Our biggest challenge was meeting Dell Technologies' need to increase diversity recruitment and making a concept that would make Dell the our biggest challenge was making a concept for a mobile application that would make Dell the employer of choice for minority students and bridge the gap within tech," Alvarez said.
The students first learned of the opportunity through HBSA's partnership with Dell and spent the summer researching target audiences as well as millennial and GenZ app user behavior. The group also conducted surveys to identify misconceptions minority students have about big tech companies.
Alvarez added: "We examined Dell's competitors and what they were doing for diversity and inclusion. We also analyzed the potential competitors in job search applications like Indeed and Glassdoor. Next, we really wanted to make a prototype of our application, so we conducted research on the best prototyping tool and we settled on Adobe XD. We spent so many hours learning how to use that application through tutorials on YouTube and various articles."
During the trip, Bauer students also spent time touring Dell's Headquarters in Round Rock, TX, attending seminars on diversity and inclusion, and discussing experiences of first-generation Latinx/Black students.
"It was also a great opportunity to try something new and challenge ourselves with tackling an issue that is close to us as Latino students, and to explore how business and technology can help solve it," Alvarez added.
Now that the students have returned to campus, they have a new appreciation for how technology integrates with business.
"It is really important for business students to not only compete but integrate tech/STEM curriculum/programs within our studies, because as businesses are becoming more dependent on technology to survive, there is a demand for students to have that experience in these related subjects," Alvarez said.
She added: "It also takes you out of the business bubble and gives you a competitive advantage. It is always good to show that you are interested and working on projects outside of your major, and can cross-function between teams and industries. Being a well‐rounded business student can keep up to the demand of interpreting and analyzing data and how that translates to business decisions."