Bauer Students Address D&I At Phillips 66 Case Competition
Bauer College Inclusive Leadership Initiative, Phillips 66 Bring Diversity & Inclusion to Forefront
Published on November 26, 2019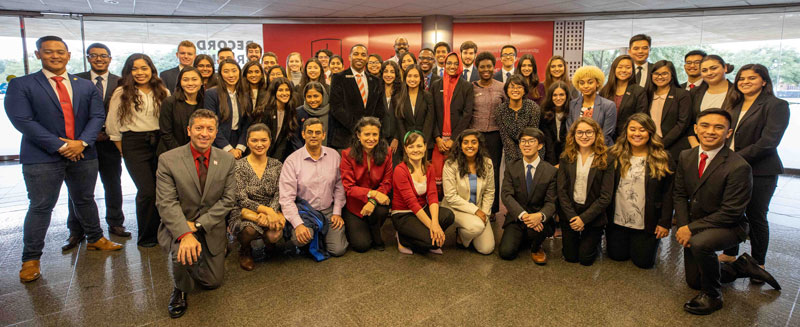 This fall, students at the C. T. Bauer College of Business had the opportunity to explore solutions for business challenges related to diversity and inclusion in a case competition sponsored by Phillips 66.
"This effort was in a response to Phillips 66 and their dedicated effort to promote their commitment to diversity and inclusion by supporting partners who are on the same journey, like the University of Houston," Bauer Director of Advancement Dalia Pineda said. "Phillips 66 believes that building an inclusive and diverse company is essential in today's world and benefits us all."
Organized by the college's Inclusive Leadership Initiative, the one-month competition involved 29 teams of Bauer undergraduates (each team with five members). In the semi-final round, 10 student teams assessed the financial company BlackRock and provided solutions on how creating a culture more conducive to a diverse and inclusive workforce was instrumental in Blackboard's success in acquisitions.
"The case competition was a celebration of diversity by itself," Management & Leadership Professor Dusya Vera said. "The team members, as well as the judges, came from all the different areas and programs in Bauer, and different countries of the world."
Students participated in a D&I workshop with Vera during a kick-off of the case competition. On the last day, semi-finalists had networking opportunities with Phillips 66 managers. Of the 10 semi-final teams, four of them were selected to advance to the last stage, presenting their solutions and answering questions about opportunities, challenges and the next steps for implementation in front of judges and the Phillips 55 managers.
"The challenge posed was not only to provide recommendations to the company in the case for how diversity and inclusion could help the top managers accomplish their business goals, but we asked the students to provide recommendations to Bauer about how to improve the student experience through diversity and inclusion," Vera said. "The teams showed great creativity in their video submissions and presentations, and were able to incorporate the knowledge from research and current managerial practices about diversity and inclusion."
She added: "At the end of the competition, students asked us 'when can we do this again?' and they were grateful to Phillips 66 for the generous cash prizes and for the opportunity to learn that diversity isn't just about counting the numbers, but about the ways and mechanisms through which it can affect business results."
Tasneem Bootwala, Management Information Systems Senior
Jean Almonte, Finance Senior
Kamran Bhattacharya, Finance Sophomore
Kevin Tu, Management Information Systems & Accounting Senior
Kevin Moore, Finance Junior
Brandon Dinh, Supply Chain Management & Management Information Systems Senior
Ariel Nguyen, Marketing Senior
Vicky Tang, Accounting Senior
Justin Panganiban, Supply Chain Management Junior
Kaitlyn Tran, Supply Chain Management Junior
Tristen Taylor, Marketing Senior
Alyssa Capino, Marketing Junior
Mashal Ali, Management Information Systems Junior
Imara Inayatali, Management Information Systems Junior
Seher Malik, Finance Sophomore
Raymond Darrough, Supply Chain Management Senior
Cesar Gordillo, Supply Chain Management Senior
Tammy Tran, Supply Chain Management Senior
Allison Nguyen, Supply Chain Management Senior
Sarah Buchanan, Supply Chain Management Senior