Bauer Fall 2019 Full of Event Opportunities
Upcoming Bauer College Events Focus on Leadership, Careers, Networking
Published on August 19, 2019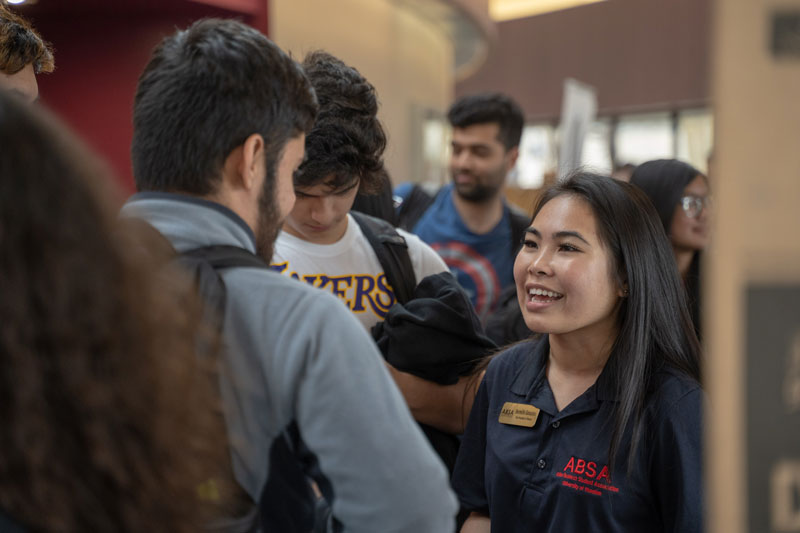 Several Bauer College units will host events in the next several weeks to kick off the fall semester, highlighting opportunities for students in professional development, recruitment, volunteering and more.
The list below represents just a few upcoming events open to Bauer students. For updates on additional Bauer events throughout the semester, click here.
Upcoming Events
Bauer Leadership Night
Aug. 27 | 5:30-7:30 p.m. | Rockwell Pavilion, M.D. Anderson Library
This open event allows Bauer College students to learn how they can develop their leadership skills through the college's Leadership Initiatives. Attendees will also learn in a workshop on leadership from Deloitte, LLC, partner Tom Daley.
Fall 2019 Rush Week
Aug. 27-29 | Undergrads – 9 a.m. 4 p.m. – Melcher Hall Back Drum | Grads – 4-6 p.m. – AIM Ticker Area
Representatives from Bauer College's more than 30 student organizations will share their missions with potential new members during this three-day event.
Suit Up
Aug. 28 | 10 a.m. – 2 p.m. | Melcher Hall
Hosted by Bauer College's Rockwell Career Center, local organizations and retailers will be on campus to share with students tips on professional dress for upcoming networking opportunities as well as internship and job interviews.
Bauer Office Leadership Development (BOLD) Series
Sept. 6 | 11 a.m. – 4 p.m. | CBB 310
The Bauer Officer Leadership Development (BOLD) Series is a leadership program designed for student organization officers who have a desire to serve as president of their student organization. The BOLD Series equips student organization leaders with the knowledge and skills needed to effectively lead and inspire their members to fulfill the mission and goals of the organization.
Fall 2019 Bauer Career Fair
Sept. 13 | noon – 4 p.m. | UH Hilton
Exclusively for Bauer students, the Fall 2019 Business Career Fair brings recruiters from more than 100 businesses to campus looking for candidates for full-time and part-time positions as well as internships. Hosted by Bauer's Rockwell Career Center, this event includes employers from a range of sectors, including IT, finance, sales, entrepreneurship, management, supply chain management and more. Students are encouraged to register early.
Bauer MS Programs Lunch & Learn
Sept. 25 | 11:30 a.m. – 1 p.m. | CBB 416
Bauer's Graduate & Professional Programs host a lunch to learn about our specialized Master's Degrees. During the session, they will discuss program details and the admission process. Prospective students will also met with faculty and staff, and provide information and resources to determine if the program is a fit for you.
Bauer StrengthsQuest Series
Sept. 26 | 5:30-7:30 p.m. |CBB 328
Learn about your natural strengths and talents using the internationally recognized CliftonStrengths assessment to help you unpack your greatest talents. You must sign up in advance!