Bauer College Alumni Association
A Strong Alumni Network. A Strong Resource.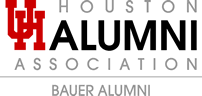 Welcome, fellow Bauer alumni! You, along with nearly 50,000 of your peers, are leaders in today's global economy. With the camaraderie formed amongst us Coogs, there is an enormous network of Bauer alumni to leverage, whether to advance your career or to do business with fellow Coogs.
Even though you have graduated, your "Bauer Experience" should last a lifetime. Connect back with Bauer by serving as a mentor for our new students and staying in touch with other alumni in your industry. A great way to reconnect with other Bauer alumni is to attend frequent events hosted throughout the year by the Bauer College Alumni Association (BCAA). The BCAA also offers members the opportunity to volunteer and give back to the college in any capacity that you can provide.
Aligning with University of Houston Alumni Relations, BCAA will follow the alumni model now in place. This means as of September 1, 2013, this new relationship with the University of Houston Alumni Association enables us to better serve our alumni with rewarding career services, stronger national networks, and other meaningful programs including new community service project opportunities and superior student recruitment and mentoring. If you earned a degree from the University of Houston, you are a member of the alumni association. There is no need to do anything more than keep your address information current.
While annual fees are no longer required to be a member of the alumni association, those alumni who are active through annual support of their university are eligible for recognition, event invitations, publications and priority engagement opportunities. However, as a proud Bauer Coog, you can not only just make the financial commitment to serving the next generation of business leaders, you can also join our prestigious Bauer Circle of Honor or participate in the Bauer Excellence Scholars program.
And, don't forget to share your successes and important announcements with us on our UH Bauer social media, linked to the right, and take a look at our photo & video gallery, linked to the left, to see what some of your old friends may have been up to lately.
Let us know if we can help you stay connected, or if you have any questions - contact Alumni Relations at baueralumni@uh.edu.
Bauer College Office of Alumni Relations

Join Bauer Alumni on:
BAUER EVENTS CALENDAR
Photo & Video Gallery