Bauer College Alumni Association
A Strong Alumni Network. A Strong Resource

A Letter from the BCAA President

Gary Ballard
BBA '68
President, BCAA
Email
Greetings Bauer Alumni and Current Students!
As you know, our university and our Bauer College have continued to garner national and international attention for our great faculty, staff, students, programs, leadership and alumni, and we are thrilled to be part of the Bauer family representing our more than 60,000 Bauer alumni worldwide.
Less than a year ago, we welcomed our new Dean, Dr. Paul Pavlou. In a short period of time, he has infused new energy and a collectively-shared deep commitment to excellence. We are also proud of the Cyvia and Melvyn Wolff Center for Entrepreneurship for having the #1 undergraduate entrepreneurship program in the nation; the MBA Program, ranked top 15 in the General management category; the SURE™ Program, recognized as one of the nation's best university-led economic development initiatives by the University Economic Development Association; the Finance Department ranked among the top 3 within the State of Texas, and the list goes on.
We know we can do a lot more to build on this impressive momentum. Our next step is to make Bauer the "Talk of Houston": we have a true Powerhouse with a strong presence in the city, the state and the nation. So I encourage you to show your Bauer Pride! Check out our online store Bauermerch.com, or go to diplomaframe.com/uhou to hang that degree on your wall with style. If your office is looking to hire Bauer grads, contact raiyer@bauer.uh.edu to make this happen.
In addition, please join us at one of our next events, all updated regularly on our site. BCAA events are for everyone who wants to have fun, enhance their social-business network, or continue to grow their business customer awareness. Also, our "How to Volunteer" page is another great resource on how you can get involved. See the links for further information on how to contribute to our vibrant Cougar community. To further your impact, check the information on how to become a sponsor or contribute to the student scholarships fund. And don't forget to enroll in the Bauer Alumni Connect to stay in touch with our strong Bauer alumni family.
Sincerely,
Gary Ballard '68
President
Bauer College Alumni Association (BCAA)
Join Us!
Video: Engage, Impact, Innovate with BCAA
About the BCAA
The Bauer College Alumni Association (BCAA) is a constituency group of the University of Houston Alumni Association (UHAA). BCAA was established in support of the C. T. Bauer College of Business and the University of Houston. Together, we work to engage alumni, provide quality events and programs, and to support the initiatives set forth by UH President & Chancellor, Dr. Renu Khator.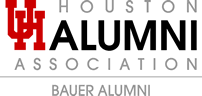 Our goal is to engage past, present, and future alumni by hosting a variety of events, such as the 9/11 Day of Service at the Houston Food Bank. We host multiple networking breakfasts, happy hours, tailgates and volunteer events. BCAA members also participate in activities like student recruiting, mentoring, and career services events.
BCAA works to build Cougar pride. We believe that the "Bauer Experience" should last a lifetime. This is why we work to engage the Bauer alumni with Houston's business community, current students, our college, and the University. By making these Cougar connections, we build a community that will work together to help Bauer reach Tier One status.