Encouraging Entrepreneurship
Wolffest Features Pop-up Restaurants, Merchandise on March 28-30
Published on March 27, 2023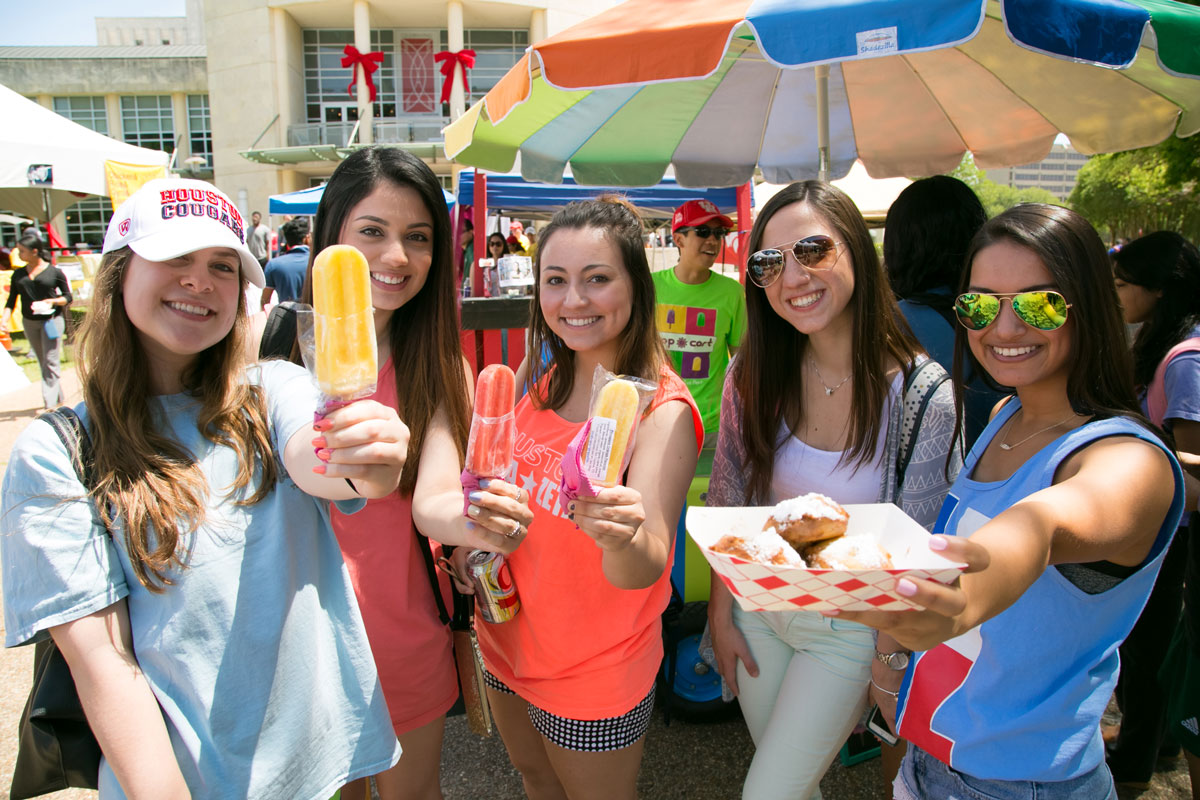 Undergraduate entrepreneurship students from the C. T. Bauer College of Business have been working for months to put on Wolffest, a three-day competition that combines food, merchandise, games, and more March 28-30 on the University of Houston campus in Butler Plaza.
The annual event, hosted by students from the Cyvia and Melvyn Wolff Center for Entrepreneurship, fosters a healthy business tournament that allows students to apply classroom skills by managing a pop-up business on campus. Teams are responsible for creating a business plan, contacting and networking with vendors, along with evaluating each team's performance.
"Wolffest is designed to give students and teams complete autonomy," said Hemanshu Mirchandani, a student who is serving as CEO for the team Doughboys & Co. "Much like starting a business, the event does a great job preparing us for the ups and downs of entrepreneurship. In addition, I love the aspect of creating a team culture from the ground up and helping each other group throughout the process."
The event serves as the largest fundraising event for Wolff Center student scholarships, raising more than $250,000 in food sales and donations in previous years.
To see the event in action, follow the Bauer College Instagram (@UHBauerCollege) for daily updates and a wrap-up at the end of the week.
To see photos from the event, visit UH Bauer College of Business on Facebook.
Meet the Teams
Backyard Wolves
Students: Randy Holt, Nathaniel Smith, Keely McEnery, Elesa Channell, Aidan Stimson, Alim Maknojia, Gillian Fisher and Fernanda Ruelas
Vendors:
Bahama Buck's
Fajita Pete's
Popfancy Pops
Raising Cane's
Sweet Dreams DreamPies
Weenie Wagon
Food 4 Thought
Students: Elizabeth Reed, Gisselle Arajo, Rei Yu, Sameer Huda, Jazmin Davila, Argentina Guerra and Dara Santiago
Vendors:
Aguas Frescas
BBQ Sandwiches
Churros
Fried Oreos
Funnel Cakes
Loaded BBQ Baked Potatoes
Street Tacos
Wingtop
Soulfull
Students: Thuong Nguyen, Ceciley Brinn, Kristi Tran, Fernanda Diaz, Julie Miller, Aarya Patel, Bennett Mainini and Xavier Esquivel
Vendors:
Baan Thai Cuisine
Jarritos
Red Bull
New Era Thrift
Popeyes
Soulfull
Tea Cup
Tim Horton's
Cougston
Students: Joshua Vergara, Zoey Barker, Miguel Alvarez, Arianna Chavarría, Priscilla Becerril and Jeanette Lam
Vendors:
BB's
Chicano BBQ
Cosmic Ice Cream
QI Sweets
Doughboys and Co.
Students: Hemanshu Mirchandani, Robert Lyon, Lee Ecat, Erik Cisneros, Amal Momin, Michael Talley, Tu Pham and Nicolas Einarsson
Vendors:
Cascabel Vegan Restaurant
Doughboys Original Burgers
Filli Café
Wolff Island
Students: Edgar Crispin, Jocelyn Benitez, Shazi Jhaver, Raj Ganesan, Alvaro Torres, Omar Kanaan and Terrance Sowell
Vendors:
Cinnaholic
Hibachi Bros
Loco Bites
Paleteria El Pibe
Treats of Mexico
YoYo's Hot Dog
The Crucible
Students: Randy Alquiza, Kimberly Santos, Quindon Jefferson-Bowers, Nuan Nguyen, Gabi Rojas, Abhishek Sambaraj and Jayli Samnaneveth
Vendors:
Crunchy's
R&B Tea
Sunny Sky
Tom N Toms Coffee
The WolffDen
Students: Nicky Carroll, Raj Patel, Pedro Ruiz, Ai-Ling Kuon, Billy Talbert, Diana Rogel Aparicio and Valle Kauniste
Vendors:
Crawfish Shack