Bauer Student Team Places First in Deloitte Cyber Threat Competition
Published on May 2, 2023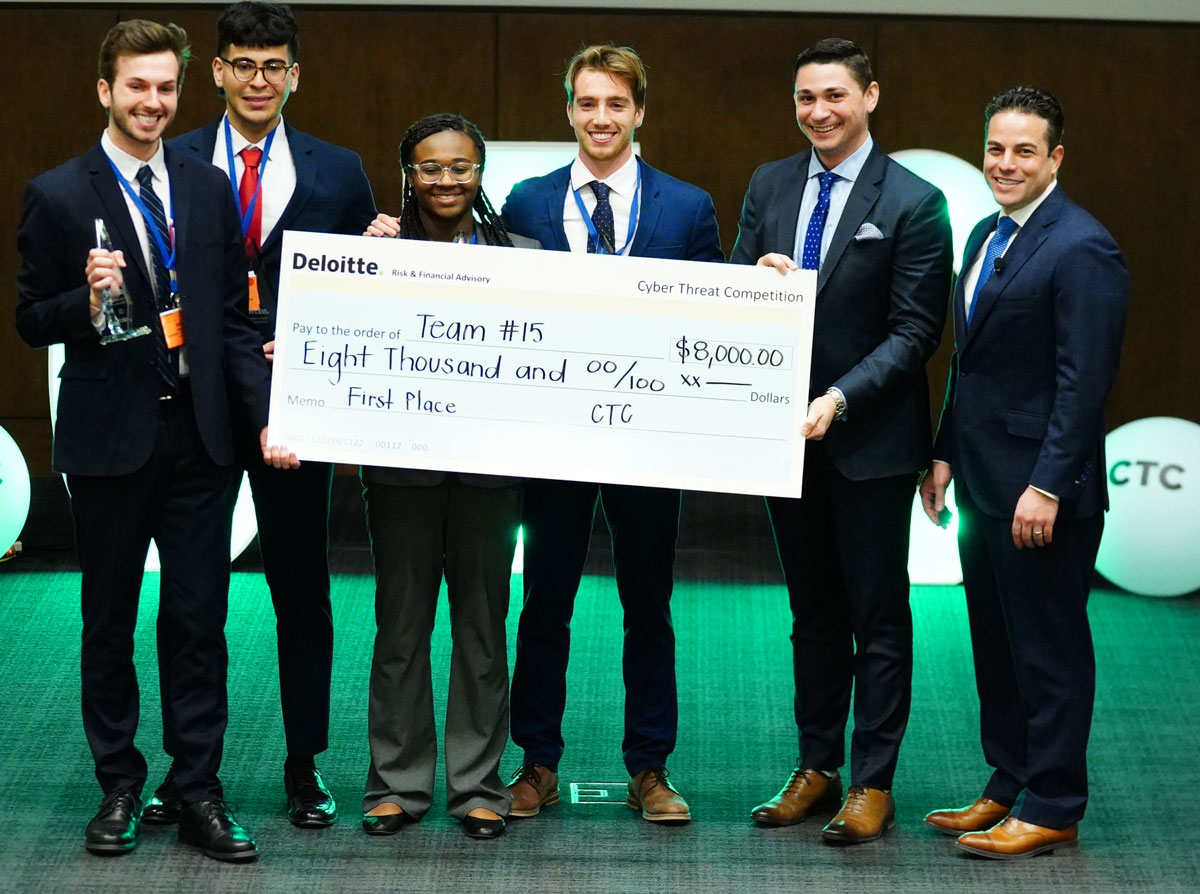 Bauer MIS junior Gabriel Galvez (second from left) claims first place with fellow teammates from University of Washington, University of Minnesota and North Carolina Agricultural and Technical State University.
Two undergraduate students from the C. T. Bauer College of Business at the University of Houston participated in Deloitte's Risk & Financial Advisory Cyber Threat Competition (CTC), with one team bringing home a first-place win.
Senior Basit Ali and junior Gabriel Galvez, both management information systems majors, competed against students from 30 colleges across the country to showcase their business acumen, apply consulting skills, and solve real-world security problems. Galvez 's team won first place, bringing home a $2,000 cash prize.
"It felt surreal. I came into the competition with a curious mindset and wanted to learn all I could," Galvez said. "To my surprise, curiosity, collaboration and adaptability led me to excel beyond my expectations."
Technological advances are rapidly changing how traditional businesses function with cyber threats being some of the biggest challenges the world is currently facing. With more than 422 million Americans affected by data compromises in 2022, Deloitte's competition works to create a fun, innovative environment where the next generation of technology engineers can test and showcase their skills in protecting a company's brand and critical data.
"Cybersecurity is more about critical thinking and problem-solving than high-level technical skills," Ali said. "As technology continues to permeate every aspect of our lives, students should be learning how to protect their personal data and avoid attacks."
Along with strengthening soft skills during the presentation, Galvez and Ali received an opportunity to learn from and network with leading professionals in cyber technology. They contribute their successes directly to experience gained at Bauer through MIS classes and career development opportunities.
"Bauer's Asian Business Student Association gave me every foundation in teamwork, public speaking and leadership, which I was able to utilize throughout the competition," Galvez said. "Now, I'm looking to bring the knowledge I gained at Deloitte to my summer internship in cyber strategy."