Optimizing Sales in a Changing Environment
Bauer Sales Faculty Share Expertise During Conference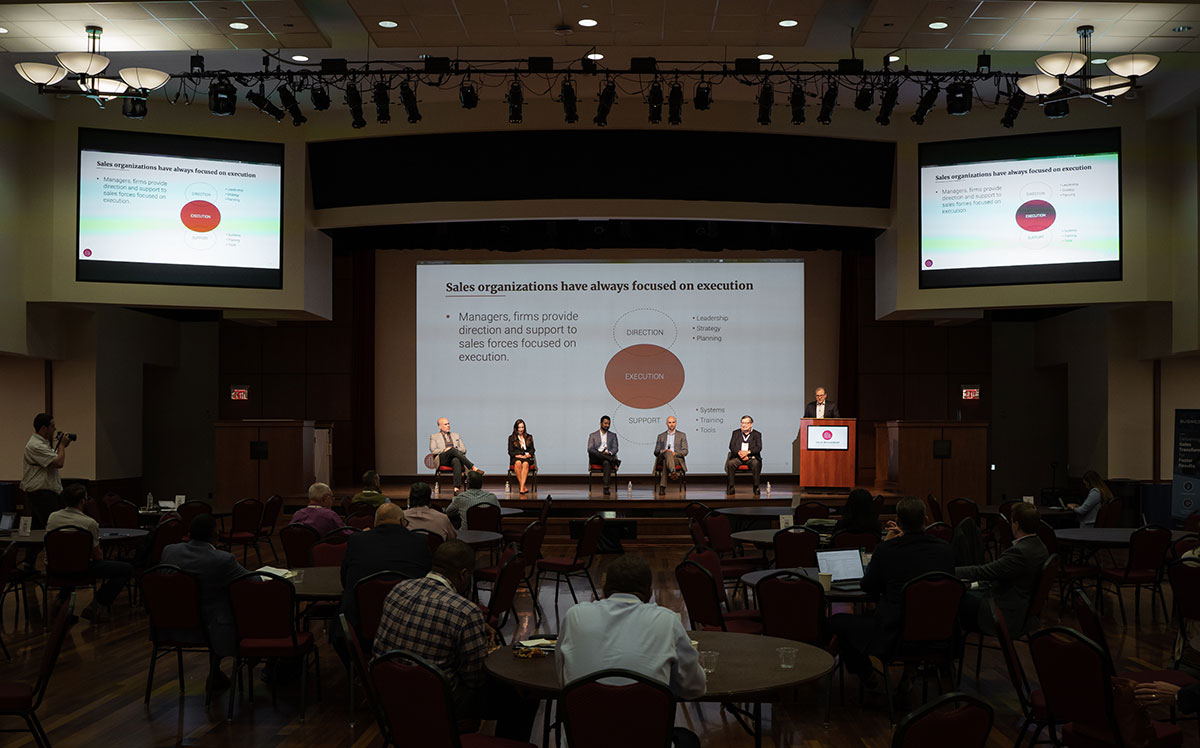 Published on July 26, 2022
Faculty from the C. T. Bauer College of Business were headline speakers at the Sales Management Association (SMA) Sales Force Productivity Conference recently. The conference, hosted by Bauer College this year, annually draws senior sales executives from multi-national organizations who come to learn the latest research-based information on optimizing sales in a rapidly changing business environment.
Bauer Professor Michael Ahearne, the Bauer Chair in Marketing and Research Director of the Stephen Stagner Sales Excellence Institute (SEI), opened the conference with a keynote session on how organizations can best use sales incentives to achieve top results from their sales force personnel.
SEI Executive Director Randy Webb, a former sales executive, took part in a panel discussion on corporate sales force effectiveness made up of members of the SMA advisory board. Webb stressed the importance of recognizing generational differences while managing modern sales force employees.
Associate Professor Johannes Habel of the Bauer College led a session designed to help sales executives discriminate between the growing number of sophisticated sales technology tools.
Some highlights from their comments should interest sales managers in a variety of industries.
From Webb:
In 2025, Millennials and the current group of college graduates, Generation Z, will represent 75 percent of the workplace. Diversity and inclusion is very important to Generation Z, the most racially, ethnically and sexually diverse generation in history. Nearly 50 percent represent communities of color, and having a diverse workplace, where everyone is treated equitably, is of utmost important to them, Webb said. In a recent survey, 86 percent said a potential employer's diverse workforce could be a deciding factor for choosing a job.
Generation Z want "instant everything," Webb said, which means employers must move quickly to recruit and hire them. Employers should expect they may need training in soft skills, such as how they present themselves, he said.
Many young employees have seen parents and grandparents hit by economic downturns and are consequently very serious, in search of security and stability, Webb said. They're risk averse, but also not loyal to employers. Many expect to change jobs in the next three years. "To keep them from company hopping, you have to keep them feeling challenged," Webb said. They're more interested in personal development than charting a career path, and extremely interested in tuition refund programs.
It's important to manage across the spectrum of age groups among employees, but a universal principle still applies, Webb said. "If people believe you care about them, it doesn't matter what generation they are. Having integrity, taking the time to give you the why of what you're asking, or explaining how what an employee does impacts an organization's results, is critical. It's true across generations."
From Habel:
The latest technology is only sometimes effective and always expensive, urging caution before organizations purchase AI-based technology. Sales force needs vary widely, so what works for one company can be irrelevant to another, and employee adoption of new technology remains a challenge, he said. Some sales force team members may refuse to use it, or not understand it well enough to use it without adequate training, Habel said.
The two areas that AI can manage most effectively have to do with either lack of knowledge or lack of speed. Most AI applications are about enablement rather than replacement, but executives should expect to deal with employee fears.
Organizations that decide to create their own AI tools should manage expectations. "Expect a huge effort and only about 50 percent of the time you will be successful," Habel said. Companies often don't have enough data or can't access it easily. It's imperative that organizations rely on data scientists when considering whether to make expensive technology investments, he said.
One new sales-related technological offering makes predictions about potential customers based on their online profiles, providing suggestions for the most effective ways to pitch a sale or to call and schedule a meeting. Such tools are best used as an ingoing hypothesis. "Go with your gut, you're better trained than AI," Habel said.
Another AI app listens in on real time conversations, prompting the user to speak more slowly, to listen more, or otherwise adjust a pitch. The suggestions are based on research about building rapport. Limited research shows it can potentially help middle of the road sales personnel, but is unlikely to have much impact on an organization's best and worst performers, Habel said.
The bottom line: "Don't buy into the mystique too much. At the end of the day, it's statistical analysis. It's numbers. It's not intuition, it's not reasoning."