Inaugural Bauer Gala Sets College Records
Bauer College Draws Noted Business and Political Leaders at Inaugural Event
Published on March 4, 2022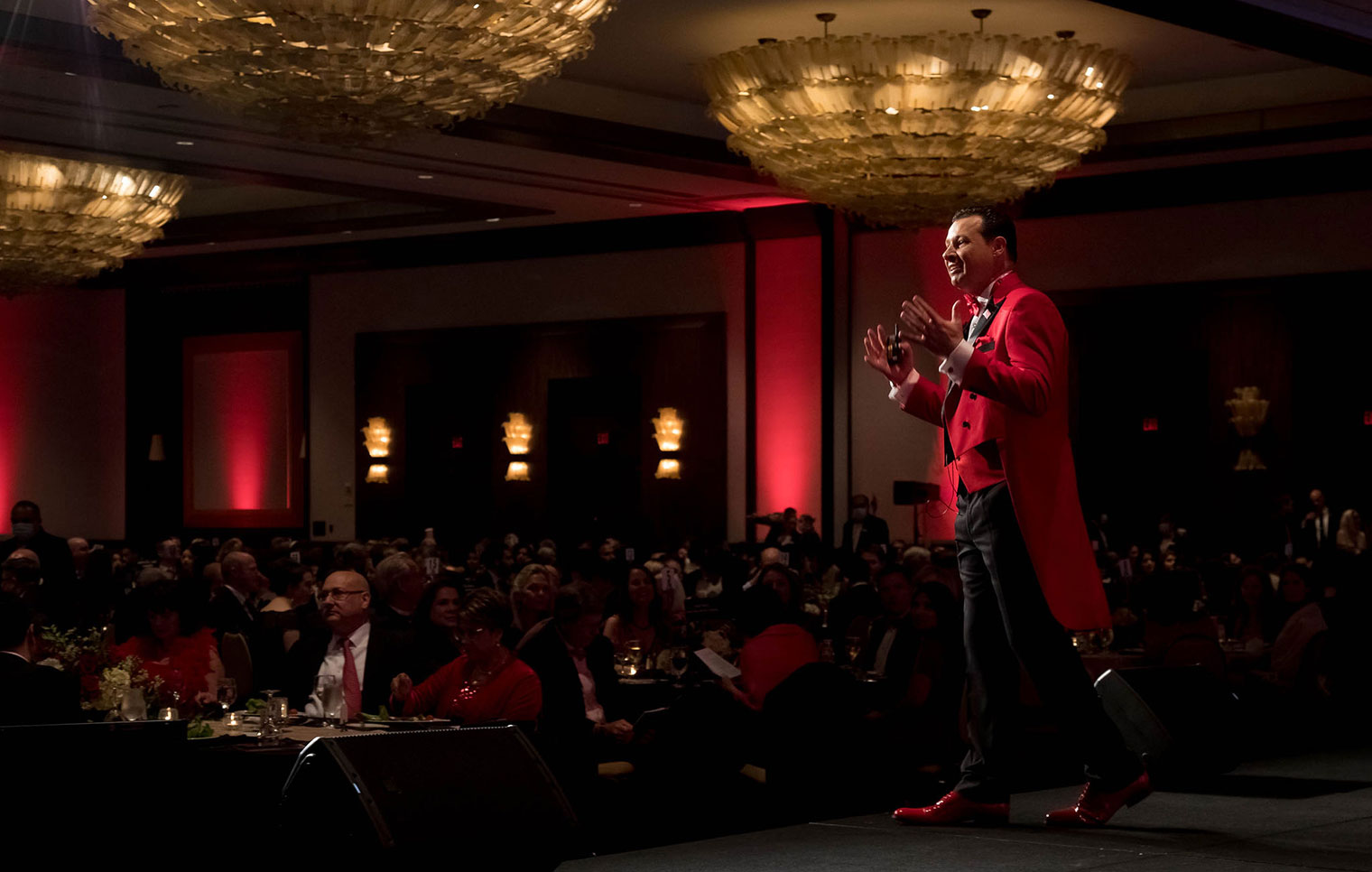 Bauer College Dean Paul A. Pavlou addresses the crowd at the inaugural Bauer Gala.
The inaugural Bauer Gala set new records for the C. T. Bauer College of Business, bringing together more than 1,000 alumni, business leaders, political figures, faculty, staff and honored guests at an upscale event in the Grand Ballroom of the Hilton Americas that included awards presentations, remarks from elected officials and a live auction that raised over $20,000.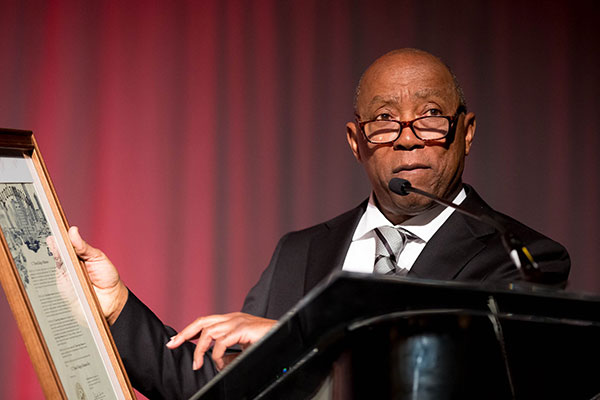 City of Houston Mayor Sylvester Turner names March 3, 2022 as "C. T. Bauer College of Business Day" in Houston.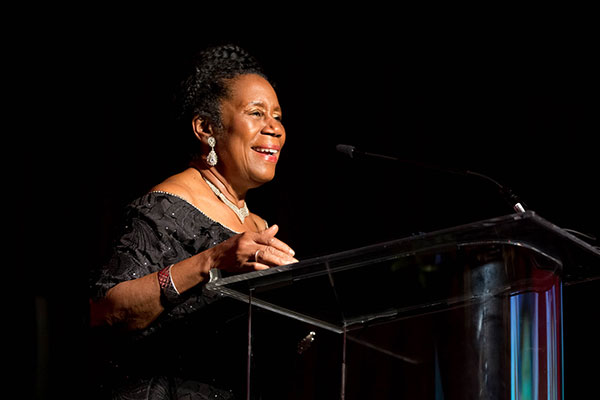 U.S. Rep. Sheila Jackson Lee presents the college with a Congressional resolution for the inaugural Bauer Gala.
The event, emceed by University of Houston alumnus and Houston sports announcing legend Bill Worrell (BS '69), brought together leaders of the Houston business community and the Bauer College for a night of celebration and recognition of business excellence.
Serving as keynote speaker, City of Houston Mayor Sylvester Turner (BS '77) addressed the crowd, remarking on the relationship the City of Houston has with Bauer College.
"We are here to celebrate Bauer and the impact it has made on the city," Turner said. "It's an honor to stand in front of Houston's best and brightest, and see the diversity exhibited in this room, which shows who we are and where we are going in Houston."
Turner also presented Dean Paul A. Pavlou with a proclamation, officially naming March 3, 2022 as "C. T. Bauer College of Business Day" in Houston, for its world-class programs that support business and entrepreneurship and shape the business of tomorrow, today.
In addition to the proclamation from the City of Houston, U.S. Rep. Sheila Jackson Lee presented the college with a Congressional resolution for the inaugural Bauer Gala and honored each of the evening's award recipients with individual resolutions.
In his remarks, Bauer College Dean and Cullen Distinguished Chair Professor Paul A. Pavlou shared perspective on the college's forward-thinking "The Future Is Our Business" mandate.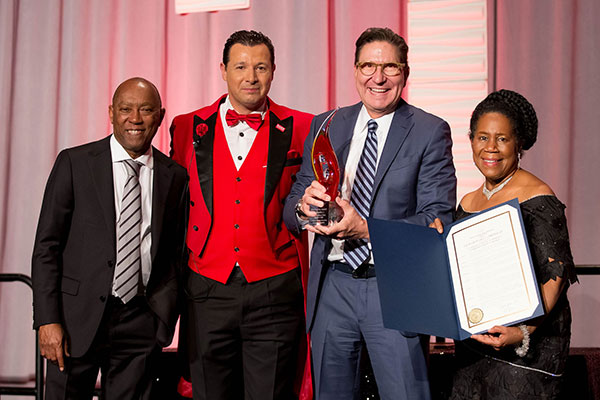 H-E-B Grocery Company LLP receives Community Impact Award.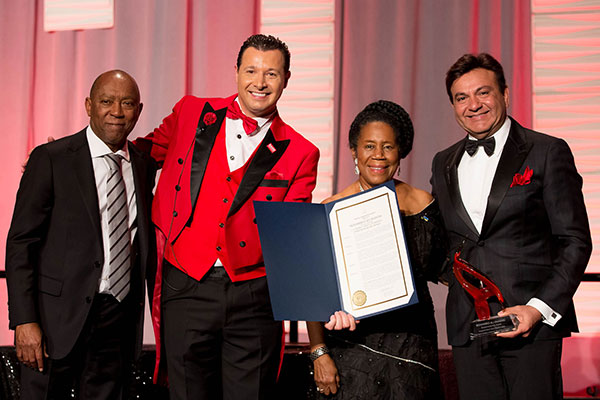 Mohammed Ali Dhanani (BBA '90) receives Entrepreneurship Award.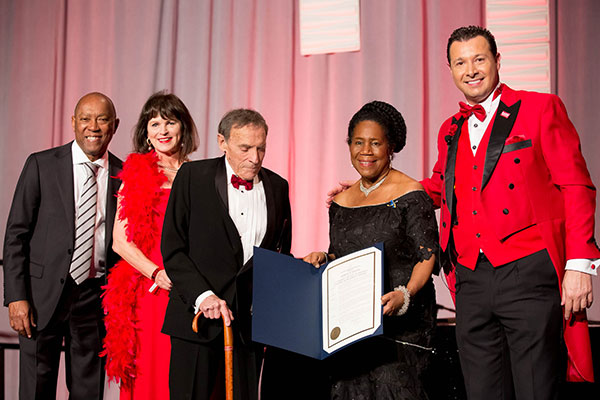 Marvy A. Finger receives Lifetime Achievement Award.
"Bauer is not just an ordinary business school. It is a true real-world experience that leads our students to social awareness, career success, and genuine life transformation," Pavlou said. "The opportunities we provide to students in the form of much-needed scholarships for students, world-class faculty, and leading-edge programs are also in part thanks to all of you, and thank you very much for your continued support, including tonight."
During the event, the Bauer College presented awards in three distinct categories: Lifetime Achievement Award, Entrepreneurship Award, and Community Impact Award, highlighting dedication to Bauer College as well as the Houston community.
H-E-B Grocery Company LLP received the Community Impact Award for their outstanding service, advocacy, and contribution to the City of Houston.
"We try to make Houston a better place to live. We aspire to do a good job for you," H-E-B Houston President and Bauer College Board emeriti member Scott McClelland said. "Over 500 managers at H-E-B are from UH. They have grit, determination and optimism, like Houston."
HAZA Group Owner, CEO and President Mohammed Ali Dhanani (BBA '90) received the Entrepreneurship Award, for embodying the spirit and inherent fabric of entrepreneurism that is imbedded into Bauer College.
"Entrepreneurship isn't just about the leader; it's about the lives it impacts," Dhanani said. "The meaning of life is to find your gift, and the purpose of life is to give it away. I'm lucky enough to find that gift, and lucky enough to pay it forward."
The final award of the evening, the Lifetime Achievement Award, was presented to Marvy A. Finger, President, CEO and Chairman of the Board of The Finger Companies, for his commitment to the college and university through his volunteer and philanthropic contributions as well as meritorious professional accomplishments.
"I want to dedicate my success to all of my colleagues that have been with me for so many years," Finger said. "They are really talented folks that try and make things happen."
After Finger accepted his award, Dean Pavlou announced that his friends and family had made contributions of over $250,000 in his honor to support scholarships for Bauer students.
To wrap up the evening, guests were able to bid on a one-of-a-kind Cougar painting by UH alumnus Tim "Sketchbook" Walker (BS '17), ultimately raising $22,000.
The success of the event speaks to the college's importance to the City of Houston, according to City of Houston Commissioner and Bauer College Board Member Zafar "Zaf" Tahir, who served as committee chair of the Bauer Gala.
"As the flag-bearer business college of 'soon to be' the third largest city in the U.S., Bauer is a leader in its areas of expertise," Tahir said. "Our region stretches over 13 counties, with two international airports, a space port, a world class medical center and hub of oil and gas, engineering and construction and now a growing innovation capital. Bauer's diversity, in all aspects, is in line with Houston's status as the most diversified city in the U.S."