Entrepreneurial Ecosystems
Bauer Stimulating Urban Renewal Through Entrepreneurship (SURE℠) Program Presents to Securities Exchange Commission Small Business Capital Formation Advisory Committee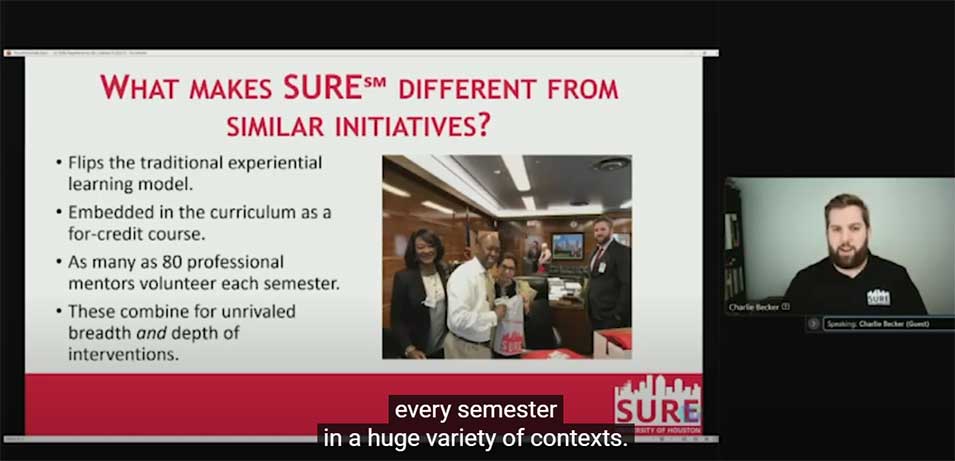 Published on October 31, 2022
In October, leadership from Bauer College's Stimulating Urban Renewal Through Entrepreneurship (SURE℠) Program presented during the Securities Exchange Commission (SEC) Small Business Capital Formation Advisory Committee meeting.
Professor Saleha Khumawala, the Robert Grinaker Professor of Accounting and founding director of the SURE℠ Program introduced Professor of Practice Charles Becker, who is managing director of the SURE℠ Program.
The presentation, titled "Entrepreneurial Ecosystems: Exploring the common ingredients in vibrant systems," addressed the key elements that underpin a thriving entrepreneurial ecosystem, and how to build a vibrant entrepreneurial ecosystem to work effectively, and become successful.
The discussion allowed committee members and speakers to discuss what works well in various communities, sharing personal and professional experience, data and history, to explore ways to continue supporting small business growth across the country.
SURE℠ is part of the Musa and Khaleda Dakri Center for Economic Inclusion in Bauer College, which combines experiential education, rigorous academic research and real-world expertise for two purposes: to train university students in human-centered skills and economically empower under-resourced entrepreneurs.
To see the full presentation from the SEC meeting, click here.