Embracing Conflicting Cultural Values
Bauer Research Looks at Conflicting Cultural Elements Shape Consumer Behavior
Published on April 20, 2022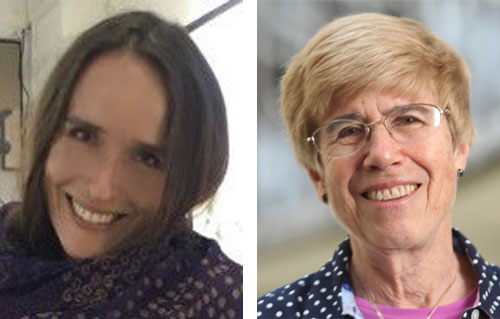 Bauer College lecturer Ivana Beveridge and Bauer College Professor Emeritus Betsy Gelb
A C. T. Bauer College of Business lecturer who has led award-winning marketing campaigns in China, Abu Dhabi and other international locations has published research on the Consumer Cultural Paradox, the phenomenon in which consumers mutually embrace conflicting cultural values rather than making exclusive, either/or choices while navigating an increasingly globalized world.
"A Consumer Cultural Paradox: Exploring the Tensions Between Traditional and International Education," co-written by Bauer College lecturer Ivana Beveridge, Olivier Furrer of the University of Fribourg and Bauer College Professor Emeritus Betsy Gelb, has been published in the International Marketing Review.
Knowledge of how conflicting cultural elements shape consumer behavior is limited, despite well-known examples such as Uber's failure to succeed in Southeast Asia, or conversely, the ability of Indian spiritual wellness values to be successfully absorbed by the American fitness paradigm via yoga.
The article identifies higher- and lower-level tensions inherent in the consumer cultural paradox using in-depth interviews with Chinese consumers of international private education services. Applying a paradox lens, the researchers found 10 lower-level tensions of the consumer cultural paradox arise in the international service context.
Those tensions, in turn, form three higher-level tensions, the researchers report. The study is among the first in marketing to use a paradox lens and empirical research to delineate multiple dimensions of the consumer cultural paradox, then further categorizing them into lower and higher-level tensions.
"Recognizing the multiple tensions experienced by consumers allows scholars and marketers to gain a better understanding of how consumers perceive and evaluate services from different cultures," the researchers said.
Beveridge has worked as Marketing Department Manager for MIH Naspers group in Beijing as well as Account Manager and Account Director with Hill+Knowlton Strategies in Abu Dhabi, Edelman in Beijing, and Pennebaker in Houston. Her campaigns include the first International IMG Golf Championship in Abu Dhabi, and positioning campaign for General Electric as GE Oil & Gas in Houston, to name some. Her marketing campaigns have won awards such as the Best Integrated Marketing Communications Campaign of the year by the PRSA.
She has also served as a Partner and a Head of Strategy at an educational startup in the Chinese private education market. Additionally, she consults on an ongoing basis for a range of international companies in Europe, Asia and the Middle East and teaches short courses in Europe.
Before coming to the Bauer College of Business, Beveridge taught at the Sorbonne University. She holds an MBA from Warwick University (U.K.), a Ph.D. from the Sorbonne University and communicates in six languages.