Global Documentary Features Board Member Duy-Loan Le (MBA '89) and Dean Paul A. Pavlou
"Asian Inspirations" Shares Alumna's Successful Personal, Professional Journey
Published on June 24, 2022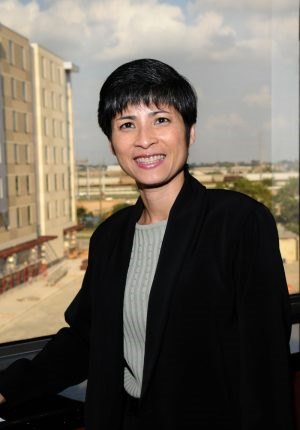 Bauer College Board member and alumna Duy-Loan Le (MBA '89) is the subject of a new documentary sharing the stories of three Asian-Americans with successful, inspirational and impactful careers.
The documentary also features an interview with Bauer College Dean and Cullen Distinguished Chair Paul A. Pavlou, with portions filmed in Bauer College and on the University of Houston campus.
In the film, Le shares her personal story of growing up in Nha Trang, Vietnam, eventually coming to the United States and becoming the only woman with the title of Senior Fellow at Texas Instruments. She also describes her graduate education at Bauer College and why she stays involved with the college as a member of the Bauer College Board.
During her legendary 33-year career at the Texas Instruments, Le became the first woman, the first Asian and one of the youngest employees ever elected to the prestigious rank of Senior Fellow, which placed her in the top 0.01 percent at TI. Along the way, she earned an MBA from Bauer College, which allowed her to gain a business perspective in the technology industry.
Le serves on several corporate and university boards, volunteers with non-profits (including the two she co-founded, Mona Foundation and her beloved Sunflower Mission, which serves the Vietnamese community), and serves as a keynote speaker for various organizations. She has also been inducted into the Asian Hall of Fame.
The documentary was produced by ODK Media, a global media and entertainment company, and shared on streaming services in Vietnamese, Chinese and Korean.
Watch the documentary using one of the links below.
OnDemandViet: Start to 25:30
OnDemandChina: 24:00 – 49:30
OnDemandKorea: – 45:30 – 1:11:40