Bauer Undergraduate and Graduate Team Take Home Top Spot in Competition
Students Place Third in Second Annual HSI Battle of the Brains
Published on April 5, 2022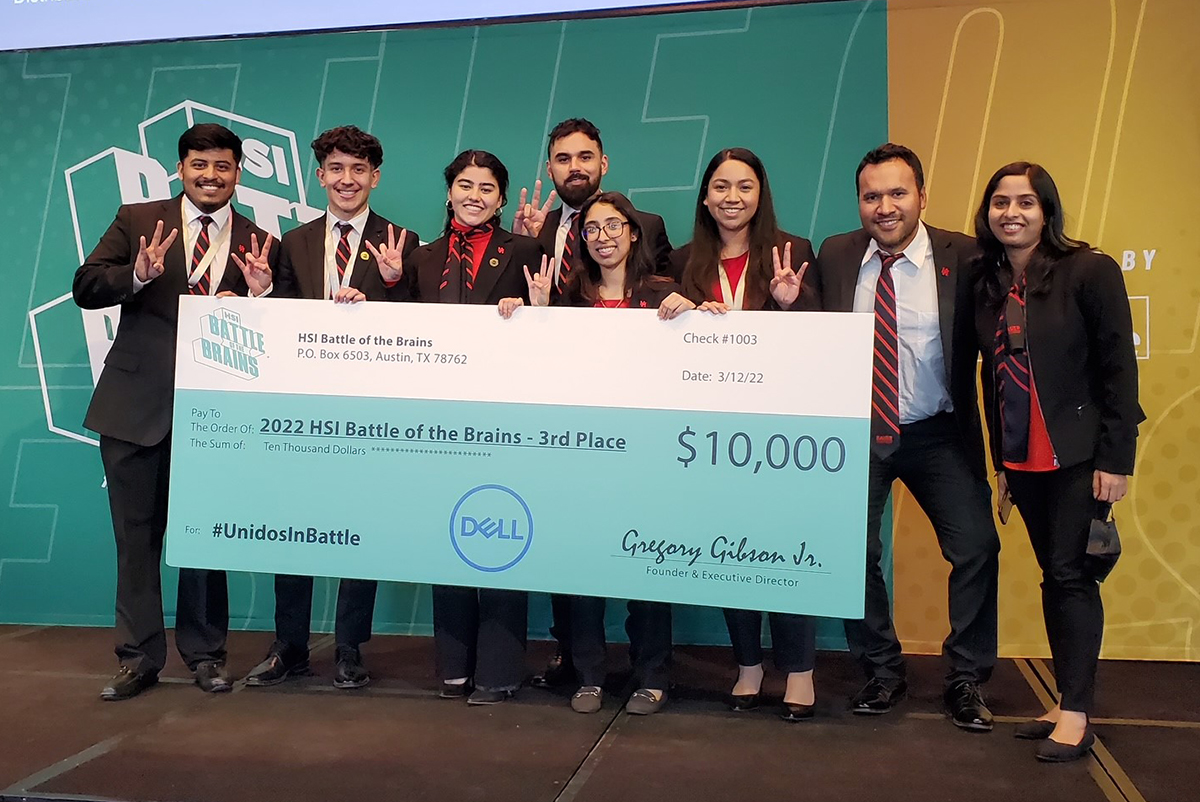 Students (from left) Agustin Najera, Bryan Morales, Angelica Bolanos, Estevan Gonzalez, Mayra Zamudio, Yaritza Serrano, Jonathan Luna and Subhrasweta Pattnaik placed third during the second annual HSI Battle of the Brains, besting teams from 11 universities.
A group of undergraduate and graduate students from the C. T. Bauer College of Business at the University of Houston took home a top spot in a competition, focused on working with Hispanic-Serving Institutions (HSI) in March.
Angelica Bolaños, Mayra Zamudio, Bryan Morales, Agustin Najera, Yaritza Serrano, Estevan Gonzalez, Jonathan Luna and Subhrasweta Pattnaik competed against 11 teams from across the U.S. at the second annual HSI Battle of the Brains, bringing home a third place win.
"The team and I are incredibly grateful to be attending the Bauer College of Business and that the University of Houston is categorized as a Hispanic-Serving Institution," Management Information Systems junior Bolaños said. "Being able to participate in this opportunity to represent our university amongst other incredibly talented HSI student leaders across the country has been an honor."
Sponsored by KPMG, the team was tasked with creating a technology-based solution to help the company reduce its carbon footprint, and meet its carbon net-neutral goals by 2030.
Prior to the competition, the team met virtually twice a week to practice case prompts and presentation skills. They used this time to build cohesiveness, camaraderie and confidence.
"We had a short amount of time to learn each other's strengths and how to work as a group, so it was critically important that we invested the time to do that," Senior Career Development Specialist and advisor for the team Stacey Piefer said. "They were in it to win it from the start. This was a time commitment not only for the week of the competition, but in the weeks leading up to the competition, and they showed up for each other and ultimately for Bauer and the University of Houston."
In addition to winning a $10,000 scholarship, two undergraduate students were invited by KPMG to attend their advisory summit this summer, and two graduate student were connected with Amazon and Expedia Group recruiters.
"My biggest takeaway was to never count yourself out when things don't go your way. There were several issues that arose where we felt like the whole world was against us and we initially assumed we wouldn't even make it to the finals," Bolaños added. "Once we assessed our situation, we continued to push forward and practice for our final presentation."