An Investment in the Future
Bauer Cougar Investment Fund Marks 20 Years of Innovative Program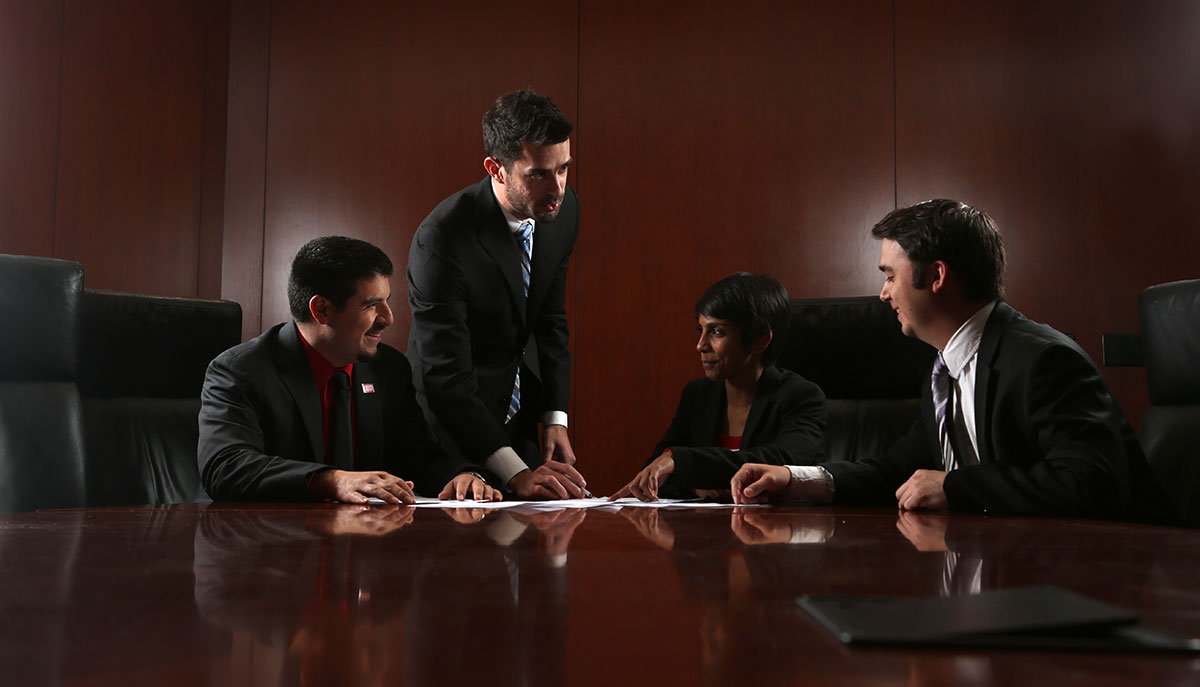 Published on March 16, 2022
More than 350 MS Finance and MBA students have been a part of the C. T. Bauer College of Business Cougar Investment Fund (CIF) since the fund was established in 2002. In this 20th anniversary year, the initial investment of $1.9 million now stands at $13.6 million, an impressive indication of success for one of the largest student-managed investment funds in the U.S.
But the Cougar Fund, created soon after the Bauer College received a $40 million naming gift from Charles T. "Ted" Bauer, co-founder and chair of AIM Management Group (now Invesco), has always been about much more than its yield.
The real impact can be measured by the number of elite Bauer College fund managers who have gone on to hold influential positions in the financial sphere of Houston and beyond.
Investment managers, entrepreneurs, corporate executives, analysts, or operating in other realms of business, nearly all of those Bauer College alumni say their Cougar Fund experience profoundly shaped their professional lives.
"It forces you to think critically about a company's operations and strategy, financial performance, and market assumptions, and then make real-time investment decisions based on imperfect and ambiguous information. I can't think of anything better to prepare a student for real-world situations," said Joe Corkin (MS, '08,), now a partner at Davis/Chambers & Company, Ltd., and a member of the legendary CIF investment team that placed first in the U.S. and third in the world in the 2008 CFA Investment Research Challenge.
"It is the blueprint of mastering finance, business writing, and presentation skills," said German Ramirez, (MS '19) Chief Operating Officer of the startup ITUS Global. "The experiential value it offers is unmatched."
Praveen Kumar, Cullen Distinguished Chair and Professor of Finance, Senior Associate Dean for Faculty Affairs and Chair of the Department of Finance at the Bauer College, has watched the Cougar Fund evolve and substantially exceed initial expectations.
"CIF is a compelling illustration of Bauer's innovative and unique approach to business education that emphasizes the combination of strong analytical and experiential training to prepare students for dealing with the challenges of the real world of business," he said.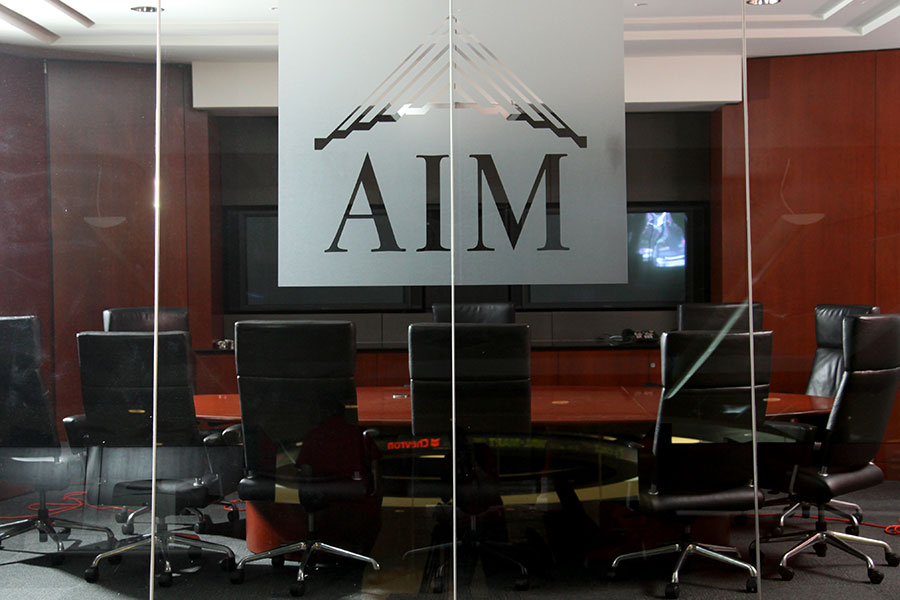 Located on the first floor in Melcher Hall, the AIM Center for Investment Management provides access to state-of-the art financial information technology.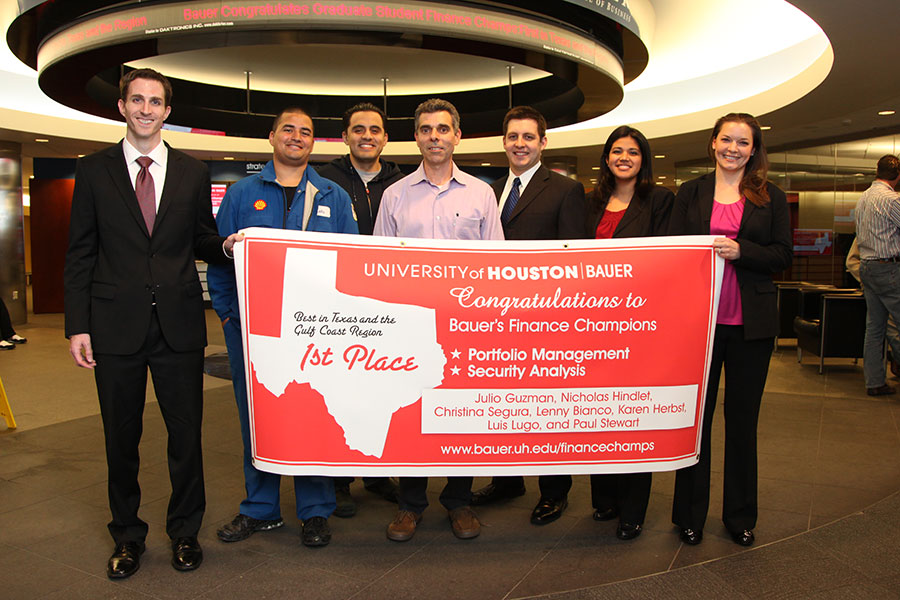 Bauer Grad Students Take First Place in Prestigious Investment Challenge Competition in 2010.
Bauer College benefactor Michael J. Cemo ('68), while a senior executive at AIM, first suggested creating the Fund to bolster student investment experience. AIM employed 400 Bauer Finance graduates at the time, and Cemo's intent was to further strengthen those graduates' ability to thrive in the real world upon graduation, thus enhancing the recruitment relationship between Bauer College and the mutual funds company, Kumar said.
Of more than 6,000-plus student-run funds in the U.S., the Cougar Fund is one of only four that manages investments on behalf of individual investors, rather than university endowment funds. A clear corporate governance structure encourages accountability, said Bauer College Finance Professor Tom George, who has been Faculty Director of the Fund for 19 of its 20 years.
"The CIF was designed with some guardrails that protect investors while still leaving plenty of space for students' decisions to significantly affect the fund's performance," George said. "One of the objectives was for students to feel some pressure from the possibility that unhappy investors could redeem their investment. Fortunately, performance has been good, and investor redemptions have been for other reasons, such as estate planning or liquidity needs," he said.
The Cougar Fund is part of a Bauer College course sequence that leads to a certificate (Graduate Certificate in Financial Services Management) that MBA and MS Finance students can earn as part of their degree. It draws high-caliber students to Bauer and has developed an enviable reputation among employers, George said, typically drawing twice as many applicants as there are available spaces in the program.
"The 20th Anniversary of the Cougar Investment Fund is indeed a gratifying and notable event for the Finance Department and the Bauer College, especially for those of us who were present at the 'dawn' of the CIF era," Kumar said.
"The Department of Finance takes great pleasure in acknowledging the contributions of Professor George and Professor Michael Murray, of the Department of Decision & Information Sciences, who became Chief Operating Officer (COO) after Ron Singer stepped down. The educational and financial achievements of the CIF are largely due to their dedication and efforts."