Bauer to Host Virtual Interdisciplinary Symposium on Decision Neuroscience, June 10-11
Event Highlights Latest Frontier of Business Decision-Making
Published on May 24, 2021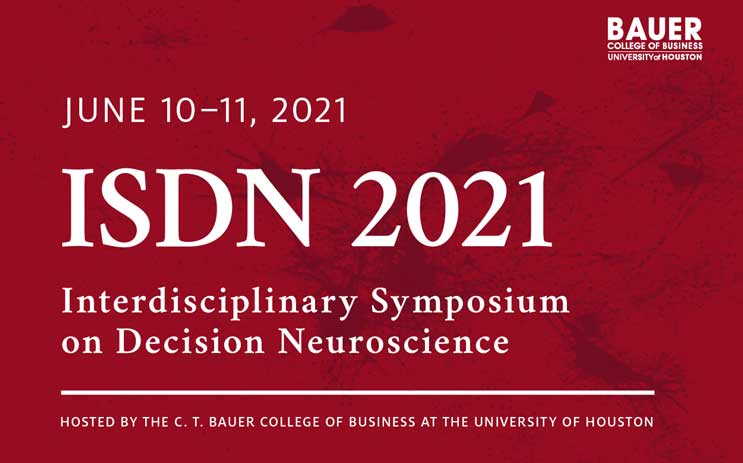 The C. T. Bauer College of Business will host the 11th Annual Interdisciplinary Symposium on Decision Neuroscience (ISDN) on June 10-11, a virtual event that offers a rare opportunity to learn about the latest frontier of business decision-making, using physiological and neurological measures to anticipate human behavior in fields ranging from health care to business and economics.
Angelika Dimoka, professor of Decision & Information Sciences at Bauer College, is the founder of the conference and she led a committee of world renowned researchers in organizing this year's ISDN conference. Top neuroscientists from around the world will be presenting research breakthroughs that range from the effect of stress in making honest decisions to providing neural evidence on how a product's brand is the extension of ourselves.
There are many presenters from top universities such as:
"ISDN attracts people from academia, marketing executives from multi-national brands and representatives of the neuroscience industry," Dimoka said. "The fact that this event is virtual this year allows more people to participate from their own home and learn some of the latest findings from scientists, on how neuroscience could transform business operations and functions. It's a phenomenal opportunity and we invite everyone to listen and learn."
Dimoka's own research focuses on using neurophysiological tools to improve and understand the development and impact of information and communication technologies. A study she and other researchers developed commissioned by the U.S. Post Office, Office of Inspector General was recently accepted for publication in the Journal of Marketing Research (JMR).
In it, subjects viewed ads with either digital or printed media, while researchers used eye tracking, biometric measurements and an fMRI machine, along with traditional questionnaires, to gauge how well subjects absorb and retain the information.
"What we found is that people who receive printed information remember that information much better and for much longer, than when they receive it in a digital format such as an email," she said.
Uncovering the underlying neural mechanisms that drive such findings is at the heart of this and much of the latest decision neuroscience, said Dimoka, who has also been part of efforts to create ethical guidelines for such research.
"We want to ensure that whatever tool is used is to advance knowledge, to help and improve policy-making and human welfare," she said.
Dimoka's research has appeared in JMR, MIS Quarterly, Information Systems Research (ISR), NeuroImage, Neuroscience Methods, IEEE Transactions in Biomedical Engineering, Annals of Biomedical Engineering, and the proceedings of the International Conference on Information Systems, the proceedings of the Association of Consumer Research, and the proceedings of INFORMS Marketing Science. She was ranked #2 in publications in the two top Information Systems journals (MIS Quarterly and ISR) in 2010-2012.
Dimoka holds a Ph.D. from the Viterbi School of Engineering (with emphasis in Neuroscience) with a minor from the Marshall School of Business at the University of Southern California.
Her husband, Bauer College Dean and Cullen Distinguished Chair Professor Paul A. Pavlou, will also be taking part in the conference.