Bauer Jumps 21 Spots to #33 Best Undergraduate Business School
Poets&Quants Lists Bauer Undergraduate Program on Best Undergraduate Business Schools 2021 Assessment
Published on January 11, 2021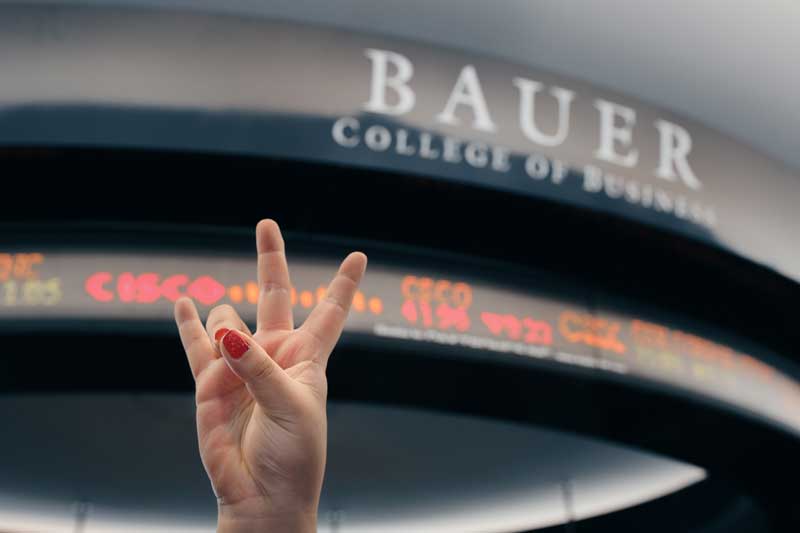 The C. T. Bauer College of Business advanced by 21 spots in an annual ranking of undergraduate schools released by Poets&Quants (P&Q). The ranking affirms Bauer's significant strides forward in boosting admission standards, enriching the academic experience, and improving employment outcomes, the three metrics used by P&Q to determine the rankings of best business schools.
In the Best Undergraduate Business Schools 2021 assessment, the Bauer College earned an overall rank of 33, 21 places higher than the previous year's overall ranking. It ranked #15 of public schools, compared to last year's ranking of 23.
While Bauer posted substantial improvements in all subcategories that contribute to the overall ranking, its biggest gain was fueled by strong gains in student employment outcomes, a surge of 38 places, in a category that represents the most fundamental goal of Bauer students to secure a high-quality job upon graduation. "Houston had a significant increase in its employment rate this year compared to last year," said P&Q's Nathan Allen. "This is in the context of a year that saw the overall employment rate average among all participating schools drop by five to six percent."
According to the assessment, about 95 percent of Bauer graduates are employed within three months of graduation, with an average salary of $59,550, P&Q reported.
"The advancement in the rankings signifies the continuous improvement of the Bauer College in terms of the quality of students, the creation of a truly student-centered experience, and an unwavering commitment to student success," said Dean and Cullen Distinguished Chair Professor Paul A. Pavlou.
"A notable component of this ranking is the meteoric rise of 38 spots in employment outcomes, elevating the placement rate of virtually all of our graduates (94.87 percent) with an average starting salary at almost $60,000. Here at the Bauer College, we prepare our students to be 'job ready' on day one through industry projects, experiential learning, internships, and other real-life experiences."
The P&Q ranking is calculated using a representative survey of more than 6,100 alumni and school-reported data. Recent grads across the 93 schools were surveyed on aspects of faculty availability, extracurricular opportunities, and accessibility of the alumni network.
P&Q named the Bauer College among the nation's Top Value Business Schools in March of 2020.
The college launched an ambitious five-year Strategic Plan last year with initiatives designed to improve metrics, such as those measured in the P&Q ranking, and notably placement success. The overarching vision is to be a world-class business school that transforms lives, organizations, and society.
"This ranking is a testament to being among the very top business schools in the country," Pavlou said.
"Moving forward, beginning this fall, we will be offering our nationally-ranked undergraduate program online."