Bauer Announces Strategic Plan Year One Report
College Makes Significant Progress During Unprecedented Year
Published on March 31, 2021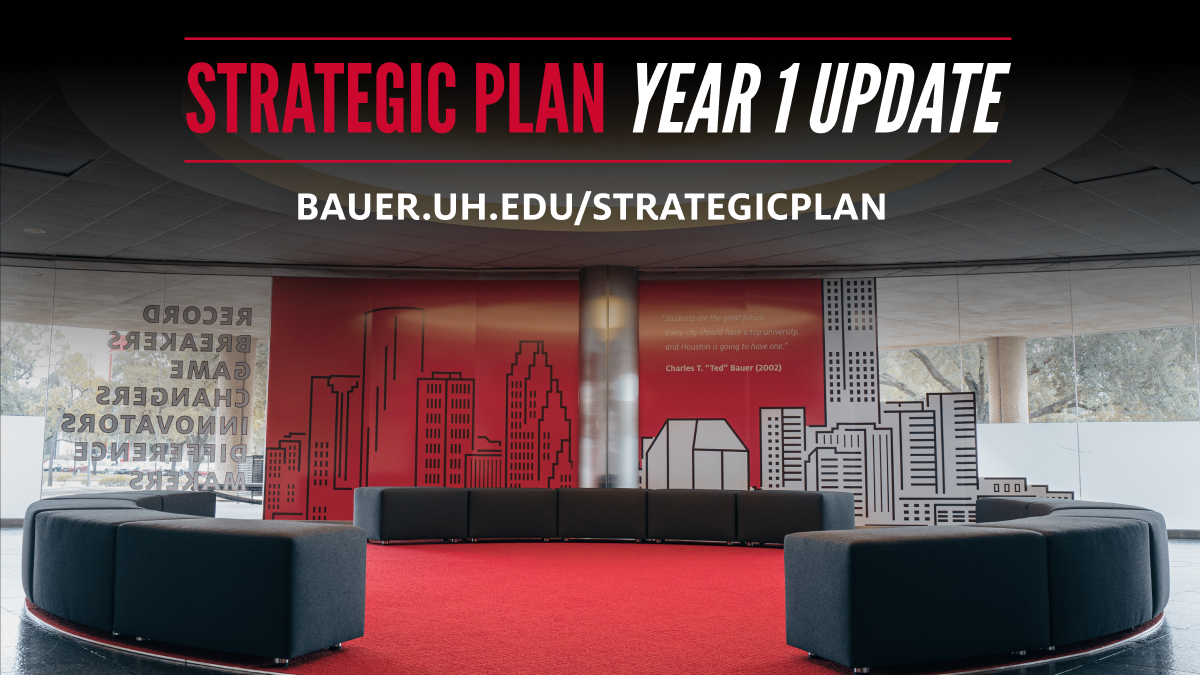 The C. T. Bauer College of Business launched the 2020-2025 Strategic Plan one year ago, following a comprehensive collaboration with all key stakeholders that identified strategic initiatives to elevate the Bauer College educational experience and support its vision to be a world-class business school that transforms lives, organizations, and society.
Despite the extraordinary world events that have unfolded since, the Bauer College has made significant progress in a wide range of areas, says Dean and Cullen Distinguished Chair Professor Paul A. Pavlou.
"Amidst the global pandemic over the last year, we remained steadfast in our overarching strategic goal to take the Bauer College to the next level of excellence as among the very top business schools," Pavlou says.
Strategic Plan Year 1 highlights include the following:
The undergraduate placement rate for 2020 graduates rose to 92.2 percent three months after graduation and at 96.6 percent six months after graduation.
The Bauer College posted the highest four- and six-year graduation rates of any College at the University of Houston. Retention rates improved, with 100 percent retention for Honors College students, including first-time college students.
More than 600 students benefited from $3.4 million in scholarships. The Bauer College boasts 100 percent scholarship coverage for students in the Wolff Center for Entrepreneurship and Program for Excellence in Selling.
A record number of 930 undergraduate students were mentored by industry executives, with 721 mentors selected and trained. Notably, the prestigious Bauer College Board members stepped up to mentor nearly all Full-Time MBA students.
The Office of Experiential Learning was launched and oversaw more than 300 projects involving over 60 companies. Bauer MBA students now complete a large-scale consulting project at the direction of industry partners. The learning-by-doing model seeks to eventually extend to all undergraduate and graduate level curricula.
The Office of Digital Learning was just launched ahead of the pandemic. The Office quickly transitioned all Bauer College courses online in a variety of formats, providing software, technical support, and training to staff and faculty.
The Bauer College enhanced technology to make virtual classrooms function more dynamically and will continue to provide students and faculty with the latest technological advances.
The Bauer College is launching six new fully online degree programs (Online BBA, Online MBA, and four specialty MS degrees) that will begin in Fall 2021.
Global programs expanded, with partnerships forged in Asia, Europe, Africa and South America, with more in the process of formalizing, promising to extend international collaborations for students and faculty at Bauer, one of the most diverse business schools in the United States.
Several cross-disciplinary partnerships were established and expanded across the University of Houston campus. The Bauer College is currently working with the College of Medicine, the Hobby School of Public Affairs, the Hilton College of Hotel and Restaurant Management, the College of Engineering and its own highly regarded Wolff Center for Entrepreneurship (WCE) and Institute for Professional Selling to establish dual degrees, certificates, and other specialized degree and non-degree offerings.
Bauer's rankings improved in substantial ways. The Professional MBA program surged 20 spots to the 46th place in the latest U.S. News & World Report's assessment of Best Graduate Schools. The Bauer College rose to the 33rd spot in the Poets & Quants list of best U.S. undergraduate business schools, and was ranked 17th on P&Q's assessment of Best Value business schools, underscoring the Bauer College commitment to accessibility and affordability.
Bauer's stellar Wolff Center for Entrepreneurship once again was named the #1 undergraduate entrepreneurship program in the U.S. by The Princeton Review, for the second year in a row.
The Diversity, Equity and Inclusion Committee was established to promote co-curricular activities, events, professional development and programming. The Bauer College added two standout diversity scholars to its ranks and will soon add another world-class academic leader to help the Bauer College become a standard-setter for promoting equity and diversity among students, faculty and staff and society in general.
While not an exhaustive list, the above accomplishments that support the Strategic Plan 2020-2025 signify the focus and collaboration of faculty, students, alumni and industry.
"Across the board, we made tremendous progress across all of our strategic initiatives," Pavlou says. "There is still a lot of work to be done, but I am confident we will continue to advance toward our goals by working together with all Bauer stakeholders."
"The strides we are making will no doubt have a ripple effect, bolstering not only the Bauer College, but they will also bring value to our alumni, partners, our nearby communities, the City of Houston, the State of Texas, and society in general, and even the world," Pavlou concluded.