Springing into the Semester
Upcoming Bauer Events Focused on Networking, Student Success
Published on January 13, 2020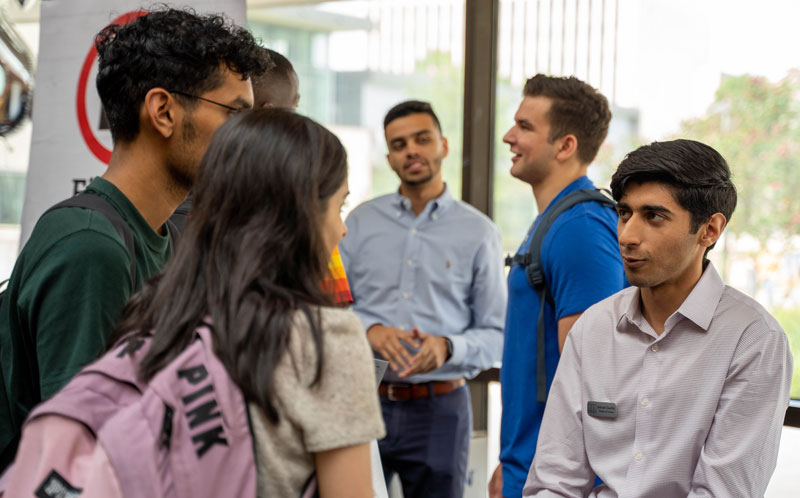 As students make their way back to campus for the spring semester, the C. T. Bauer College of Business will host several events on campus, focusing on professional development, recruitment, course success and more.
The list below represents a snapshot of upcoming events open to Bauer students. For updates on additional Bauer events throughout the semester, click here.  
Upcoming Events
Rush Week
Jan. 21-23
Undergraduates: Melcher Hall, Back Drum | 9 a.m. – 3 p.m.
Graduates: AIM Ticker Area | 4-6 p.m.
Undergraduate and graduate students are invited to this three-day event to meet with Bauer's student organizations. During Rush Week, students have the opportunity to learn about student organizations, what their goals are, and how they can get involved.
For more information, click here.
Spring 2020 Grad Check Express Lane

Jan. 22-23
9:30-11 a.m. and 2-4 p.m.
AIM Center for Investment Management (Melcher Hall, 117)
Undergraduate students planning to graduate in Spring 2020 can meet with their academic advisor for an "express" graduation check. During the meeting, students can confirm completion of degree requirements, and ask questions on what steps they have left to finish their final semester.
For more information, click here.
Successful STAT 33631 Student Panel
Feb. 4-5 and 7
9-10 a.m.
CBB 510
Bauer undergraduate students currently in, or planning to take, the STAT 3331 course are invited to this panel discussion to hear from students who completed the course. The panel will share tips, experiences, and how they overcame challenges to complete the course.
For more information, click here.
Bauer Spring 2020 Career Fair
Feb. 14
Noon-4 p.m.
UH Hilton
Open to all Bauer students, the Bauer Spring 2020 Career Fair invites to campus more than 100 businesses looking for full-time, part-time and internship applicants. Hosted by the Rockwell Career Center, this event includes businesses from the areas of IT, finance, sales, entrepreneurship, management, supply chain management and more.
Students are encouraged to register early. For more information, and to register, click here.