Faculty Profile: Ksenia Krylova Mohebbi
Bauer Instructional Assistant Professor Recognized with UH Teaching Excellence Award
Published on May 11, 2020
Teaching is a cornerstone of student success at C. T. Bauer College of Business, and four Bauer College faculty recently were awarded one of the highest honors bestowed by the University of Houston (UH).
The UH Teaching Excellence Award, which is presented in several categories with a cash prize for each, was presented to Instructional Assistant Professor of Management & Leadership Ksenia Krylova Mohebbi; Associate Dean of Research and Marketing Professor Vanessa Patrick; Marketing doctoral student Mohsen Pourmasoudi: and Senior Professor of Practice of Marketing Randy Webb.
In a series of articles, we will be highlighting the underlying teaching philosophies that motivate each of these faculty members and share comments from their former students in order to capture what makes each exceptional in the classroom.
Ksenia Krylova Mohebbi
Instructional Assistant Professor, Management & Leadership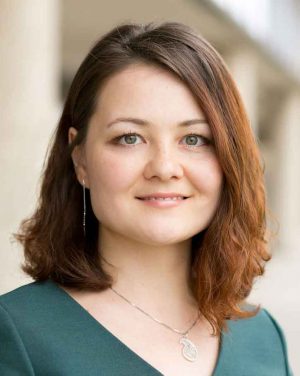 Krylova Mohebbi received the UH Teaching Excellence Award in the instructional category. An Instructional Assistant Professor and the MS in Management & Leadership Program Director in that department, she received her Ph.D. in Business Administration and LL.M. in International Law from UH and a Bachelor's in Law from Mari State University in Russia.
Krylova Mohebbi's research concerns organizational trust, apologies, dispositional attributions, impression management, forgiveness and implicit personality theory. Her work has been published in the Journal of Business Ethics, Journal of Knowledge Management, and Leadership Quarterly. She also was awarded the UH Teaching Excellence Award for graduate teaching in 2015-2016.
Krylova Mohebbi's teaching philosophy, she says, "is to inspire curiosity and a sense of wonderment about the world around us! The goal of education should be to encourage curiosity in students; and the mission of an educator - to create the conditions that make things "curiouser and curiouser" (Carroll Lewis, 1865). I aim to allow students find their own passion and tell their own story, to evoke the excitement of discovery and achievement in them, to create an environment where the mind is open and ready for the challenge of knowledge. The metaphor of conductor and the choir comes to my mind when I think of my teaching philosophy. The conductor's role is to create a song through utilizing the differences present. This helps make this song very special for each of the singers, making it their own story, while having the collective product in mind. I believe this is the role of the teacher in the classroom.
"Teaching is invigorating," she adds. "It is inspiring to see a change you aim for. Several months after my first experience teaching an undergraduate class, I received an email from my former student reporting from Afghanistan where she was deployed to, just saying "Hello" and remembering me on Christmas day. Another student sent me an email saying that I had inspired her to apply for law school and she had completed her application. This is the change my heart and mind work for. This is not work, in fact, this is something that I love, something I can call vocation.
A former student, Victor C. Yau (BBA, '19), is now the Charles B. Rangel Fellow at the U.S. Department of State MPA Candidate at Princeton University Woodrow Wilson School of Public and International Affairs. He offers an insight about her influence in the classroom.
"Dr. Krylova helped me develop the ability to engage with ethics in academic and professional settings. She encouraged my classmates and me to tackle the often-messy topic of ethics head-on by creating a safe environment in which anyone could express their honest opinions. She captivated us with experiential learning activities such as class discussions, personal reflections, group lectures, and ethical analyses. Her involved and engaging teaching style contributed to my long-term understanding of ethical issues in both business and public policy. I frequently draw upon the ideas Dr. Krylova taught me about empathy as I navigate tensions between 'good politics vs. good policy' in my public policy program. I also reflect upon class discussions about the ethics of affirmative action as I enter higher education institutions and government agencies in which people of my background have been historically underrepresented…
"Dr. Krylova is an effective, selfless, and perceptive teacher who impressed upon me the value of ethics and international exchange. It was my sincere pleasure to have her guidance in the final year of my undergraduate education at Bauer College. As I continue my policy education and begin my career in the Foreign Service, I hope that I will be able to impact students worldwide in the same way that she impacted me."