Bauer Small Business Development Center Network Offers Lifeline to Small Businesses in Houston
Published on April 29, 2020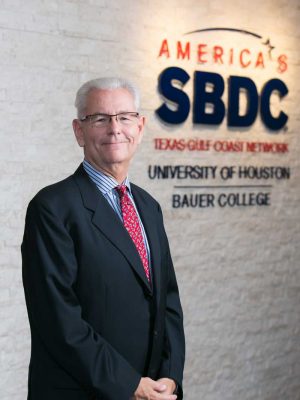 The impact of COVID-19 is no doubt being felt by entrepreneurs and small business owners across the world, including Houston.
The University of Houston Texas Gulf Coast Small Business Development Center (SBDC) is responsible for providing small business assistance to 32 counties throughout Southeast Texas. It is the only free, professional, full-time business advising service available. We spoke to Executive Director Dr. Steve Lawrence to see how UH SBDC Network is responding to the pandemic with resources and support for small businesses.
Q: What is SBDC doing to help small businesses affected by COVID-19?
A: The University of Houston Texas Gulf Coast Small Business Development Center Network (SBDC) is a one-stop shop to help small business owners and entrepreneurs access COVID-19 relief and recovery resources as well as ongoing business survival resources. Our professional advisors provide businesses with recovery and relief support, the UH SBDC Network is helping businesses navigate COVID-19 federal funding opportunities, SBA loans and continuity business advising services of any kind.
To provide guidance, the UH SBDC Network is currently offering virtual business advising services at all of its SBDC network offices. These sessions are offered virtually, due to social distancing restrictions, and will be conducted via phone, email, Zoom conferencing or Skype. Advisors are also working with the SBA to help business owners with SBA disaster loans and applications.
The Network is also providing access to free business webinars ranging from various topics: SBA Disaster Loan Updates, COVID-19 Best Practices, Food & Restaurant, Marketing, Technology, Government Procurement, Money and Finance, and more. The Network also host webinars in Spanish. The UH Texas Gulf Coast SBDC will be doing business outreach to support businesses in their response and recovery that normally would not take advantage of these services.
Q: What services are you offering to small businesses?
No-Cost Professional Business Advising: The SBDC offers one-on-one, long-term professional business advising. Our advisors aim to empower you to innovate and succeed and are here to guide you through the process of starting or growing your business. Our advising services are free and confidential. Clients and prospects have the option to choose local, face-to face advising or virtual advising. Due to social distancing restrictions, we are currently offering virtual advising services.
Business Research Assistance: Putting together a plan for your business, means doing your research first. The SBDC can assist clients with no cost research in trends, statistics, demographics and competitive analysis for your industry and your market, and help you find suppliers, potential customers and identify pricing and other trends.
Business Workshops: SBDC business workshops can give you and your employees the skills you need to make your business succeed. Our centers offer a broad range of low-cost business workshops in a variety of formats: lecture, hands-on, and even online! Workshop topics include: Finance, Marketing & Social Media, Management, Government Contracts/Certifications and more.
Free Webinars: Delivered by industry experts, the SBDC has a variety of on-demand webinars that will help you manage and grow your business. Our webinars will give you quick bursts of solutions, tips, and recommendations you can start using immediately.
Procurement: The University of Houston Procurement Technical Assistance Center (UH PTAC) offers no-cost education and guidance to individuals interested in selling their goods and services to Federal, State, and Local Government.
Q: What are the benefits for small businesses who work with SBDC?
A: They are many benefits of working with the UH SBDC Network. The most frequently-cited benefits that our clients have identified are the following:
No-cost advising: The UH SBDC Network is here to help. Advising service are free, confidential and one-on-one. No obligation is required. Advising services available for all small businesses to support the creation, growth or expansion of your business ideas and passion regardless of where you are in the growth and development cycle.
Objective Feedback and Valuable Advice: All advising professionals are focused on the clients' best interest, providing accurate, timely and objective feedback.
Save Time and Preventing Mistakes: SBDC advisors clarify confusion, answer questions and solve problems.
Creating Connections: Our advisors help businesses connect with organizations and other businesses that might be helpful for business development and networking.
Financial Insights: SBDC advisors can help business owners optimize cash management and help prepare loan proposals.
Q: Should small businesses apply for the SBA loans being offered?
A: Yes. "All business owners should register with the SBDC. Then, they should apply for SBA loans, loan deferral, loan forgiveness and disaster support - apply, apply and apply and get your name into the application process for the SBA," UH SBDC Executive Director Steve Lawrence said. "This legislation more than any other in our history is really intended to help all small businesses, which also includes independent contractors, self-employed individuals and other individuals not normally included in these programs. And most important there is no cost, no fees to file for a loan and the process takes about 30 minutes."
Lawrence added: "Business owners also need to make sure they have a sufficient budgeting and cash management system. "If there is not a strong system already in place or if owners have an insufficient system, I encourage them to talk to an SBDC advisor, as they will provide insight and counseling on budgeting and cash management and how to establish an ongoing relationship with a bank."
Q: How can a small business get your services?
A: You can call, email or schedule a visit online. The UH SBDC Network has 14 centers throughout Southeast Texas. If a small business owner is interested in meeting with a business advisor, their first step is finding their nearest SBDC Location and completing the client registration form that is specific to the SBDC of their choice. The registration form is an important step and will facilitate the process to connect with a business advisor. If a business owner have questions, they can also call their SBDC for immediate assistance.