Texas Traditions: H-E-B & Bauer
Bauer Students Connect with H-E-B Recruiters at On-Campus H-E-B Day
Published on October 11, 2019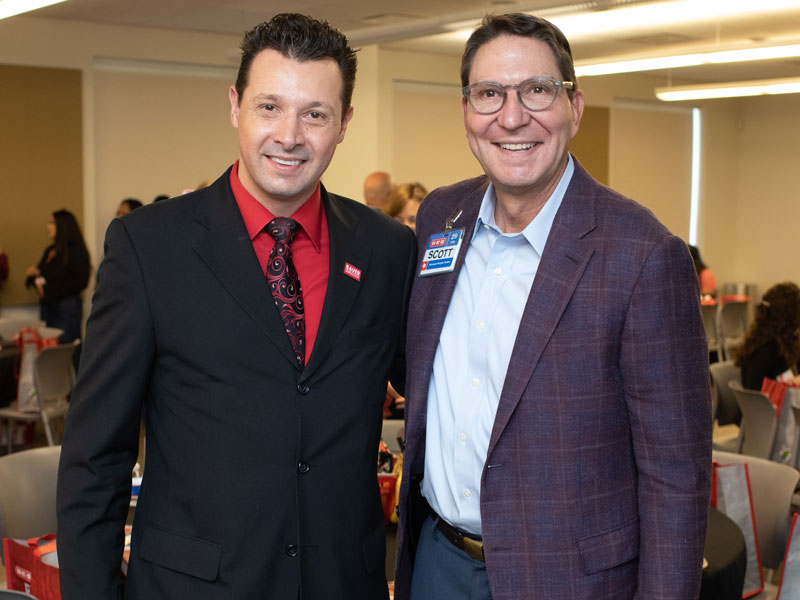 Bauer College students had the opportunity to meet with H-E-B leadership and recruiters in October during H-E-B Day, hosted by the college's Rockwell Career Center.
More than 100 students attended the daylong event, which included presentations from H-E-B recruiters about internship, part-time and full-time opportunities as well as the corporate culture of the organization. The day culminated in an outdoor social event with games and giveaways.
The day's activities started with a luncheon featuring special guest Scott McClelland, H-E-B president and Bauer College Board member. He spoke about the company, its remarkable growth and strategies for outselling the competition.
"Change is a constant. If you don't change, you'll become obsolete," McClelland said.
As President of H-E-B Food/Drug Stores, a $25 billion retailer that operates 390 stories in Texas and Mexico, McClelland oversees the operations of all H-E-B banners in Texas, and previously, he was president of the company's Houston operation.
"Innovation is the key to success," McClelland said, citing the company's recent acquisition of on-demand delivery company Favor. "What customers want today is not what they want tomorrow."
In addition to his leadership of the company, growing from an 11 percent market share to a leading 28 percent share, McClelland is an active member of the Houston community and a champion for education at all levels, from his K-12 work with the Greater Houston Partnership to scholarship programs he makes available for his employees to attend college.
McClelland serves as chairman of the board of directors for GHP and as a member of numerous local boards. In 2017, he cofounded an education-based nonprofit called Good Reason, focused on improving education for all students across Harris County from cradle to career by eliminating achievement gaps.
He is the former board chair of the Houston Food Bank and headed their $56 million capital campaign to fund construction of the largest food bank warehouse in the country. He also spearheaded the Houston Super Bowl of Caring Food Drive, now the largest in the state and annually collects over 2 million pounds of food for Houston's hungry.
McClelland has worked at H-E-B since 1990 after a 10-year career at Pepsico's Frito Lay division and served in a number of marketing and operations positions before being named President of all H-E-B stores in July 2017.