Texas Society of CPAs Recognizes Bauer Accounting Faculty Member for Service
Senior Professor of Practice Earns Chairman's Special Recognition from TXCPA
Published on July 26, 2019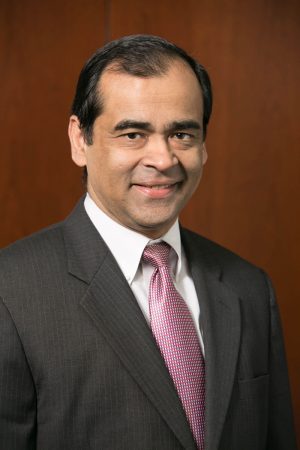 Mohan Kuruvilla of the C. T. Bauer College of Business was honored at the Texas Society of CPAs (TXCPA) annual meeting this summer.
Kuruvilla, senior professor of practice in the Department of Accountancy & Taxation, was awarded Chairman's Special Recognition by the 28,000-member professional organization and has begun serving a three-year term on the TXCPA Executive Board.
He was president of the 8,000-member Houston chapter for 2018-19, the first president to serve while in an academic position.
"Mohan has played an instrumental role in growing and engaging our student membership population at TXCPA," said immediate past Chairman Stephen G. Parker, CPA and U.S. Assurance Energy Partner with PricewaterhouseCoopers (PwC).
"In fact, his service and volunteer efforts have helped the Houston Chapter increase their student membership by nearly 1,500 members over the past year. I feel honored to present this Chairman's Special Recognition Award to Mohan in appreciation for his unwavering commitment to the growth and future of our membership at TXCPA."
Kuruvilla, a CPA and ACA, earned a Ph.D. and MBA from UH, and is director of Bauer's Certificate Programs in Accounting.