Partnership Between Academia and Business Showcased at Annual Meeting
Page Architecture Firm Highlights Lessons Learned from Bauer Women in Leadership Program
Published on November 7, 2019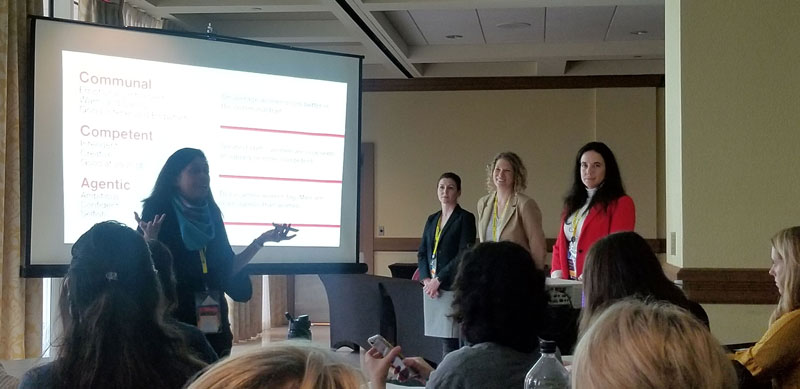 The C. T. Bauer College of Business is known for community collaboration, and Bauer's Inclusive Leadership Initiative exemplifies the school's commitment to sharing best practices about diversity and inclusion that positively affect firm performance.
Bauer Associate Dean for Research and Marketing Professor Vanessa Patrick and representatives of Page, a premier architecture firm in Houston, teamed up to showcase how Bauer's Women in Leadership program provided valuable and actionable insights to result in a positive shift in inclusive leadership at Page. The team presented their findings at the Texas Society of Architects annual meeting in Galveston.
The American Institute of Architects and many member firms have been working to emphasize diversity and inclusion since a 2013 Business Insider article highlighted the industry's struggle to retain female employees for the duration of their careers.
Bauer's Inclusive Leadership Initiative works to document, highlight and create awareness about the kinds of employment policies that enhance diversity. By offering flexible schedules and child-care options, for instance, organizations can create strong talent pools, while offering competitive advantages.
Patrick is lead faculty for the two-day Women in Leadership Executive Education program, a part of the Initiative. At the conference, the team presented data on the growth of women in the workforce, equitable educational attainment of women compared to men, and the decreased representation of women on the highest rungs of the corporate ladder. Patrick explained the benefits of a "whole-self" approach to work-life integration, a topic Patrick has explored in her research and forms the cornerstone of the Women in Leadership program. Importantly, the Page team presented data on how the Bauer program prompted the development of the WILD (Women in Leadership Development) program to facilitate the professional advancement of women within Page Houston.
"We have created a very unique program that allows people to come in and examine not only where they're at as managers, but encourages them to develop the self-knowledge to leverage their strengths as whole individuals to lead others and advance their own careers," Patrick said.
Other faculty for "Women in Leadership" include Spec's Charitable Foundation Professor JeAnna Abbott; Assistant Dean for Career Services Jamie Belinne; and Management & Leadership Professor Dusya Vera.
For more about Women in Leadership, click here. For more about the Inclusive Leadership Initiative, click here.